Return to Headlines
A Day of Honor in Service & Love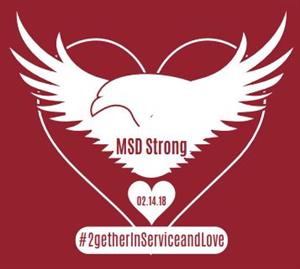 As we approach the one year commemoration of the tragedy at Marjory Stoneman Douglas High School (MSD), our school will follow the lead of MSD and the district to focus on a day of service and love. It will also be a day to recognize the recovery and strength of our students, staff and families who were physically injured and/or emotionally impacted.
After meeting with our Staff and Student Committee and presenting our ideas to the School Advisory Council (SAC) we have the following activities outlined for Thursday, February 14th.
Students can choose one or more activities listed below by logging into Naviance and selecting the activity they wish to participate in that day. Announcements will be made when students can register for the events and each activity will be repeated periods 1-3. Space is limited for each activity, therefore, students are encouraged to sign up quickly if they would like to participate. Please keep in mind that students may choose not to participate in any of the activities and follow their regularly scheduled classes for the day. The choice is up to the student, as we understand that the needs of our student body vary and we respect their right to choose what is best for them that day.
APPROVED ACTIVITIES FOR STUDENTS ON 2/14/19
MOMENT OF SILENCE (District-Wide) 10:17AM Students, staff and community members will come together to take a moment of silence as a district.
SAFETY TRAINING (Stop Bleed & CPR) Students will learn how to apply Stop Bleed procedures and learn the basics of CPR and basic life-saving information.
YOGA/MINDFULLNESS Students can elect to participate in YOGA to relax their minds and body while learning techniques to reduce day to day stress.
BUTTERFLY GARDEN CLEAN UP Students will work to clean and beautify our Butterfly Garden which will include new plants and plaque be placed in honor of MSD.
WRITE FROM THE HEART Students will write notes of love and kindness on hearts during both A & B lunches and place them around campus or to give them to friends, family and peers.
*Does not require sign up in Naviance.