Return to Headlines
Dillard Center for the Arts Receives National Recognition for Commitment to Music Educatio
April 17, 2019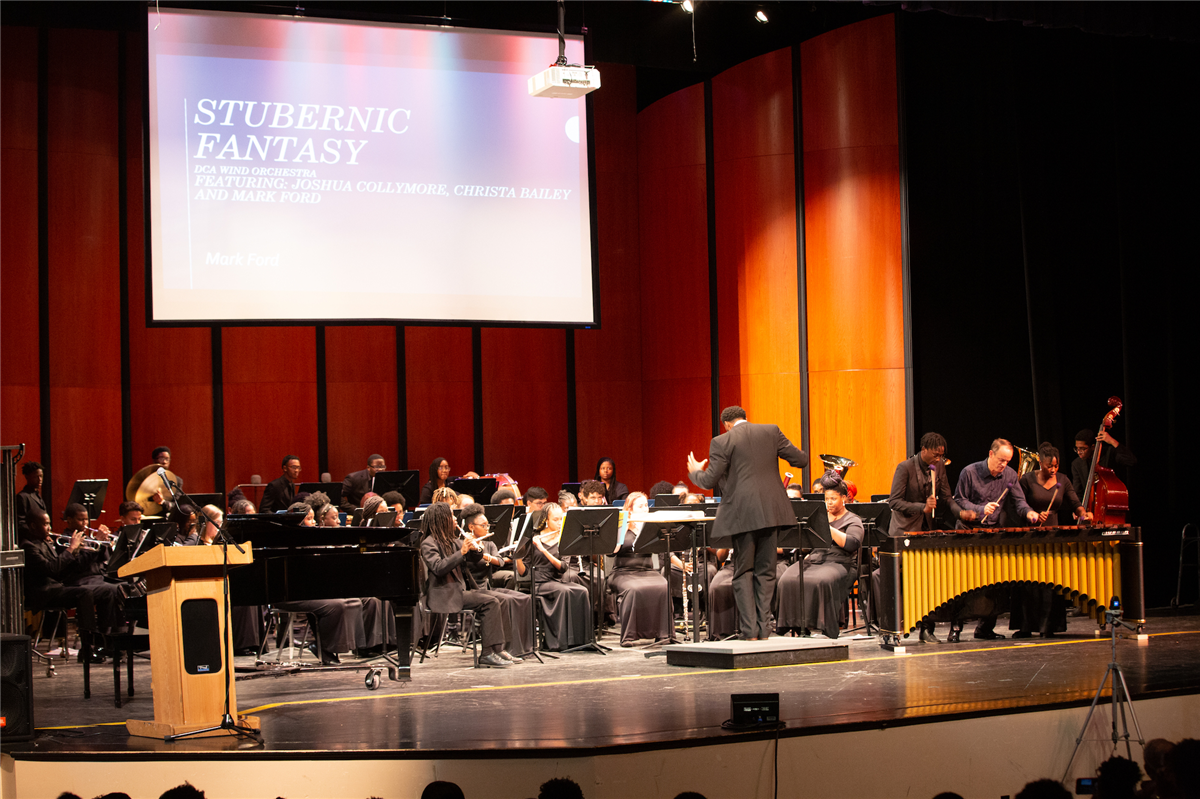 The Dillard Center for the Arts Wind Orchestra in concert with Mark Ford performing "Stubernic Fantay."
Congratulations to Broward County Public Schools (BCPS) Dillard Center for the Arts for being honored with the SupportMusic Merit Award from The National Association of Music Merchants Foundation for its outstanding commitment to music education.
The SupportMusic Merit Award recognizes individual schools that demonstrate outstanding achievement in efforts to provide music access and education to all students. This award recognizes Dillard Center for the Arts for leading the way with learning opportunities as outlined in the Every Student Succeeds Act (ESSA), which recommends music and the arts as important elements of a well-rounded education for all children.
"I believe that music education is vital," said Dillard High School Principal Casandra D. Robinson. "Research shows the positive academic advantages of having a high-quality music program. In addition, having a music faculty who are instrumental in molding our students into great musicians and great citizens has been extremely impactful. They literally change the trajectory of the lives of the students they serve."
"We believe music education is important because it helps students to learn and develop important life skills," said Christopher Dorsey, director of jazz studies at Dillard Center for the Arts.
Under Dorsey's leadership, the nationally renowned Dillard Center for the Arts Jazz Ensemble is a three-time winner at the prestigious Essentially Ellington High School Jazz Band Competition & Festival, and the defending champion this year. This year's return as a 2019 finalist for this competition marks the ninth time in the past 10 years the band has been invited to the finals, held at Jazz at Lincoln Center in New York, May 9-11.
###
ABOUT BROWARD COUNTY PUBLIC SCHOOLS
"Committed to educating all students to reach their highest potential."
Broward County Public Schools (BCPS) is the sixth-largest school district in the nation and the second-largest in the state of Florida. BCPS is Florida's first fully accredited school system since 1962. BCPS has more than 271,500 students and approximately 175,000 adult students in 234 schools, centers and technical colleges, and 88 charter schools. BCPS serves a diverse student population, with students representing 204 different countries and 191 different languages. Connect with BCPS: visit the website at browardschools.com, follow BCPS on Twitter @browardschools and Facebook at facebook.com/browardschools, and download the free BCPS mobile app.