Return to Headlines
Remote FAIR testing - Parent Information
Remote FAIR Testing Parent Information
Parents and Guardians, thank you for all that you are doing in your new role as co-teacher to help your child navigate this new landscape of online learning.
To get to know more about your child's strengths and needs as a reader and track progress throughout the school year, your child will be taking The Florida Assessment and Instruction for Reading (FAIR) remotely.
Test Date: Sept. 21 – Sept. 25, 2020
FAIR Scores
Each of the sections on the test are adaptive, so that the better your child does, the more challenging questions he or she receives until the correct placement is found. Encourage your child to try their best—like a video game gets more challenging as the gamer levels up, their score will also level up as the questions increase in difficulty.
Your school will send you a full report of all of your child's scores along with strategies that you can use at home to help your child.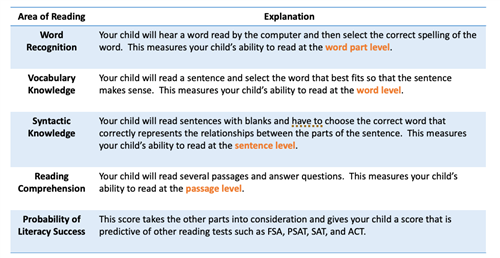 Creating a Positive Testing Environment
Locate a quiet testing space where you can view your child as s/he tests.
No phones, electronic devises, or other distractions when testing.
Have headphones handy or make sure the volume of the computer is turned up.
Make sure your child does his/her own work. No help from parents or outside sources.
Use the test as an opportunity to develop social and emotional skills such as: Identifying and Naming Emotions, Recognizing Strengths, Goal Setting, Self-Motivation, and Reflection.
Reduce test anxiety by:
Remember your WHY
Tame negative thoughts
Take several slow, deep breaths
If you have any questions, please contact your child's teacher.