Return to Headlines
School Advisory Council Information Page
IMPORTANT LINKS BELOW
(Download Adobe Acrobat Reader to view or print PDF)
What is School Advisory Council?
The School Advisory Councils (SAC) sets up priorities and student performance standards that serve as guiding principles for schools. The Council also looks at aspects of their school as suggested by the priorities and develops a written School Improvement Plan as part of the school and District's continuous growth model. Read More....
Click Here to Join the Meeting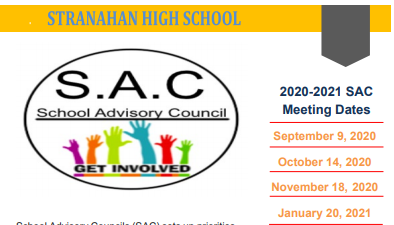 Contact
Ms. Sanon
kamara.sanon@browardschools.com
Mr. Ward (SAC Chair)
kenneth.ward@browardschools.com
School Contact
http://www.browardschools.com/stranahan
754-323-2100
(Download Adobe Acrobat Reader to view or print PDF)
Croissant Park ES (0221)
Foster, Stephen ES (0921)
New River MS (0881)
North Fork ES (1191)
Riverland ES (0151)
Seagull School (0601)
Stranahan HS (0211)
(Download Adobe Acrobat Reader to view or print PDF)
What is the SIP?
The School Improvement Plan (SIP) is a set of goals, objectives and action steps, that drives our educational activities relating to school improvement and education accountability. Parents, teachers, and administrators all have a roll in developing these goals. Each plan shall address issues relative to budget, training, instructional materials, technology, staffing, student support services, specific school safety and discipline strategies, and other matters of resource allocation, as determined by district school board policy, and shall be based on an analysis of student achievement and other school performance data.
Click Here to review our School Improvment Plan
(Download Adobe Acrobat Reader to view or print PDF)