Return to Headlines
UPDATES REGARDING JASON STEIN'S MEMORIAL KICK OFF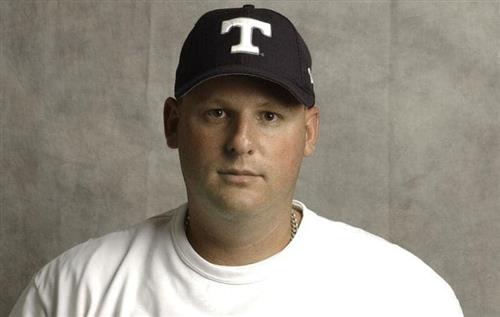 Dear JPT Family
JP Taravella High School will never be the same. School leaders have to deal with many things, losing one of our own is the one of the hardest. At JPT when we say family we mean it. Coach Stein was a perfect example of being one of the leaders of our JPT family. He never met a stranger, he was as REAL as anyone could be and most people quickly picked up that he was all HEART.
Coach Stein was hospitalized on July 2020 with COVID and he fought hard for his life. His beautiful family: wife Michele, daughters Hailey & Ilana, and all of the community battled hard through love and prayer. Ultimately, on August 20, 2020 our beloved Jason Stein passed away. If you want to honor him then learn from his positive impact. Pay it forward. Try to impact others as he did. Open your heart and let people in. Be positive. Be kind. Take care of each other. Don't be quick to judge. These were all his qualities and so much more. As an educator he wore many hats: teacher, coach, mentor, driver's ed. teacher, athletic director, counselor, and so much more. In these roles he was able to impact so many, let's follow in his footsteps.
The JPT family would like to pay tribute by dedicating our baseball field in his name. He was a baseball coach before he was an athletic director at JPT and in doing so he impacted so many positively, his passion was always baseball and his beloved Yankees. I invite you to join us at our kick off as follows:
January 29th special Alumni Game (Please see ticket below for more details)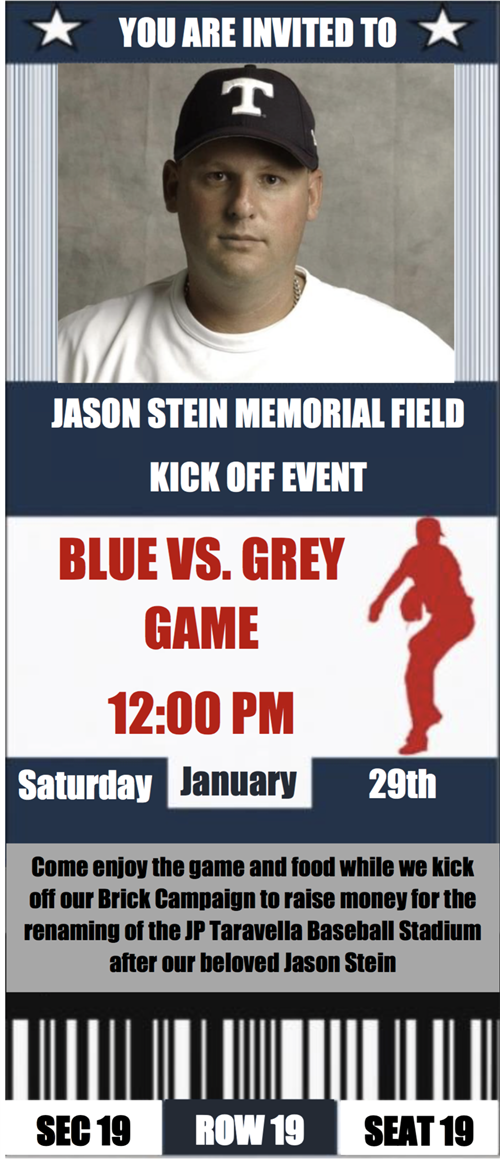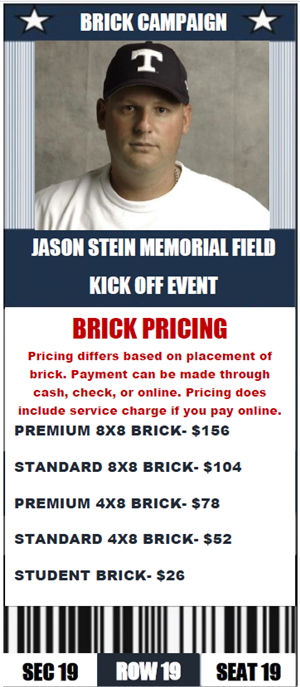 I wanted to reach out and share the links for brick buying with everyone so we can get this out as well as spread the word for the kickoff event.
Above is the invite for the kick off event. We need to get as much traction as possible to this event. I could use all your help to get media and press and county members out to this event to really make it an amazing success.
Above is the pricing layout sheet for each brick and the links below are all the links for the specific bricks.
All individuals buying bricks will have to buy the bricks on our website and then go the brick website to specifically put in what they want on the bricks, I understand this process is tedious but that is the process and I need all your help to get this moving along.
Here are all the links for the bricks
STUDENT brick $26 (ONLY FOR CURRENT STUDENTS THEY WILL HAVE TO PUT IN A STUDENT ID #) Click below and then find the brick size on the site
https://osp.osmsinc.com/BrowardFL/BVModules/CategoryTemplates/Detailed%20List%20with%20Properties/Category.aspx?categoryid=B2751
Stein Memorial Field 4x8 STUDENT Brick (osmsinc.com)
Standard 4x8 brick $52
Stein Memorial Field 4x8 Standard Brick (osmsinc.com)
Premium 4x8 brick $78
Stein Memorial Field 4x8 Premier Brick (osmsinc.com)
Standard 8x8 brick $104
Stein Memorial Field 8x8 Standard Brick (osmsinc.com)
Premium 8x8 $156
Stein Memorial Field 8x8 Premier Brick (osmsinc.com)
Donation link (this is if they would simply just like to make a donation)
Jason Stein Memorial Fund DONATIONS (osmsinc.com)
Brick R Us link (this is for them if they paying credit card to fill out what they want on the brick) keep in mind that it's only LETTERS we cannot put in symbols
https://www.bricksrus.com/donorsite/jpths
For the January 29th Kickoff Event
The alumni will have batting practice before the event starts
The Grey vs. Blue game will be at noon
If you have any questions please email emily.brown@browardschools.com.
THANK YOU,
Mary DeArmas, Principal