Return to Headlines
High School Seniors Experiencing Housing Instability Receive Special Graduation Send-Off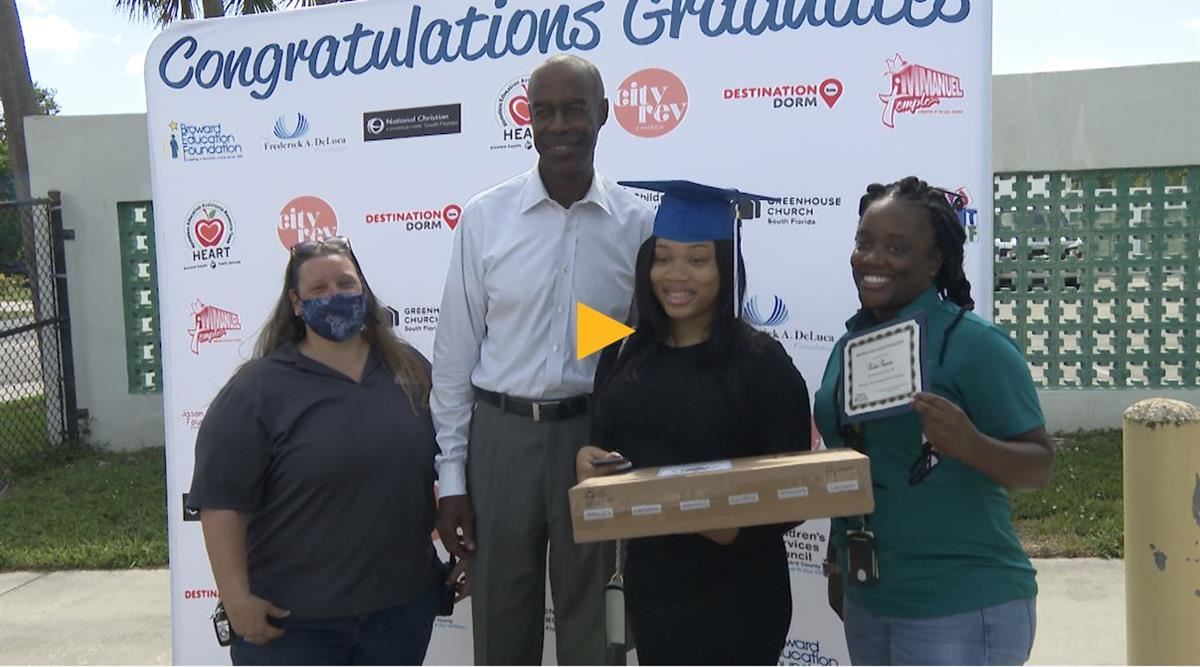 June 11, 2021
WHO:
Broward County Public Schools (BCPS) Homeless Education Assistance Resource Team (HEART).

WHAT:
Approximately 75 graduating seniors from the Class of 2021, who receive assistance from HEART, participate in a drive-thru celebration where they're equipped with some of the essentials they will need as they embark on their post-secondary education or military journey.
WHY:
As seniors prepare for the next stage in their education, HEART teamed up with the Broward Education Foundation, Destination Dorm, Children's Services Council, The Frederick A. DeLuca Foundation and Immanuel Temple Church (a ministry of the African Methodist Episcopal Church) to ensure these students have what they need to make their dorm rooms and living quarters feel more like home. Each student received dorm room necessities, such as a comforter, pillows, bedsheets, towels, shower basics, storage drawers, a standing lamp and other useful items, in addition to a new laptop computer, a gift card and a congratulatory letter from BCPS Superintendent Robert W. Runcie.
HEART provides continuous support to thousands of BCPS students experiencing homelessness, with the goal of removing the barriers that prevent them from enrolling, attending and succeeding in school.
MEDIA NOTE:
To obtain b-roll and recorded interviews from the drive-thru Senior Send-off held Friday, June 11, at Lauderdale Manors Early Learning & Family Resource Center, contact the Office of Communications at bcps.pio@browardschools.com.
###
ABOUT BROWARD COUNTY PUBLIC SCHOOLS
"Committed to educating all students to reach their highest potential."
Broward County Public Schools (BCPS) is the sixth largest school district in the nation and the second largest in the state of Florida. BCPS is Florida's first fully accredited school system since 1962. BCPS has nearly 261,500 students and approximately 110,000 adult students in 241 schools, centers and technical colleges, and 92 charter schools. BCPS serves a diverse student population, with students representing 177 different countries and 151 different languages. To connect with BCPS, visit browardschools.com, follow us on Twitter @browardschools, on Facebook at facebook.com/browardschools.com and download the free BCPS mobile app.