Return to Headlines
COVID-19 TESTING IN SCHOOLS FOR STUDENTS
COVID SCHOOL POD TESTING FLYER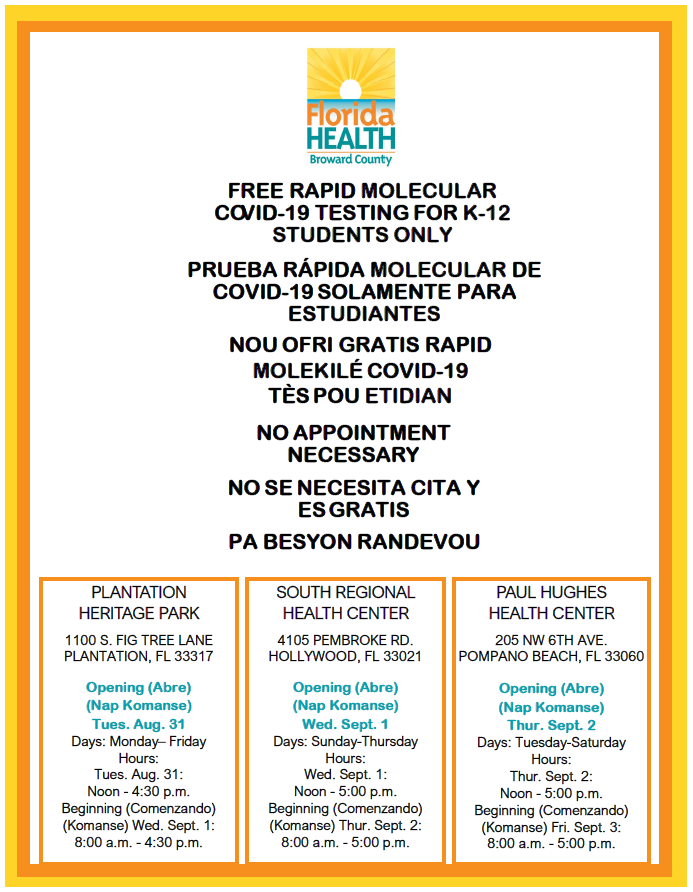 ACTION: This memo provides updated information and guidance on FDA/EUA approved COVID-19 tests for students and procedures for COVID-19 testing of students in schools. It is important that you review these documents and share the information with your students, staff and families. The Student Consent Form for Optional COVID-19 Testing must be sent to all parents/guardians for signature.

RATIONALE: The COVID-19 virus has caused a pandemic throughout the World, the United States, as well as, Broward County, Florida. There is a public health effort to provide additional layers of COVID-19 protection in schools to identify individuals with SARS-COV-2 infection to limit transmission and further outbreaks of the virus.

Food and Drug Association (FDA) and Emergency Use Authorization (EUA) Approved COVID-19 Tests for Students

The COVID-19 Diagnostic Laboratory PCR test is no longer the only acceptable test for students to return to school. The U.S. Food and Drug Administration (FDA) has granted Emergency Use Authorization (EUA) for rapid antigen and molecular tests kits that can identify SARS-COV-2 in addition to the PCR test. BCPS currently accepts all FDA and EUA approved diagnostic COVID-19 tests. Attached is a list of the current COVID-19 Rapid test kits and home kits that have received an EUA by the FDA and are acceptable for the purposes of returning to school. Parent/guardian must share their child's COVID-19 test results with the principal/healthcare personnel at their school. If parents refuse to share the results or if they choose not to test their child at all, they should follow the BCPS Isolation and Quarantine Guidance for students found at https://www.browardschools.com/studentquarantine
COVID-19 Testing in Schools for Students
On August 24th,,2021 BCPS and Department of Health (DOH)-Broward entered into an agreement to provide Cue Rapid COVID-19 testing for students. The Cue Rapid Test will be provided to students in school presenting with symptoms consistent with COVID-19. Surveillance (random) testing will be performed on groups of students participating in designated activities (i.e., sports, band, chorus). The frequency of the surveillance testing will be determined by DOH-Broward. The test result is available within 20 minutes. Only trained nurses can administer the tests. All supplies necessary to perform the CUE Rapid COVID-19 test will be provided to schools by DOH-Broward. Once the testing process is completed, the parent will be provided with a letter explaining BCPS Isolation and Quarantine Guidance, and the Free COVID-19 Testing Specimen Collection Sites (Please see attached) Please also see attached: Parent Letter Health Room- Positive CUE Test, School Health Room- Negative CUE Test, Parent Letter- No Test, Parent Letter- Close Contact, Parent Letter- Surveillance Positive Cue Test, and DOH Free COVID-19 Testing Specimen Collection Sites

COVID-19 Consent for Testing
The Cue Rapid Test will be offered to students with written parental/guardian consent and/or telephonic consent (with a witness) before administering the CUE Rapid Test. Schools will be responsible for sending consent forms home to all parents/guardians for signature. Consent forms will also be accessible on the Coordinated Student Health Services SharePoint site. Please see attached consent form.

COVID-19 Frequently Asked Questions (FAQ)
Coordinated Student Health Services has provided a COVID-19 Frequently Asked Questions document to assist school staff and parents/guardians. Please see attached Frequently Asked COVID-19 Questions.

COVID-19 Vaccination for Students
Parents may voluntarily provide schools with a copy of their child's COVID-19 vaccination status. Their vaccination status should be entered on the A06 Health Screen Panel in TERMS. This will assist in reducing out of school time for students. Attached is a list of COVID-19 Vaccination Sites (Pfizer) for ages 12 and over.
COVID19 Test Minor Consent Form
DOH Broward COVID19 Vaccination Sites
DOH FREE COVID19 TESTING SPECIMAN COLLECTION SITES