Return to Headlines
BECON-TV Sports Kicks Off GAMETIME Featuring BCPS Football and Volleyball
September 10, 2021

Broward County Public Schools BECON-TV launches GAMETIME,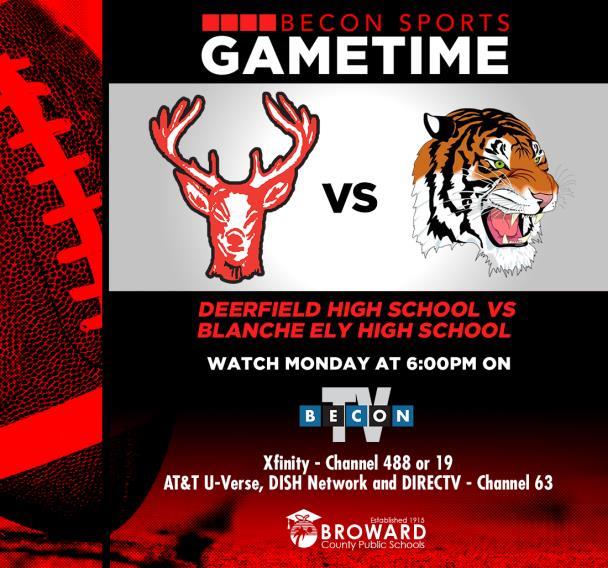 an exciting new sports show, which will televise top high school matchups of BCPS football and volleyball games each week, beginning with football on Monday, September 13 at 6 p.m. featuring Deerfield Beach High School vs. Blanche Ely High School.
This inaugural GAMETIME season, will broadcast a 10-game schedule with seven football games and three volleyball games across South Florida at 6 p.m. every Monday, beginning September 13 through the Soul Bowl championship game, with Dillard High School vs. Blanche Ely High School on Tuesday, November 30.
Each week's game is rebroadcasted at 11 p.m. Saturday and 10:30 a.m. on Sunday. The remaining eight games will be announced at a later date.
GAMETIME is an exciting local sports show produced by BECON-TV, reaching homes throughout Broward, Miami-Dade and Palm Beach counties via Xfinity/Comcast Cable HD (channel 488 or 19), DISH Network, DIRECTV and AT&TU-Verse (channel 63). For more information on GAMETIME, visit becon.tv; follow us on Twitter @becon.tv; or on Facebook at facebook.com/becontv.


###
ABOUT BROWARD COUNTY PUBLIC SCHOOLS
"Committed to educating all students to reach their highest potential."
Broward County Public Schools (BCPS) is the sixth largest school district in the nation and the second largest in the state of Florida. BCPS is Florida's first fully accredited school system since 1962. BCPS has nearly 261,500 students and approximately 110,000 adult students in 241 schools, centers and technical colleges, and 93 charter schools. BCPS serves a diverse student population, with students representing 170 different countries and 147 different languages. To connect with BCPS, visit browardschools.com, follow us on Twitter @browardschools, on Facebook at facebook.com/browardschools.com and download the free BCPS mobile app.he free BCPS mobile app.