Return to Headlines
Parents Please Read: Breaking Bee News and Testing Information
Beginning Wednesday, March 31, 4th and 5th grade scholars will be able to log on to Ask BRIA, utilizing their CANVAS homepage, to receive one-on-one writing conferencing and support to help them refine writing skills that will yield higher success on the FSA Writing assessment. Writing support will come from Cadre 7 & 8 expert writing instructional leaders. See below for the flyer and the write on tracker.
Write On Flyer Write On Tracker
BROWARD ESTATES ELEMENTARY SCHOOL BEEHIVE FSA PARENT INFORMATIONAL SESSION. FSA Flyer.pdf
Third and Second grade students in our school will be taking the CogAT® (Cognitive Abilities Test) the week of March 29, 2021.
Please read the COgat Testing letter here.
This message serves to apprise you of critical information regarding statewide testing. The Florida Department of Education (FDOE) has mandated that students in grades 3-5 will participate in the Florida Standards Assessments.
Per the Florida Department of Education (FDOE), no remote administrations are available for any statewide summative assessments. The Florida Department of Education (DOE) requires all students present during the testing window to participate in the assessment. Therefore, all students present on any testing or make-up testing days will be required to sit for the assessment. Furthermore, unlike some states, Florida has no "opt-out" policy for state assessments used as the required measures of student achievement for the Every Student Succeeds Act of 2015. Students not in attendance on day of their test(s) will be marked absent and standard absence reporting procedures will be in effect. The final determination of whether a student is in attendance on their scheduled testing day remains with the parent/guardian(s).
The 2020-2021_Grade_4_FSA_Remote_Learner.pdf provides details regarding our school's testing date and subject area for which your child will be participating.
If you should have any questions, please contact the school at 754-322-5550.
BROWARD ESTATES ES FSA SCHEDULE BY GRADE LEVEL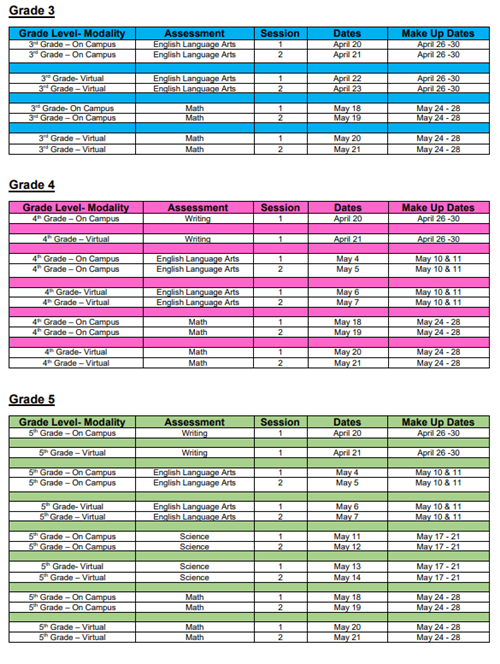 Parents and students, the Code of Student Conduct Handbook Goes Green! Parents are invited to review the Code of Student Conduct Handbook and complete the required forms by accessing the Back to School Forms link found on the Broward Schools' webpage at: https://www.browardschools.com/Page/38091.
A safe, remote learning environment for children in grades 1-5! Supervised e-Learning Flyer