Return to Headlines
Pompano Beach High School to Welcome Students and Educators from Around the World for Its International Summit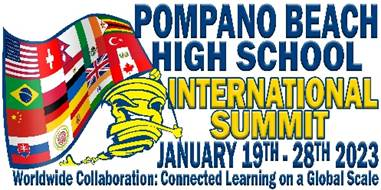 Pompano Beach High School is preparing to welcome more than 150 visitors from across the globe for its International Summit. The event, which has been held every two years for the past 10 years, begins on Thursday, January 19, 2023, and runs through January 28. The theme is Worldwide Collaboration: Connected Learning on a Global Scale, which supports the school's International Affairs magnet theme.
As part of the International Summit, visiting students, teachers, and administrators from 13 countries are participating in person, hosted by Pompano Beach High School families and staff. Representatives from six additional countries are participating virtually.
Representatives from the following countries are participating in person:
Canada, Egypt, Germany, Ireland, Mexico, Nepal, Poland, Slovakia, Spain, Switzerland, Taiwan, United Kingdom and Ukraine
Representatives from the following countries are participating virtually:
Brazil, China, India, Peru, Turkiye and Zimbabwe
During the Summit, the international guests – along with their hosts– will explore areas of interest in South Florida and take part in a variety of special activities as they share educational ideas, discuss cultural differences and learn about each country's traditions.
Media are invited to attend the following events:
Opening Ceremony and Parade of Flags, Monday, January 23, at 9 a.m. This event marks the official start of the International Summit and includes the Parade of Flags by representatives from all the participating countries. There are also special performances by the school's band and choir.
Cultural Showcases, Wednesday, January 25, and Thursday, January 26, at 9 a.m. (on both days). During these events, the international delegates share culturally significant dances, creations and other items relating to their countries.
Media interested in attending are asked to RSVP at bcps.pio@browardschools.com.
###
ABOUT BROWARD COUNTY PUBLIC SCHOOLS
"Educating all students to reach their highest potential."
Broward County Public Schools (BCPS) is the sixth largest school district in the nation and the second largest in the state of Florida. BCPS is Florida's first fully accredited school system since 1962, serving more than 256,000 students and approximately 110,000 adult learners in 240 schools, centers and technical colleges, and 90 charter schools. BCPS supports a diverse student population representing 170 different countries and speaking 147 languages. To connect with BCPS, visit browardschools.com, follow us on Twitter @browardschools, on Facebook at facebook.com/browardschools, and download the free BCPS mobile app.