Return to Headlines
Lauderhill 6-12 STEM-MED Magnet School to host Youth Excel Summit – Find Your Future in STEM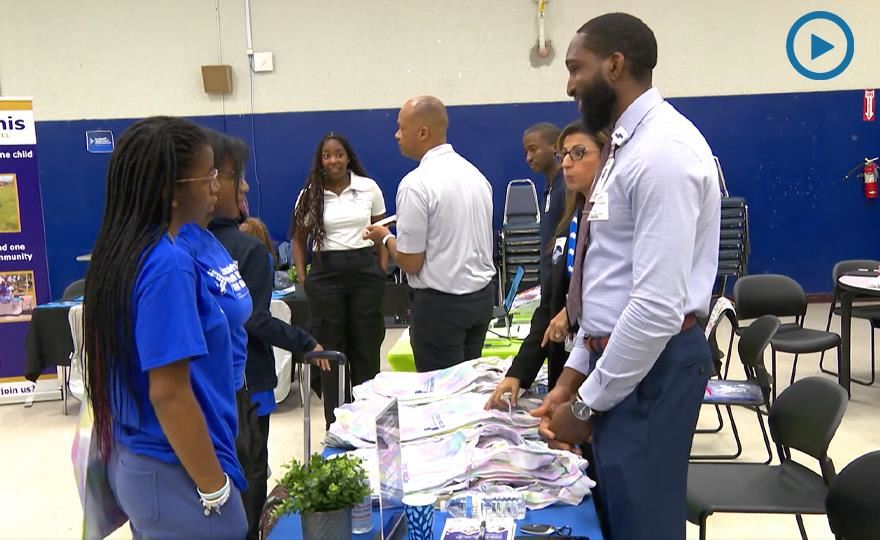 Watch video of Lauderhill 6-12 STEM-MED Magnet School partnering with the City of Lauderhill to host the inaugural Youth Excel Summit.
WHO:
Lauderhill 6-12 STEM-MED Students, Teachers, Administrators, and Staff; Lauderhill City Leaders; and Local Business Representatives
WHAT:
Lauderhill 6-12 STEM-MED Magnet School is partnering with the City of Lauderhill to host the Youth Excel Summit – Find Your Future in STEM.
WHEN:
Thursday, March 16, 2023
10 a.m. – 2 p.m.
WHERE:
Lauderhill 6-12 STEM-MED Magnet School
1901 NW 49th Avenue
Lauderhill, Florida 33313
WHY:
Students will learn about STEM careers and the steps needed to attain them. Guest speakers include Alexandra Gotz from Broward 4-H Stem, Merrill Romanik from SRS Architecture, Carletta McMillan from Beyond Media, Clayton James from ACE Academy, Dr. Michael Bell and Dr. Ronald Moore from Florida Medical Center, and Dr. Farzanna Haffizulla from Nova Southeastern University.

There will also be hands-on activities and resources for students from many local organizations and businesses, including Lauderhill Police Department, Lauderhill Fire Department, Code Ninjas, ACE Academy, Broward 4-H Stem, Scholarship Plug, HRB 360 Financial Literacy, Florida Medical Center, Youth Automotive Training Center, Engineering for Kids, SRS Architecture, Beyond Revealed Media, Fasmer Inc., Nailed it DIY, From the Mouths of Babes/GIT Start, Stuart Architecture and Port Everglades.

MEDIA ARE INVITED TO COVER THIS EVENT.
###
ABOUT BROWARD COUNTY PUBLIC SCHOOLS
"Educating all students to reach their highest potential."
Broward County Public Schools (BCPS) is the sixth-largest school district in the nation and the second largest in the state of Florida. BCPS is Florida's first fully accredited school system since 1962, serving more than 256,000 students and approximately 110,000 adult learners in 240 schools, centers and technical colleges, and 90 charter schools. BCPS supports a diverse student population representing 170 different countries and speaking 147 languages. To connect with BCPS, visit browardschools.com, follow us on Twitter @browardschools, on Facebook at facebook.com/browardschools, and download the free BCPS mobile app.