Return to Headlines
BCPS to Receive Thousands of New Shoes for Students Experiencing Homelessness
BCPS to Receive Thousands of New Shoes for Students Experiencing Homelessness
Thanks to Soles4Souls' 4EveryKid Initiative, Spearheaded by the Rick Case Automotive Group
Partnership highlights the beginning of National Homeless Youth Awareness Month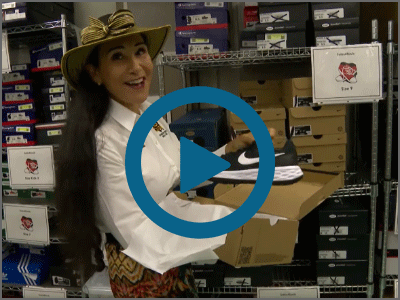 Broward County Public Schools (BCPS) Homeless Education Assistance Resource Team (HEART) is grateful to receive thousands of shoes for students experiencing homelessness thanks to the Soles4Souls 4EveryKid Initiative.
Through the 4EveryKid Initiative, Soles4Souls partners with donors, spearheaded locally by Rita Case and the Rick Case Automotive Group, to raise the funds needed to provide shoes for this vulnerable population of students. With the support of the Case organization, the program is projected to provide 5,000 pairs of shoes a year for underserved kids over the next five years – with the hopes of growing the initiative nationally and serving every student in need.
"Footwear is an item that, generally, cannot be purchased through grant funding, so this partnership and initiative is immensely important to fully support the needs of our homeless children and youth," said BCPS Superintendent Vickie L. Cartwright. "We are thankful to Soles4Souls, Rick Case Automotive Group and all the community partners who are coming together to ensure our students have one less concern in preparing for school and can focus on their academic performance."
"These new shoes will improve self-esteem, walking comfort and participation in sports," said Rita Case, CEO of Rick Case Automotive Group. "I am passionate about kids having proper fitting athletic shoes."
"Soles4Souls is thrilled to bring our 4EveryKid program to Broward County and work directly with Broward County Public Schools HEART to serve students facing homelessness and housing insecurity," said Tiffany Turner, Soles4Souls Vice President of Outreach. "Through our founding sponsor, Rita Case, and the support of many generous donors, we will be able to provide these students new sneakers – shoes that students not only need, but they want – leveling the playing field with their peers, instilling confidence and positively influencing their attendance and participation in school."
The 4EveryKid Initiative is also supported by the Children Services Council of Broward County, Community Foundation of Broward, United Way of Broward County, United National Consumer Suppliers Cares Foundation, James I. Coddington Jr. Charitable Fund, WSVN Foundation, Florescue Family Foundation, Cathy and James Donnelly Charitable Fund, UKG, Univision, Rotary Club of Weston, Gene and Collette Herman Family Fund and Harold Rosenberg Fund for Children's Education.
HEART provides continuous support to thousands of BCPS students experiencing homelessness, with the goal of removing the barriers that prevent them from enrolling, attending and succeeding in school.
The donated shoes, along with other necessities purchased by HEART through grants and community donations, are distributed to students in pre-K through 12th grade experiencing homelessness, as their needs arise. Those items include school uniforms, backpacks, school supplies and toiletries.
For more information about HEART, visit browardschools.com/heart.
###
ABOUT BROWARD COUNTY PUBLIC SCHOOLS
"Educating all students to reach their highest potential."
Broward County Public Schools (BCPS) is the sixth largest school district in the nation and the second largest in the state of Florida. BCPS is Florida's first fully accredited school system since 1962, serving more than 256,000 students and approximately 110,000 adult learners in 240 schools, centers and technical colleges, and 90 charter schools. BCPS supports a diverse student population representing 170 different countries and speaking 147 languages. To connect with BCPS, visit browardschools.com, follow us on Twitter @browardschools, on Facebook at facebook.com/browardschools, and download the free BCPS mobile app.