Return to Headlines
Broward County School Board Recognized for Outstanding Financial Reporting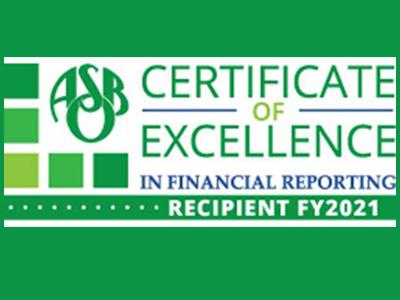 The Broward County School Board is being recognized by the Association of School Business Officials International (ASBO) with its Certificate of Excellence in Financial Reporting for the 2021 fiscal year. The award recognizes school districts that have met the program's high standards for financial reporting and transparency.
As part of the award process, school districts submit their Annual Comprehensive Financial Report to ASBO for review by a team of financial professionals who provide feedback to improve future reporting. In its review of Broward County Public Schools, the team commended the District for its efforts and noted the District's report was of high quality.
"The Certificate of Excellence's mission is to promote and recognize excellence in financial reporting," said ASBO International Executive Director David Lewis. "The Annual Comprehensive Financial Report informs stakeholders about the financial and economic state of the district, making it an important communications tool for building trust and engaging with the school community."
###
ABOUT BROWARD COUNTY PUBLIC SCHOOLS
"Educating all students to reach their highest potential."
Broward County Public Schools (BCPS) is the sixth-largest school district in the nation and the second-largest in the state of Florida. BCPS is Florida's first fully accredited school system since 1962, serving more than 256,000 students and approximately 110,000 adult learners in 241 schools, centers and technical colleges, and 91 charter schools. BCPS supports a diverse student population representing 170 different countries and speaking 147 languages. To connect with BCPS, visit browardschools.com, follow us on Twitter @browardschools, on Facebook at facebook.com/browardschools, and download the free BCPS mobile app.