Return to Headlines
BCPS Educator Named 2021 Toyota Family Teacher of the Year
November 17, 2021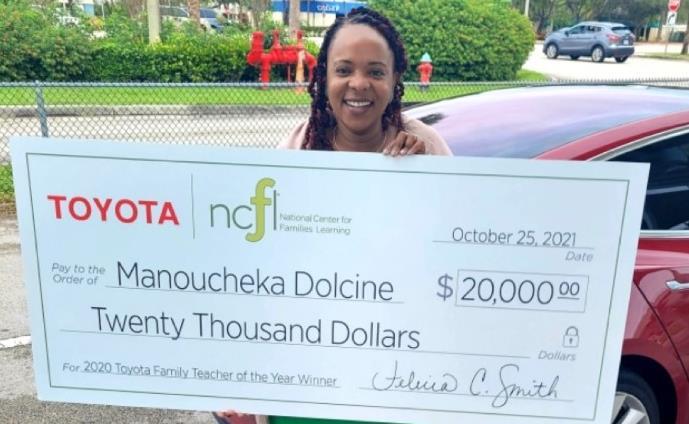 Broward County Public Schools congratulates Manoucheka Dolcine of Dave Thomas Education Center/Charles Drew Family Resource Center for being named the 2021 Toyota Family Teacher of the Year.
The award, which is a collaboration between Toyota and the National Center for Families Learning, salutes educators who are exceptional at using multigenerational approaches to engage students and their families in education.
Dolcine received the award for her work fostering family learning environments by involving parents and children in her classroom through positive social interactions, sensory and social-emotional activities, soft job skills, workforce and career development, and academic mentorship programs for young adult parents.
Her work is highlighted by the intentionality in her effort to create programming that responds to the needs of families. When she saw a need for an upgraded childcare solution, Dolcine proposed, designed and implemented a licensed preschool program that has tripled the number of students that can be serviced in her school's community. To combat chronic absenteeism and promote program retention, she initiates weekly home visits and well-being checkups with parents and students. Additionally, she coordinates food and clothing distribution drives to ensure families' basic needs are met, so they can focus on the core multigenerational education programming.
As the award recipient, Dolcine earned her school a $20,000 grant, which will be used to create a resource room for computer and reading literacy, renovate the playground and athletic area, fund professional development and trainings, and enhance certificate training programs for high school graduates and adult students.
Since 1997, Toyota Family Teacher of the Year winners, runners-up, and their respective organizations have received more than $625,000 and funded 50 innovative teacher-led projects. Learn more about the National Center for Families Learning at www.familieslearning.org.
###
ABOUT BROWARD COUNTY PUBLIC SCHOOLS
"Committed to educating all students to reach their highest potential."
Broward County Public Schools (BCPS) is the sixth largest school district in the nation and the second largest in the state of Florida. BCPS is Florida's first fully accredited school system since 1962. BCPS has nearly 261,500 students and approximately 110,000 adult students in 241 schools, centers and technical colleges, and 93 charter schools. BCPS serves a diverse student population, with students representing 170 different countries and 147 different languages. To connect with BCPS, visit browardschools.com, follow us on Twitter @browardschools, on Facebook at facebook.com/browardschools and download the free BCPS mobile app.