Return to Headlines
Congratulations to BCPS 2022 JROTC Cadet of the Year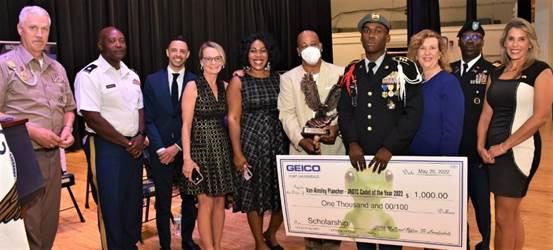 Congratulations to Cadet Colonel Van-Ainsley Planchar (pictured right holding check) for being named Broward County Public Schools (BCPS) Junior Reserve Officers' Training Corps (JROTC) Cadet of the Year. Van-Ainsley, a junior at Piper High School, has participated in JROTC for three years. The awards ceremony took place at Pompano Beach High School on May 20, 2022.
Thirty-one cadets – one from each high school – were vying for the honor of being named BCPS JROTC Cadet of the Year. The cadets were evaluated on their academic performance, demonstrated leadership, community service and school involvement, as well as their JROTC participation. The remaining top finishers were runner-up Cadet Ashleigh Madar from Cooper City High School and Distinguished Cadets Anivens Jean-Louis from Boyd Anderson High School, Johnathan Onesemiuc from Hollywood Hills High School, Edward Garcia from Nova High School, Ashley Oliveira from Pompano Beach High School and Maraisa Carrion from South Broward High School.
The JROTC Cadet of the Year and finalists received scholarships with a combined total of $5,000. In addition, five schools received $1,000 each to support their JROTC programs. The monetary awards were sponsored by Geico – Fort Lauderdale and the Broward County JROTC Support Association.
The JROTC partnership between the U.S. Department of Defense and BCPS is completing its 49th year and has served more than 200,000 JROTC cadets. This school year, more than 6,000 students participated in JROTC programs Districtwide, sponsored by all four branches of the military. BCPS offers the largest JROTC program in the nation with students participating in every traditional high school and many middle schools.
Watch highlights of the BCPS JROTC Cadet of the Year ceremony at https://www.eduvision.tv/l?etRAgLg.
Learn more about the District's JROTC programs at browardschools.com/jrotc.
###
ABOUT BROWARD COUNTY PUBLIC SCHOOLS
"Educating all students to reach their highest potential."
Broward County Public Schools (BCPS) is the sixth-largest school district in the nation and the second largest in the state of Florida. BCPS is Florida's first fully accredited school system since 1962, serving more than 256,000 students and approximately 110,000 adult learners in 241 schools, centers and technical colleges, and 91 charter schools. BCPS supports a diverse student population representing 170 different countries and speaking 147 languages. To connect with BCPS, visit browardschools.com, follow us on Twitter @browardschools, on Facebook at facebook.com/browardschools, and download the free BCPS mobile app.