Return to Headlines
BCPS Announces Recommendation for Michelle Kefford as the new Principal at Marjory Stoneman Douglas High School
May 13, 2019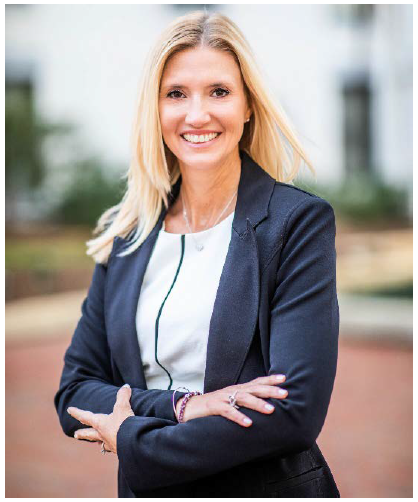 Today, Superintendent Robert W. Runcie announced his recommendation for Michelle Kefford to be the new principal at Marjory Stoneman Douglas High School, pending School Board approval. The new role would begin July 1, 2019.
In March, the Florida State Board of Education named Kefford the 2019 Florida Principal of the Year, and last school year Broward County Public Schools (BCPS) named Kefford the 2018 Broward Schools Principal of the Year.
Kefford, an educator for nearly 20 years, has served as the principal at Charles W. Flanagan High School since 2011. Under her leadership, Flanagan High earned its first ever "A" and has received an "A" for six out of the seven years she served as principal. During her tenure, she initiated several programs, including "Kefford's Kids," a mentoring program, and "Falcon Flyers," an initiative that enables middle school students to earn high school credits at Flanagan High.
Kefford began her career as a biology teacher at Marjory Stoneman Douglas High (1999 – 2005), before becoming an assistant principal at Western High School (2005 – 2010), followed by assistant principal at Boyd Anderson High School (2010 – 2011). Her leadership skills and experience led her to being named principal at Flanagan High (2011 – 2019).
As a passionate educator and BCPS graduate, she has held various positions on District committees; volunteers on several city and county committees; and works continuously to build school pride and staff morale. For Kefford, high-quality education is a family tradition, as she is the proud daughter of retired teachers.
To view today's media briefing, click here.
###
ABOUT BROWARD COUNTY PUBLIC SCHOOLS
"Committed to educating all students to reach their highest potential."
Broward County Public Schools (BCPS) is the sixth-largest school district in the nation and the second-largest in the state of Florida. BCPS is Florida's first fully accredited school system since 1962. BCPS has more than 271,500 students and approximately 175,000 adult students in 234 schools, centers and technical colleges, and 88 charter schools. BCPS serves a diverse student population, with students representing 204 different countries and 191 different languages. Connect with BCPS: visit the website at browardschools.com, follow BCPS on Twitter @browardschools and Facebook at facebook.com/browardschools, and download the free BCPS mobile app.