Return to Headlines
Congratulations to Cadet Colonel Gabriella Lopez from West Broward High School for Being Named Broward County Cadet of the Year
May 29, 2019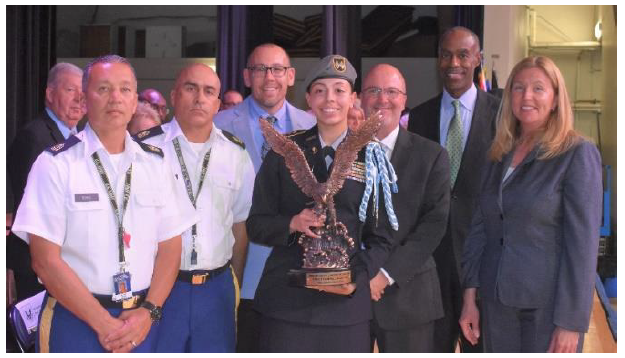 Congratulations to Cadet Colonel Gabriella Lopez, from West Broward High School, for being named the Broward County Cadet of the Year for 2018/19. The remaining top six finishers were Cadets Albert Gonzalez, Boyd Anderson High School; Sarah Seng, Cooper City High School; Michael Levanthal, Western High School; Laylonny Sanchez, McArthur High School; Maxence Sutton, Cypress Bay High School; and Royce Bolano, Marjory Stoneman Douglas High School. In all, the top seven finishers received scholarships in a value of almost $10,000. Watch a video about Cadet Colonel Lopez.
The Junior Reserve Officer's Training Corps (JROTC) partnership between the United States Department of Defense and the Broward County School Board is completing its 46th year and has included more than 100,000 JROTC cadets. This school year, cadet enrollment in exceeded 7,000 students in JROTC programs sponsored by all four branches of the military. The District's JROTC program is the largest in the nation, with JROTC in every traditional high school.
This year's ceremony recognized 30 cadets who competed for the designation of Broward County JROTC Cadet of the Year. These "best of the best" cadets received the prestigious Superintendent's Award-of-Excellence. The cadets were evaluated on their academic performance, demonstrated leadership, community service, school involvement, as well as their JROTC participation.
The National Middle School Cadet Corps (NMSC) also participated in the ceremony. Broward County Public Schools NMSC programs provide middle school students with the opportunity to develop academically, while building valuable leadership skills as well. Cadets Ty Sell Johnson, representing Pines Middle School; Seth Neptune, Ramblewood Middle School, and Alexandra Bruno, Sawgrass Springs Middle School, were recognized and honored.
Pictured: 2019 Cadet of the Year Winner Cadet Colonel Gabriella Lopez with instructors 1SG Earnest Sosa, 1SG David Torres, Principal Brad Fatout, Director of Athletics and Student Activities Shawn Cerra, Superintendent Robert W. Runcie and School Board Chair Heather P. Brinkworth.
###
ABOUT BROWARD COUNTY PUBLIC SCHOOLS
"Committed to educating all students to reach their highest potential."
Broward County Public Schools (BCPS) is the sixth-largest school district in the nation and the second largest in the state of Florida. BCPS is Florida's first fully accredited school system since 1962. BCPS has more than 271,500 students and approximately 175,000 adult students in 234 schools, centers and technical colleges, and 88 charter schools. BCPS serves a diverse student population, with students representing 204 different countries and 191 different languages. Connect with BCPS: visit the website at browardschools.com, follow BCPS on Twitter @browardschools and Facebook at facebook.com/browardschools, and download the free BCPS mobile app.