Return to Headlines
Graduation Cap and Gown Pick-Up
Cap and Gown Pick-Up
Downlaod the Overview Document Here

Date: Monday, June 1
Time: Alphabetical Time Slots (See Below)
Pick Up Items: Cap, Gown, Cords (and other graduation regalia), Senior Award Recognition Items
Return of Items: Textbooks

Process for Pick-Up
In an effort to ensure that we adhere to CDC guidelines and social distancing requirements, we have established time slots to ensure the safest and most efficient pick up process.  All senior items will be in one package for easy distribution to students.  Packages will only be available during your assigned time slots.  Items will be distributed in the main parking lot of the school (entrance on Pine Island Rd).  Staff will be outside to direct you.
Important Considerations:

1. Each vehicle must have the student's name (first and last) prominently displayed on a piece of paper on the dashboard.
2. Students must have their student ID. Parent/guardian picking up on the student's behalf must have the student's ID with them.
3. Students must turn in all textbooks at station 1 before receiving their graduation regalia. Check virtual counselor to identify the student's textbook obligations.
3. Students must have the cap and gown receipt form (linked here) printed out and signed to receive their graduation regalia.
4. Students must complete the senior survey in Naviance prior to cap and gown distribution.
5. Please ensure all parties in the vehicle are wearing a face mask during pick-up while interacting with staff.
6. We are switching the exit and entrance gate for cap and gown pick-up. Traffic will enter through the "exit gate" and exit out of the "entrance gate". Please review the diagram below for the flow of traffic to expedite the process.
Note from Herff Jones: Students with an obligation to HJ will not be given their gown on 6/1/2020
Call or e-mail Herff Jones with any issues: (phone: 954-693-0006 / e-mail: info@hjbroward.com)

Alphabetical Time Slots by Last Name
VERY IMPORTANT: Please do not come outside of your pick-up time window because we will not have your items ready.

8:00 am – 9:00 am : A – C
9:00 am – 10:00 am : D – F
10:00 am – 11:00 am : G – I
11:00 am – 12:00 pm : J – L
12:00 pm – 1:00 pm : M – O
1:00 pm – 2:00 pm : P – R
2:00 pm – 3:00 pm : S – U
3:00 pm – 4:00 pm : V – Z

What You Will Receive
You will receive a bag (bag provided by the MSD Alumni Association) that will have the items below that are appropriate for you. If you believe any item is missing from your bag, staff members will be unable to assist you during pick up. Instead, please check the bag for instructions on who to contact with the different concerns you may have about missing items.
Cap with tassel and gown (all students)
MSD Medallions from Herff Jones (all students)
Commemorative MSD Strong stole, pin and tassel (all students)
Diploma cover (all students)
Information concerning gown return, parade on June 6, who to contact if you have issues with cap and gown, missing cords, and missing senior survey, class of 2020 once-in-a-lifetime graduation experience (all students)
MSD Alum sticker (all students)
Cords, stoles, medals (if you were in a club or organization that gave these items)
Gold Cords and Silver Cords (if earned)
Plaques from Herff Jones (if you pre ordered)
Senior Award Certificates (if earned)
Please note…the only thing to return to MSD is the graduate gown. All else in the bag is yours to keep.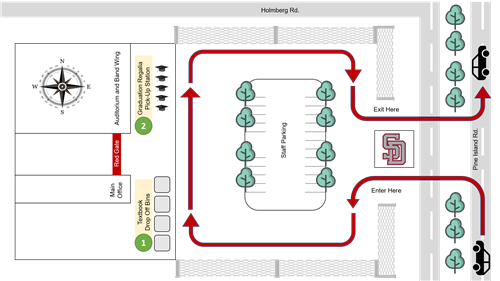 Gown Returns
Date: Monday, June 8
Time: Alphabetical Time Slots (See Above)
Pick Up Items: Diploma, Yearbook
Return of Items: Gown

We will be following the same process and time slot window for graduation gown returns. You will also have the opportunity to pick-up your yearbooks, if you purchased one.

Students are allowed to keep all graduation regalia except for the gown. You must return the gown in the original packaging. If the original packaging is damaged, you can return the gown in a clear Ziploc bag with the student's name legibly written in permanent marker on the bag.

You must return your graduation gown in order to receive your high school diploma and diploma cover.