Return to Headlines
Broward County Public Schools Celebrates Veterans Day With Special Ceremonies
November 8, 2018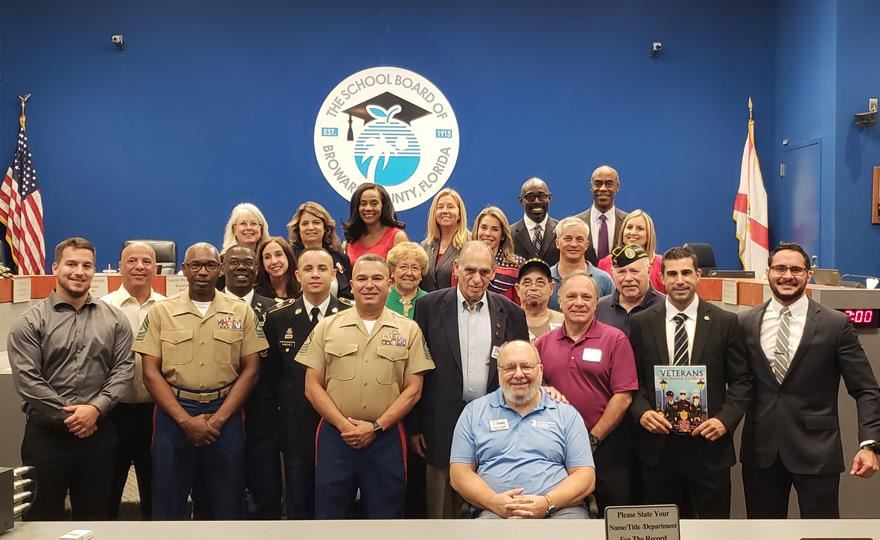 In observance of Veterans Day, Broward County Public Schools (BCPS) honors all military veterans and active duty members for their service with special events and ceremonies planned across the District.
BCPS Honors Veterans and Active Military with Complimentary Lunch
On Friday, November 9, 2018, Broward County Public Schools welcomes family members who are United States veterans or active military to enjoy a complimentary lunch at their child's school to thank them for their service.
To participate, the veteran or active military must provide proof of service, which may include one of the following:
U.S. Uniformed Services ID Card

U.S. Uniformed Service Retired ID Card

Current leave and earnings statement (LES)

Veterans Organized Card (such as American Legion or VFW)

Photograph of veteran or active military personnel in uniform

Wearing uniform

DD214

Citation or commendation
*Only one of these is required to participate. For additional information on lunches, contact Darlene Moppert, Food and Nutritional Services, at 754-321-0215.
Pompano Beach High School Army JROTC Hosts Annual Fallen Heroes Ceremony
Today, the Pompano Beach High School Army JROTC hosts its annual Fallen Heroes Ceremony and flag posting for each service member – over, 6,931 – lost since the beginning of the War on Terrorism. Flags with information about the fallen service member and a photo (if available) are displayed in rows on the Pompano Beach High campus from now until Veterans Day. For additional information, contact Lieutenant Colonel Greg Johnson, at 754-322-2000.
MEDIA INTERESTED IN COVERING THESE EVENTS AND VISITING A SCHOOL, PLEASE CONTACT THE PUBLIC INFORMATION OFFICE AT 754-321-2300.
###
ABOUT BROWARD COUNTY PUBLIC SCHOOLS
"Committed to educating all students to reach their highest potential."
Broward County Public Schools (BCPS) is the sixth-largest school district in the nation and the second-largest in the state of Florida. BCPS is Florida's first fully accredited school system since 1962. BCPS has more than 271,500 students and approximately 175,000 adult students in 234 schools, centers and technical colleges, and 88 charter schools. BCPS serves a diverse student population, with students representing 204 different countries and 191 different languages. Connect with BCPS: visit the website at browardschools.com, follow BCPS on Twitter @browardschools and Facebook at facebook.com/browardschools, and download the free BCPS mobile app.