Return to Headlines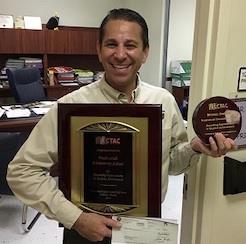 Dear Tradewinds Family,
Even though we are winding down the school year, Tradewinds continues to "buzz" and "shine" with learning, activity, excitement and recognition. Congratulations to our exemplar April and May Students of the Month for demonstrating Tolerance. Students will be honored on WTNN and receive a Kids of Character Award and a Texas Roadhouse free meal gift certificate. "Speaking of Character"... we are so proud of Elijah Guerra (Mrs. Perez-Enis' Class) and Mariecarmen Canino (Teacher Assistant) who were nominated as a Kid and Staff Member of Character for our school this year. More congratulations are in place for our Debate Team and Mrs. Allison Roy. And the kudos do not stop there! We are so proud of our exemplary volunteer program. Thank you to Mrs. Good for serving as our volunteer coordinator. We honored our volunteers and are so proud of the many adults who make a difference in the lives of our students and school community. These volunteers were recently recognized. We sincerely thank all of our volunteers for their time and dedication.
We will have many more opportunities to celebrate achievements during our recognition assemblies on WTNN.
Tradewinds Elementary celebrated our beautiful diversity amongst our school community with our Second Annual International Day. Coordinated by Mrs. Romero, our students shared and learned in one of our best school days of the year. Thank you to all who participated.
Please mark your calendars for Tuesday, May 30, 6 pm, for PTA's Election Meeting at our Media Center. Nominations for all positions for the 23-24 Tradewinds Elementary PTA Executive Board will be taken from the floor. We encourage anyone who is looking to get more involved to attend. All are welcome but only members prior to May 1st may vote. Please contact Ashley at northac@browardptsa.org with any questions.
In accordance with Florida law, we are providing you with your child's school financial report (please visit our school's website: www.browardschoools.com/tradewinds). The figures in this report represent the revenues and the expenditures allocated to the school, both in total and per FTE (full-time equivalent) student. This data is compared to the rest of the schools in the district and the state. The purpose of this report is to inform parents of the resources that were available to the school during the 2021-22 school year.
As a reminder, The Food and Nutrition Services Department cannot accept checks as payment for meal services for the remainder of the 2022/2023 school year. However, this does not affect on-line payment access at: www.myschoolbucks.com.
Registration for students new to Tradewinds takes place from 7:30 am to 2:45 pm each day. Over the summer, starting June 12th, our school is open from Monday through Thursday. Hours for registration are 8 am to 2 pm (or by appointment). Our school is closed on the following dates: June 16, 19, 30, July 4, 14, 21, 28, August 4 and 11. We encourage future students to register as soon as possible in order to help us plan for next year.
Should any of our current Kindergarten through Grade 4 students be planning to attend another school next year, or any fifth grade students that will not be attending Lyons Creek Middle School, please send a note to the office, so we can have records ready to be sent as soon as the new school contacts us.
As this school year comes to an end, the District is adopting the following practice for the last week of school. Effective Friday, June 2, 2023, through Thursday, June 8, 2023, students will not be allowed to bring backpacks to school. Additionally, large purses or beach bag-style purses will not be permitted on campus during this time. A small pouch may be allowed for personal hygiene items. Lunches may be brought in a clear disposable container or clear plastic bag. While we understand that this may cause some inconvenience, we believe that this added measure is necessary to maintain a safe and secure learning environment for all students and staff.
The 2023 - 2024 Broward County Public School calendar is attached. Please note the first day of school is Monday, August 21st.
Calendar Updates
May 29th - Holiday - School Closed
May 30th - Grade 4 Amazing Race Event
May 30th - PTA Elections for 2023-2024 - 6:00 pm
June 1st - Eagles Landing Store 8:30-12:00 (K-2)
June 2nd - Eagles Landing Store 8:30-12:00 (3-5)
June 2nd - Trade Wind and Fire Variety Show 8:30-9:00
June 2nd - Grade 5 Celebration (details forthcoming)
June 2nd - June 8th - No Backpacks at School
June 5th - Grade 5 vs. Staff Kickball Game
June 6th - Grade 5 Moving Up Ceremony (Cummings, Basu, Roy and Larrieux) 9:00
June 7th - Grade 5 Moving Up Ceremony (Burrows, Philip, Gibson and Singh) 9:00
June 8th - Early Release Day Full Day of School
June 8th - Grades 3 and 4 Recognition Assemblies (WTNN)
June 8th - Report Cards Issued
August 18th - Meet and Greet Your Teacher (Tentative Date)
August 21st - First Day of School
Your Very Proud Principal,
Mr. Breslaw