Return to Headlines
BCPS Students to Perform with Black Violin to Celebrate the Opening of the Kennedy Center Expansion in Washington, D.C
August 29, 2019
WHO:
Students from Bethune Elementary School, Lake Forest Elementary School, North Andrews Gardens Elementary School and Walker Elementary School and music artist Black Violin.
WHAT:
Students are holding their final rehearsals this week at the Broward Center for the Performing Arts in preparation for a performance with artist Black Violin at the Kennedy Center for the Performing Arts.
WHEN/WHERE:
Broward Center for the Performing Arts
Rose Miniaci Arts Education Center
201 SW 5th Avenue, Fort Lauderdale, FL 33312
Rehearsal on Friday, August 30, 2019, 10 a.m. – 12:30 p.m.
WHY:
As part of the opening festival of REACH, the Kennedy Center for the Performing Arts' unprecedented new expansion of their facility that will provide a new open stage and learning center, students from Broward County Public Schools (BCPS) Turnaround Arts Program represent the only schools in Florida invited to perform on Friday, September 6 and Saturday, September 7.
In addition to their performance, BCPS students will join an opening procession called "The Future Is Now and I am It: A Parade to Mark the Moment" organized by multi-disciplinary visual and performance artist Carrie Mae Weems, in collaboration with David Ross' MusicianShip and the Funk Parade. The day also includes an open-air performance by the National Symphony Orchestra, Washington National Opera soloists, and a headlining appearance by Rock & Roll Hall of Famer Bootsy Collins.
This is the second time Turnaround Arts students from Bethune, Lake Forest and Walker elementary schools have performed at the Kennedy Center, and the first time for North Andrews Gardens students. Turnaround Arts, a national program of the Kennedy Center for the Performing Arts, provides resources to schools to increase student achievement, student attendance, and parent and community involvement.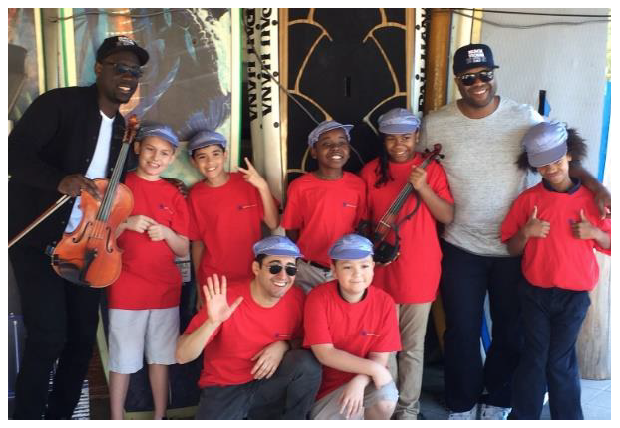 MEDIA ARE INVITED TO COVER THIS EVENT.
###
ABOUT BROWARD COUNTY PUBLIC SCHOOLS
"Committed to educating all students to reach their highest potential."
Broward County Public Schools (BCPS) is the sixth-largest school district in the nation and the second largest in the state of Florida. BCPS is Florida's first fully accredited school system since 1962. BCPS has more than 271,500 students and approximately 175,000 adult students in 241 schools, centers and technical colleges, and 89 charter schools. BCPS serves a diverse student population, with students representing 204 different countries and 191 different languages. Connect with BCPS: visit the website at browardschools.com, follow BCPS on Twitter @browardschools and Facebook at facebook.com/browardschools, and download the free BCPS mobile app.