Return to Headlines
BCPS Congratulates Lieutenant Colonel (Retired) Kenneth Green for Receiving National Director of Army Instruction of the Year Award
January 17, 2020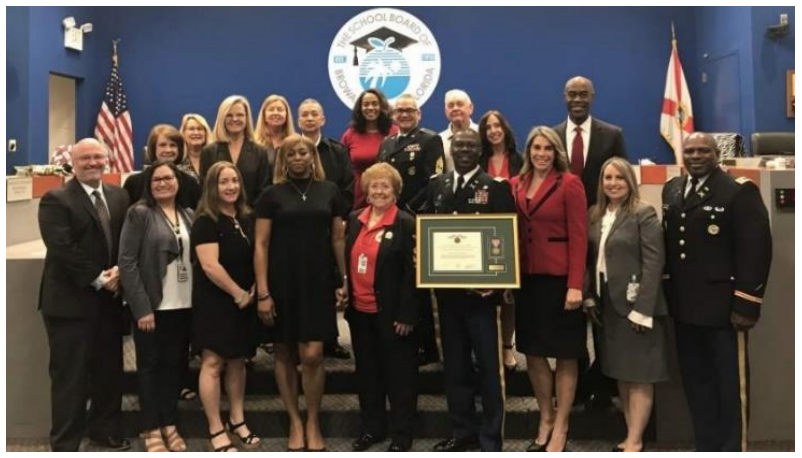 Congratulations to Lieutenant Colonel (RET) Kenneth Green for being chosen as the 2019 United States Army Cadet Command Director of Army Instruction (DAI) of the Year. This award recognizes Green as the top Army DAI in the world. The prestigious award honors superior qualities and professionalism toward ensuring the success within the Junior Reserve Officers' Training Corps program and commitment to the U.S. Army. He was selected for the award from more than 4,000 instructors in JROTC programs around the world.
Lieutenant Colonel Green is the director of Army Instruction and Coordinator of JROTC and Military programs for Broward County Public Schools (BCPS). Under his leadership, the District's JROTC program has grown to include nearly 7,000 cadets in 30 high schools and 8 middle schools and boasts a JROTC STEM camp with college credit from Florida Atlantic University. In addition, District JROTC cadets continually earn state championship titles and received more than $25 million in scholarships for colleges, universities and military academies last year. The JROTC programs have a 99% graduation rate.
For receiving this award, Lieutenant Colonel Green was recognized during a Special School Board presentation during the January 14, 2020, School Board Meeting (pictured above). Watch the special presentation.
"Our cadets and our instructors are known throughout the world," said Lieutenant Colonel Green. "I'm grateful to have such a great team that is committed to continuous improvement. We want our good to be better than our best every day. This is not just my award, it's also the teachers', principals', school staff members' and District administration's award for their support of our cadets and what we do in JROTC."

###
ABOUT BROWARD COUNTY PUBIC SCHOOLS
"Committed to educating all students to reach their highest potential."
Broward County Public Schools (BCPS) is the sixth-largest school district in the nation and the second-largest in the state of Florida. BCPS is Florida's first fully accredited school system since 1962. BCPS has nearly 270,000 students and approximately 175,000 adult students in 241schools, centers and technical colleges, and 89 charter schools. BCPS serves a diverse student population, with students representing 204 different countries and 191 different languages. To connect with BCPS, visit browardschools.com, visit browardschools.com, follow us on Twitter @browardschools, on Facebook at facebook.com/browardschools.com and download the free BCPS mobile app.