Return to Headlines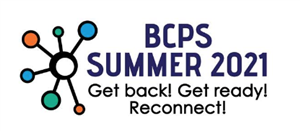 Hello Country Isles families, Get ready for Summer 2021, Get Back! Get Ready! Reconnect! – a summer experience that's open to all students.

This summer, your student can get back on track academically, get ready for the upcoming school year, and reconnect with their friends, peers, and teachers.

BCPS Summer 2021 is a six-week summer experience that can help your student accelerate their learning in a face-to-face setting ahead of the next school year.

Summer 2021 is a free six-week experience that starts Monday, June 21 and runs through Thursday, July 29, 2021. Certified teachers will provide face-to-face instruction and CDC safety guidelines will be followed including mandatory mask-wearing, physical distancing, and other health and safety protocols.

Transportation and meals will be provided, and before and after school childcare services are available for participating students. Before care is being offered free of charge at our location due to the 9:30am start time.

Classes will be held at Everglades Elementary School, Monday through Thursday, for four hours a day, from 9:30am-1:30pm.

All classes will be held in-person and on campus only – the Summer 2021 Get Back! Get Ready! Reconnect! experience does not include virtual eLearning.

Please note, seats are limited.

To secure a spot, please register your student by clicking here:
BCPS Summer Learning Registration- English
If you prefer to access this registration in Spanish, please register by clicking here:
BCPS Summer Learning Registration- Spanish

For more information, please contact our school at 754-323-5250.

Everglades Elementary looks forward to welcoming your student to Summer 2021, so they can Get Back! Get Ready! and Reconnect!