Return to Headlines
Two BCPS JROTC Cadets Earn Legion of Valor Bronze Cross for Outstanding Achievement
October 8, 2019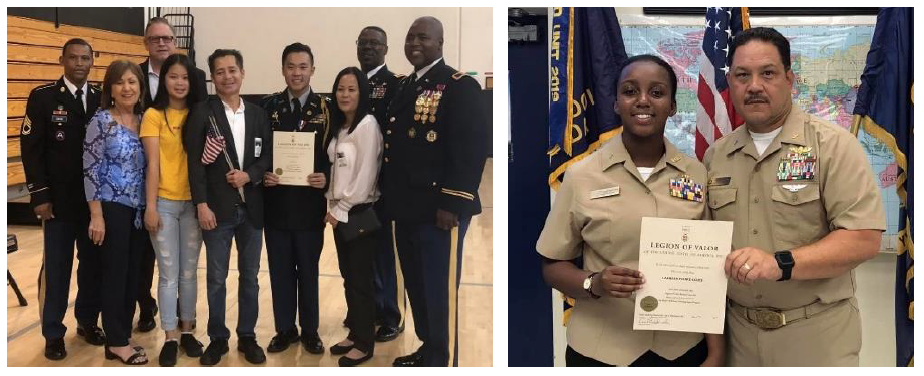 (Pictured center: JROTC Cadet Lincoln Le / Pictured: JROTC Cadet Laureen Pierre-Louis)
Congratulations to JROTC Cadets Lincoln Le (Monarch High School, senior) and Laureen Pierre-Louis (Nova High School, senior) for being awarded the Legion of Valor Bronze Cross for Outstanding Achievement. The Legion of Valor Bronze Cross is awarded to JROTC cadets who demonstrate outstanding performance, dependability and good character, adherence to military discipline and leadership ability. Each year, the prestigious award is presented to only 72 cadets out of approximately 470,000 cadets across the country representing all branches of service.
Cadet Le's accomplishments include:
Ranking among the top 2% of his senior class

Serving as Senior Class President, marking the fourth year he has been elected as Class President

Holding additional class office roles, including Corresponding Secretary in the Student Government

Receiving the JROTC Academic Achievement award, the Honor Roll Cord, Senior Army Instructor's Ribbon and Student Government Association Ribbon
Among Cadet Pierre-Louis' accomplishments:
Ranking in the top 13% of her senior class and in the top 1% of the Naval science class

Developing a cadet evaluation system for promotions and academic awards

Serving as Color Guard and Honor Guard member

Nova High School Navy JROTC – Area Manager's Top Junior of the Year for 2018/19
For more information, contact Lieutenant Colonel Kenneth Green at 754-322-0300.


###


ABOUT BROWARD COUNTY PUBLIC SCHOOLS
"Committed to educating all students to reach their highest potential."
Broward County Public Schools (BCPS) is the sixth-largest school district in the nation and the second-largest in the state of Florida. BCPS is Florida's first fully accredited school system since 1962. BCPS has nearly 270,000 students and approximately 175,000 adult students in 241schools, centers and technical colleges, and 89 charter schools. BCPS serves a diverse student population, with students representing 204 different countries and 191 different languages. To connect with BCPS, visit browardschools.com, visit browardschools.com, follow us on Twitter @browardschools, on Facebook at facebook.com/browardschools.com and download the free BCPS mobile app.