Return to Headlines
BCPS Turnaround Arts Program Students to Perform on Stage with Black Violin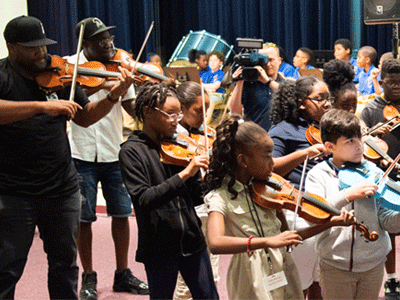 Students perform with Black Violin
WHO:
Students from Bethune Elementary School, Walker Elementary School and Black Violin
WHAT:
Students from Bethune Elementary and Walker Elementary will perform with award winning artist Black Violin as part of its Dreamers Dream event.
WHERE:
Broward Center for the Performing Arts
Mary N Porter Riverview Ballroom
201 SW 5th Avenue
Fort Lauderdale, FL 33312
WHEN:
Sunday, October 27, 2019, at 3:30 p.m.
WHY:
As part of the Kennedy Center's Turnaround Arts program, Bethune Elementary and Walker Elementary students were selected to perform with Turnaround Arts artists and BCPS alumni, Black Violin. In September, the students had the opportunity to visit Washington, D.C. for the opening festival of REACH, the Kennedy Center for the Performing Arts facility expansion, and perform with Black Violin. Black Violin artists Kev Marcus and Wil B. were so impressed by the students' performances, they invited the students to join them on stage again at their Dreamers Dream event this weekend.
The Turnaround Arts is a program of the Kennedy Center that transforms schools through the strategic use of the arts. For more information visit, turnaroundarts.kennedy-center.org/. For more information on Black Violin, visit turnaroundarts.kennedy-center.org/portfolio/black-violin/.
Dreamers Dream, hosted by the Black Violin Foundation is a fundraiser event, providing scholarships to youth who would like to continue their musical education through a program that fosters musical creativity and innovation.
MEDIA ARE INVITED TO COVER THIS EVENT.
###
ABOUT BROWARD COUNTY PUBLIC SCHOOLS
"Committed to educating all students to reach their highest potential."
Broward County Public Schools (BCPS) is the sixth-largest school district in the nation and the second-largest in the state of Florida. BCPS is Florida's first fully accredited school system since 1962. BCPS has nearly 270,000 students and approximately 175,000 adult students in 241 schools, centers and technical colleges, and 89 charter schools. BCPS serves a diverse student population, with students representing 204 different countries and 191 different languages. To connect with BCPS, visit browardschools.com, follow us on Twitter @browardschools, on Facebook at facebook.com/browardschools.com and download the free BCPS mobile app.
.