Return to Headlines
Don't Miss the South Florida Gifted & Talented Symposium
September 18, 2019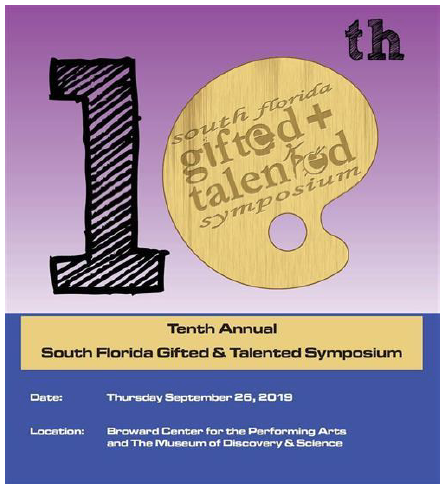 WHO:
Broward County Public Schools Educators, Parents and Community Members
WHAT:
2019 South Florida Gifted & Talented Symposium
WHEN:
Thursday, September 26, 2019
7:30 a.m. – 3:30 p.m.
WHERE:
Broward Center for the Performing Arts and
Museum of Discovery and Science
201 SW 5th Avenue
Fort Lauderdale, Florida 33312
WHY:
Broward County Public Schools, in partnership with the Broward County Government Cultural Division, Broward Center for the Performing Arts, and the Museum of Discovery and Science is pleased to present the 10th Annual South Florida Gifted and Talented Symposium. This event provides educators and parents with the opportunity to network and learn in a forum dedicated to strategies and practices that foster self-directed, motivated and independent learners in real-world learning environments.
Registration is required. Tickets must be purchased and include light refreshments for breakfast and a lunch. For more information, visit browardschools.com/giftedandtalentedsymposium.
###


ABOUT BROWARD COUNTY PUBLIC SCHOOLS
"Committed to educating all students to reach their highest potential."
Broward County Public Schools (BCPS) is the sixth-largest school district in the nation and the second-largest in the state of Florida. BCPS is Florida's first fully accredited school system since 1962. BCPS has nearly 270,000 students and approximately 175,000 adult students in 241 schools, centers and technical colleges, and 89 charter schools. BCPS serves a diverse student population, with students representing 204 different countries and 191 different languages. To connect with BCPS, visit the website at browardschools.com, follow BCPS on Twitter @browardschools, like us on Facebook at facebook.com/browardschools and download the free BCPS mobile app.