Return to Headlines
Important Announcement at Fifth Annual BCPS Debate Luncheon
November 4, 2019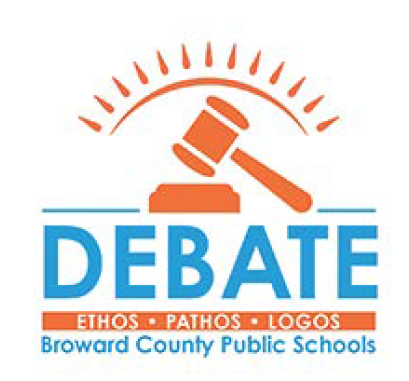 Broward County Public Schools (BCPS) is proud to offer the largest debate program in the nation. On Tuesday, November 5, 2019, the BCPS Debate Initiative will host its fifth annual Speaking for the Future luncheon at the Broward Center for the Avenue, Fort Lauderdale, FL, 33312, from 11:30 a.m. – 1:30 p.m. During the luncheon, an important announcement will be made in support of the Debate Initiative.
The Debate Initiative is a partnership between local businesses and school-based debate programs, which focuses on supporting and increasing students' interest and participation in debate.
During the Speaking for the Future luncheon, BCPS debate students showcase their skills through a variety of competitive debates and speeches, including a congressional debate round. The competitive events include providing a topic selected by audience members, where students have 30 minutes to prepare a seven-minute presentation to be given without notes.
The luncheon also features an awards presentation in the following categories: Community Champion, Coach, Administrator and Volunteer of the Year
The students represent Fox Trail Elementary School, Riverglades Elementary School, Sanders Park Elementary School, Forest Glen Middle School, Ramblewood Middle School, Nova High School, West Broward High School and Western High School.
In its ninth year, the Debate Initiative includes over 150 schools and 15,000 students. All BCPS middle and high schools in addition to 100 elementary schools and three alternative schools have debate programs. The initiative is grounded in research that shows the positive impact debate has on student achievement.
The Debate Initiative Host Committee includes Broward County School Board Member, Laurie Rich Levinson; former United States Senator, George S. LeMieux; Florida Bar Association Past President, Eugene Pettis; and Broward County State Attorney, Michael Satz.
For information on Speaking for the Future luncheon tickets, visit https://bit.ly/36qvref. All proceeds from the event support students in their competitive debate endeavors. For more information on the BCPS Debate Initiative and opportunities to help support it, visit browardschools.com/debate.
Media are invited to cover this event.
###
ABOUT BROWARD COUNTY PUBLIC SCHOOLS
"Committed to educating all students to reach their highest potential."
Broward County Public Schools (BCPS) is the sixth-largest school district in the nation and the second-largest in the state of Florida. BCPS is Florida's first fully accredited school system since 1962. BCPS has nearly 270,000 students and approximately 175,000 adult students in 241 schools, centers and technical colleges, and 89 charter schools. BCPS serves a diverse student population, with students representing 204 different countries and 191 different languages. To connect with BCPS, visit browardschools.com, follow us on Twitter @browardschools, on Facebook at facebook.com/browardschools.com and download the free BCPS mobile app.