Return to Headlines
Gulfstream Academy K-8 Innovative Learning (VILS)
What is a Verizon Innovative Learning Schools?
At Verizon, digital inclusion is about ensuring the benefits of technology are realized by all. Right now, millions of under-resourced students here in the U.S. are lacking the connectivity, technology and skills required for success in today's digital economy. That is why, since 2012, we have been working to help foster digital inclusion through a transformative program called Verizon Innovative Learning.
All children should have access to new technology and quality STEM education. Through Verizon Innovative Learning, we turn belief into action. Our program provides free technology, free internet access and a next-gen, technology-infused curriculum delivering a new way of learning. We work hand in hand with nonprofit partners and our team of education and technology experts to build and administer STEM-focused programs that create the kinds of transformations that change lives. We carefully measure and refine our programs to ensure we are making a difference – and we have. Our programs drive real academic improvements, such as increased proficiency in STEM and student engagement as compared to non-Verizon Innovative Learning schools.
Digital Promise collaborates with Verizon to equip every student and teacher at select middle and high schools across America with a device and up to a four-year data plan and provide students without reliable home internet access with a mobile hotspot. In addition to free technology and access, Verizon Innovative Learning Schools receive extensive teacher training, support, and the opportunity to engage in a unique, immersive curriculum to leverage technology in their classrooms. VILS Website Link: https://verizon.digitalpromise.org/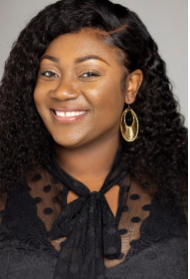 About the VILS Coach……
Ms. Shirline Alexander, VILS Coach at Gulfstream Academy of Hallandale Beach K-8
Hello Stallion Nation!! I am so excited about this upcoming school year. My name is Ms. Shirline Alexander and I have been working with Broward County Public Schools for 16 years as an educator with a total of 20 years of experience in the field of education. Working with students and seeing their growth during their educational endeavors is my passion.
I received my bachelor's degree from Florida State University (FSU) in Child Development with a minor in Education. I furthered my education by gaining my master's degree in Public Administration and Specialist Degree in Organizational Leadership.
In the beginning of my career, I worked across the primary grade levels of kindergarten to 5th grade. Kindergarten is where my heart lies since its part of the foundational levels of education for our students. I have taught all primary grades and gradually moved in several support roles as an ESE Support Facilitator and Response to Intervention (RTI) Coach before landing a position teaching Critical Thinking for Grades 6-8 at the middle school level.
Two years ago, I partnered with my middle school administrator to write the Verizon Innovative Learning Schools (VILS) Grant to provide free devices with consistent access to technology both on and off campus to all secondary students and staff. Upon becoming a recipient of the grant, I am now in my 2nd year of being the VILS Coach at Gulfstream Academy of Hallandale Beach K-8 Center.
I can be reached via email at Shirline.alexander@browardschools.com or by phone at 754-323-5968 regarding VILS.
I look forward to working with you 'Stallion Nation' and let us have a great school year.
Ms. S. Alexander
Gulfstream Academy VILS Coach
Ms. S. Alexander
Verizon Innovative Learning Schools (VILS) Technology Coach
GulfSTREAM Academy of Hallandale Beach K-8
Phone: (754) 323-5950
Fax: (754) 323-5990
Email: shirline.alexander@browardschools.com
Gulfstream Academy and VILS Partnership. Click here for .pdf
Verizon Innovative Learning School Flyer. Click here for .pdf
Verizon Innovative Learning School Parent Letter. Click here for .pdf