Return to Headlines
The Alliance and BCPS Partner for the 4th Annual Claim Your Future Showcase
February 13, 2020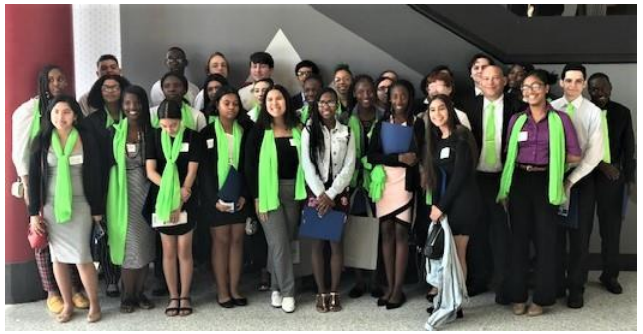 The Greater Fort Lauderdale Alliance, Broward County's official economic development partnership, is collaborating for the fourth year with Broward County Public Schools (BCPS) on an industry-focused career fair, the Claim Your Future Showcase.
Geared toward high school juniors in BCPS Career, Technical, Adult & Community Education (CTACE) programs, the event takes a different approach to the traditional career fair. Wells Fargo is the event's major sponsor for the second year in a row, with the Fort Lauderdale Executive Airport, the BB&T Center, Delaware North, ICON International and BIG CHEF also on board.
On Tuesday, February 18, 2020, from 8 a.m. to 2 p.m., more than 1,300 students will gather at the BB&T Center in Sunrise to meet with representatives from 60 Alliance member companies, educational institutions and partner organizations.
"Now in our fourth year, thousands of students have had the opportunity to learn about careers they can pursue right here in Broward County, including high-wage, targeted industries. With the Claim Your Future Showcase, we are fighting brain drain and keeping talented students here to become our workforce of the future," said Bob Swindell - President & CEO, Greater Fort Lauderdale Alliance.
"The Claim Your Future Showcase offers incredible opportunities for our students. It brings together what they are learning in the classroom with real-world workplace expectations and experiences," said BCPS Superintendent Robert W. Runcie. "Thanks to the Alliance and the business partners who make this event possible, we are opening doors for our students, allowing them to explore local industries and learn what they need to do to achieve their post-secondary career goals and prepare for their futures."
Students will learn about a wide range of career possibilities they may not previously have been aware of and learn what skills are needed to pursue their professional goals. Beyond touring the fair, they will attend panel discussions with C-level executives, interview for summer internships and participate in breakout sessions. The new breakout sessions for 2020 are Broward Technical College, Cybersecurity and Post-Secondary Options. Mock interviews will also take place, during which students receive one-on-one feedback from their executive interviewers.
Businesses in attendance will have a chance to see the incredible local high school student talent being cultivated in Broward County and recruit student interns for on-the-job experiences this summer.
For more information, contact:
Susan Climan, Manager – Education Programs at scliman@gflalliance.org or 954-627-0126
Christie Cerbone, BCPS CTACE, at christie.cerbone@browardschools.com or 754-321-8401
###


About the Alliance: The Greater Fort Lauderdale Alliance (www.gflalliance.org) is Broward County's official public/private partnership for economic development. Its mission is to lead Broward County in building a stronger and more diverse economy by stimulating the creation of new jobs and capital investment while facilitating the growth and retention of businesses in Broward County. Services offered by the Alliance include assistance with business relocation or expansion and site selection; incentive programs and information; market research; and serving as a liaison for workforce development between CareerSource Broward, educational institutions and the business community. To learn more, call (954) 524-3113.
ABOUT BROWARD COUNTY PUBLIC SCHOOLS
"Committed to educating all students to reach their highest potential."
Broward County Public Schools (BCPS) is the sixth-largest school district in the nation and the second-largest in the state of Florida. BCPS is Florida's first fully accredited school system since 1962. BCPS has nearly 270,000 students and approximately 175,000 adult students in 241 schools, centers and technical colleges, and 89 charter schools. BCPS serves a diverse student population, with students representing 204 different countries and 191 different languages. To connect with BCPS, visit browardschools.com, follow us on Twitter @browardschools, on Facebook at facebook.com/browardschools.com and download the free BCPS mobile app.