Return to Headlines
Western High School Students Set to Compete in  Solar Car Challenge in Fort Worth, Texas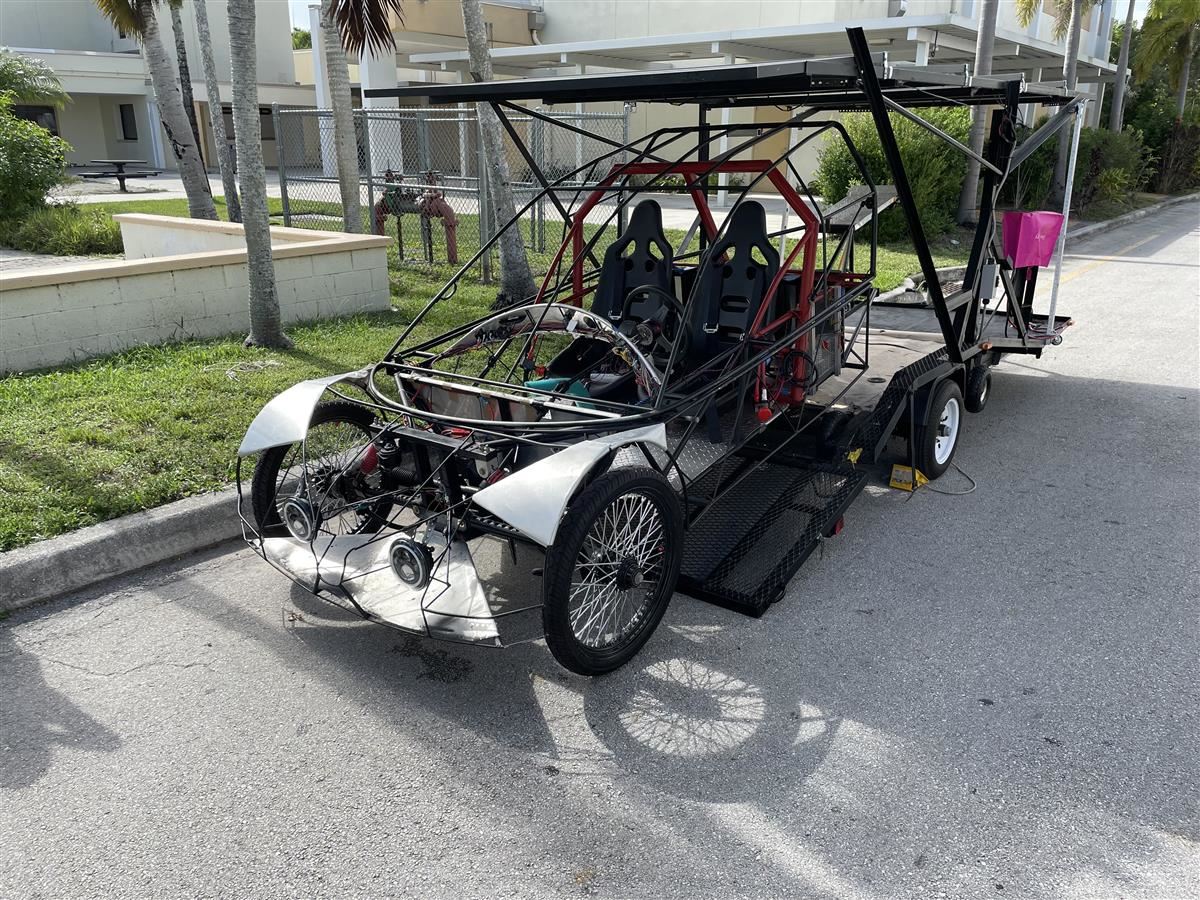 Western High School Solar Car - E-Cat
The Western High School Solar Cats have been hard at work building an electric car that runs on batteries powered by the sun. The team returns to the 2021 Solar Car Challenge in Fort Worth, Texas on July 16, 2021, marking their first appearance since winning the Solar Car Challenge Classic Division in 2018.
This year, the Western High Solar Cats will compete in the new Electric-Solar Powered Division, which seeks to make solar car racing a reality by incorporating solar panels and a two-passenger vehicle capable of urban driving. The team will debut their new "E-Cat" constructed from the ground up.
The Solar Car Challenge teaches high school students around the world how to build roadworthy solar cars.The Western High Solar Cats team has learned how to plan, design, engineer, build, race and evaluate solar cars and are demonstrating how green technology can create a better world.
The Solar Car Challenge will feature 251 solar car projects in various stages of development in anticipation of the upcoming solar car-racing event. Teams will travel to Texas from 38 states, as well as Canada, Mexico, Costa Rica, Puerto Rico and the Bahamas. Qualified teams will get the opportunity to drive their solar cars at the Texas Motor Speedway.
"The challenge gives students an opportunity to learn skills they can carry forward in their academic and professional careers, such as mechanical, electrical and software engineering, as well as problem solving, team building and project management," said Western High Assistant Principal Christine Graf. "The students have spent months working on their car. This is an opportunity to demonstrate ingenuity and celebrate their efforts."
Congratulations to Western High School Solar Cats leaders and team members: Rohan Jaison, co-captian and telemetry director, Justin Fox, co-captain and system architecture, Fernando De Achurra, mechanical design director, Brian Abin, Terry Russel, Nadia Auguste and Ethan Kaplan.
###
ABOUT BROWARD COUNTY PUBLIC SCHOOLS
"Committed to educating all students to reach their highest potential."
Broward County Public Schools (BCPS) is the sixth largest school district in the nation and the second largest in the state of Florida. BCPS is Florida's first fully accredited school system since 1962. BCPS has nearly 261,500 students and approximately 110,000 adult students in 241 schools, centers and technical colleges, and 92 charter schools. BCPS serves a diverse student population, with students representing 170 different countries and 147 different languages. To connect with BCPS, visit browardschools.com, follow us on Twitter @browardschools, on Facebook at facebook.com/browardschools.com and download the free BCPS mobile app.