Fort Lauderdale Defeats Aquinas 2-1 for First Regional Softball Victory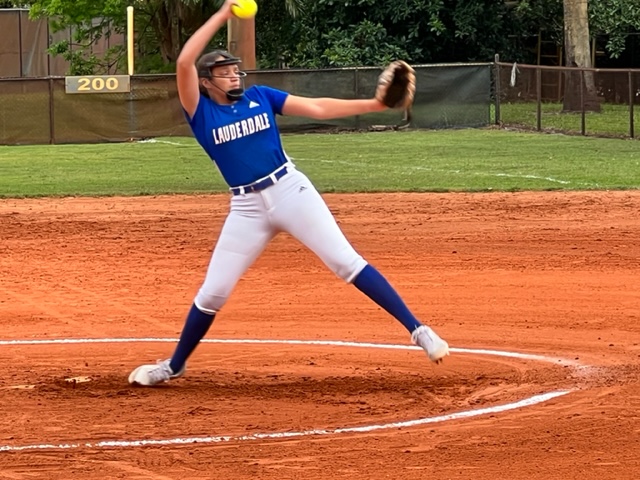 Fort Lauderdale junior pitcher Kaleea Washington allowed five hits with four strikeouts to lead the Flying L's to a 2-1 victory over St. Thomas Aquinas in a Class 6A regional quarterfinal game on Thursday.
Fort Lauderdale Defeats Aquinas 2-1 for First Regional Softball Victory
By Dave Brousseau
BCAA Writer
FORT LAUDERDALE – It had been so long, seven years to be exact since the Fort Lauderdale High softball team played in a regional playoff game - most if not all of the current players had never played the sport.
That all changed in a big way on Thursday against St. Thomas Aquinas.
With no outs in the bottom of the seventh inning, Senior Emelie Spence lined a base hit up the middle that was misplayed by the Aquinas center fielder. It allowed Senior Aaliyah Castro, who had reached by on a single to center field to score the winning run for the dramatic 2-1 victory in a Class 6A Regional Quarterfinal.
It was the Flying L's (17-4) first regional win in school history after four previous attempts dating back to 1996. Their last appearance came in 2015 in a 14-4 loss to West Boca.
"At that moment I was thinking about our lead runner," said Spence. "She ran her butt off as I kept hoping get home, get home. I was happy that I was able to contribute to this team's victory."
Spence finished the night with three hits, a run and of course the game winning RBI.
Fort Lauderdale will play at defending state champ and No. 2 state ranked Doral Academy (21-4-1) on Tuesday at 6 p.m. The Flying L's lost to Doral 1-0 in eight innings earlier this season.
"My girls have been working hard coming into this game," said Fort Lauderdale coach Ron Willover. "Aquinas wasn't expecting the offense we had today when we came after them. We'll do more heading against Doral."
Junior pitcher Kaleea Washington (12-3), who allowed a first inning run, tossed a five-hitter with four strikeouts to earn the victory.
"This was amazing since we've come here trying to make a difference," said Washington. "We've worked hard at practice and outside of practice. It's nice to be the first to win a regional game at Fort Lauderdale."
The Raiders (9-14) took a 1-0 first inning lead when Christina Woods scored from second on a two-out RBI bloop single to right field by Isabella Melley.
Fort Lauderdale evened the score at 1-1 in the bottom of the third inning with a two-out RBI single by Isabel Vera that scored Spence from second.
OTHER SOFTBALL REGIONAL RESULTS
Class 7A: West Broward 8, Coral Reef 3; Western 10, Goleman 1; Monarch 7, Douglas 3.
Class 6A: Cooper City 17, McArthur 0; Doral Academy 16, Nova 0; Lourdes/South Plantation
Class 5A: Naples 3. Pembroke Pines Charter 1
Class 4A: Bonita Springs 4, Pompano Beach 3
Class 3A: Coral Springs Charter 13, Gulliver Prep 0