Douglas Repeats as Class 7A State Baseball Champ, Likely National Champ Too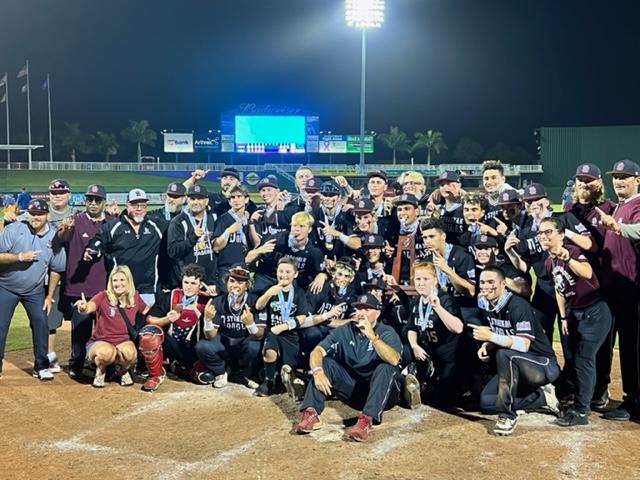 The Stoneman Douglas baseball team celebrates its 10-0 victory over Palm Beach Gardens for the Class 7A state championship.
Douglas Repeats as Class 7A State Baseball Champ, Likely National Champ Too
By Dave Brousseau
BCAA Writer
FORT MYERS – Though players and coaches for the Stoneman Douglas baseball team have refused to admit, the entire season has been focused on the opportunity to repeat as the FHSAA Class 7A state and national champion.
Following the 10-0 victory over Palm Beach Gardens at Hammond Stadium on Saturday, the Eagles officially can relish their back-to-back 7A title and likely national title as well.
Douglas entered the game No. 1 in the Perfect Game and Baseball American national rankings. The Eagles also joined Flanagan as the only Broward public school to win three state baseball championships.
Senior pitcher Chris Arroyo (10-1) tossed a two-hitter with seven strikeouts over five innings to earn the victory. It was also he, who so dramatically, hit a game-clinching three-run homer in the bottom of the fifth inning.
"I told the guys today, the message was to give the best seven innings you've given me all year, and everything will take care of itself," said Douglas coach Todd Fitz-Gerald. "At the end of the day these guys are hungry and have done what no other high school team has done and become perennial national champions."
The Eagles finished the season with a team record 30-2 season and 22 straight victories. All are national championship worthy.
"It's amazing doing what I can do for the team," said Arroyo. "It was no way this was my last time running the bases for my team. It was my last at bat and let's make it special".
As for the state and national titles.
"We weren't thinking about that. It was about staying bonded and do what we can do in games."
The victory was the second straight playoff win over Gardens in two years.
Down 4-3 with two outs in the bottom of the seventh inning, the Eagles rallied for an improbable ending.
Following Gavin Conticello's RBI double that tied the score at 4-4, then Junior catcher Santiago Ordonez stepped to the plate.
He proceeded to swat an off-speed pitch from Palm Beach Gardens pitcher Dom Stagliano deep into the night-time sky over the left field fence for a two-run walk-off homer for a 6-4 victory.
Friday's game winning Senior pitcher Jake Clemente gave Douglas a 1-0 lead in the bottom of the second inning when he jacked a solo homer, his fifth round-tripper of the season, over the left field wall.
Four RBI singles by Ordonez, Clemente, Niko Benestad and Rylan Lujo in a five-run third gave the Eagles a 6-0 lead.
"Everybody on this team wanted this," said Jake Clemente. "I'm at a loss of words. "Our main goal was the medal around our neck and another ring on our finger. This is something very special this group.
We were only worried about the next game. We never thought about winning a championship. We wanted to win all year and take the steps to stay within ourselves. A state championship was in the back of our minds. We just thought about winning."
In the fifth, Roman Anthony drove in a run for his 40th RBI this season. One batter later, game over. Arroyo's seventh home run of the season, a mercy rule blast over the right-field fence, put an end to a season that won't soon be forgotten.
Douglas concluded the season with 252 runs, while allowing only 47. They shut out their opponents 14 times and scoring 10 or more runs 12 times
Said Fitz-Gerald, "This is so rewarding they give so much everyday in practice. I've said it many times they make me the guy I am. We've been battled tested and play the toughest schedule.
Arroyo ended the game in historic fashion. I told the guys I don't want to go seven and the team gave us four in the fifth. It's amazing what these guys can do when they put their mind to it."