Atlantic Rally Sinks Plantation 34-12 in 3M Regional Quarterfinal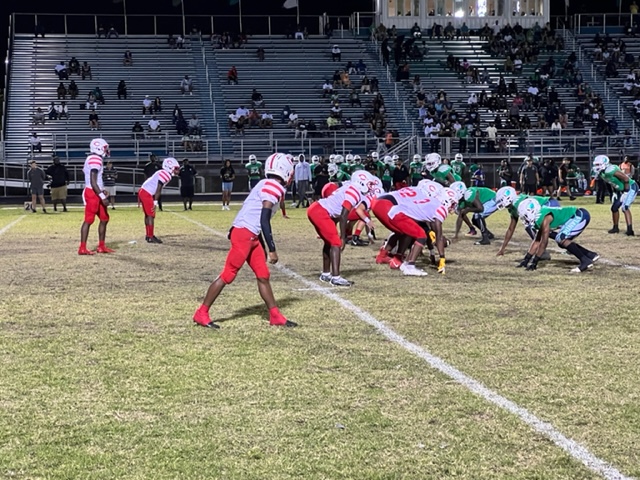 Plantation's (left) line up against the Atlantic defense in the first half of the Class 3-3M regional quarterfinal on Monday
By Dave Brousseau
BCAA Writer
DELRAY BEACH – Any hope for the Plantation High football team to advance to a Class 3M regional semifinal at St. Thomas Aquinas was dashed in the blink of an eye.
And for the second time since 2017 the Colonels were sent packing from the regional quarterfinals following Monday's 34-12 loss to Atlantic.
The Eagles (8-3) are rewarded with an away game at Aquinas (10-0) on Friday and a team that is a three-time defending state champion and winners of 23-consecutive games.
The last time the Colonels had lost in a regional quarterfinal was in 2017, a 29-14 defeat to Atlantic.
Up 12-7 at the half, Plantation's thoughts of advancing began to unravel in the third quarter following Jovante Pierre-Louis' six-yard run with 4:26 remaining in the third quarter that gave the Eagles the lead for good.
By the fourth quarter Atlantic dropped 21 points on the Colonels.
Jayden Parrish added a four-yard TD run with 4:00 left. Then a pair of pick-six returns, a Devon Byrd 25-yard return with 3:20 left was followed by a 98-yard touchdown by Tyrique Hollis as time expired.
"They kind of stymied us a little bit in the third quarter," Plantation coach Steve Davis said. "Atlantic got those big plays and it kind of broke the game open. We did not respond well to it. Whenever you lose in the playoffs, it's tough."
Plantation (7-4) took a first quarter lead when quarterback Amer Ellis connected with wide receiver Chad Braddy for a 62-yard scoring play for a 6-0 lead.
That lead was short-lived as Atlantic answered as Da'marion Alberic scored on a two-yard run early in the second quarter for a 7-6 advantage.
As the opening half neared completion, Plantation scored on Ellis' second scoring pass of the half with a seven-yard toss to Reginald Johnson for a 12-7 lead with 1:28 to play.
Colonels running back Shawn Williams finished with 88 yards on 14 carries, while Ellis had 81 yards on 14 carries.
FRIDAY'S REGIONAL SEMIFINALS
(All games at 7 p.m. unless noted)
Class 4M: Douglas (8-3) at Palm Beach Central (10-1), 6:30; Doral Academy (7-4) at Western (7-3), 7:30
Class 3M: Atlantic (8-3) at St. Thomas Aquinas (10-0); Miami Southridge (7-4) at Miramar (9-1).
Class 2M: Calvary Christian (9-2) at Cardinal Gibbons (10-1).
Class 1M: Avant Garde (6-3) at Chaminade-Madonna (9-0).
SATURDAY'S REGIONAL SEMIFINALS
Class 4M: Palm Beach Gardens (8-3) at Monarch (9-2) at Coconut Creek High, 7.
Class 3M: Blanche Ely (9-0) at Dillard (7-3), 5.
Class 2M: Boynton Beach (9-2) at American Heritage (10-1), 1.