Western - Doral Academy Playoff Football 2022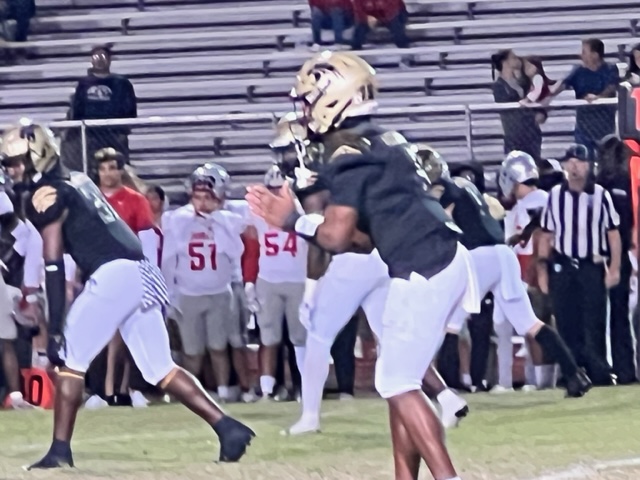 Western quarterback Monroe Ingraham (No. 5) made his start of the season for the Wildcats in the loss to Doral Academy.
By Dave Brousseau
Special to the Herald
DAVIE – Western entered Friday's Region 4-4M semifinal against Doral Academy with its star quarterback Collin Hurst on crutches and out for the remainder of the season with a severe left knee injury suffered last week.
Now it was up to Monroe Ingraham to pick up the pieces if the Wildcats expected to advance.
But Doral Academy had a big-time rushing attack led by senior running back Mark Wilder, who already had over 1900 yards and 22 touchdowns entering the game.
Here was Western's problem. They didn't have an answer in stopping Wilder or the entire Firebirds Wing-T rushing attack.
Wilder rushed for 206 yards on 36 carries and pair of touchdowns for a 32-21 victory. Doral on the night produced 372 yards, marking the ninth time they have exceeded the 300-yard plateau.
"The running back did a great job along with our line," said Doral coach Eddie Delgado. "They had a great game and honestly, they've been due that all year.
Wilder has been our rock, and this was the first time we've had everyone back since the preseason game. Wilder has been the guy that has carried us, and he's been there every game."
The Firebirds (8-4) advance to the school's first regional final against Miami Columbus next week.
Wilder has 2137 yards with 24 touchdowns that game.
But it was a Firebird's trick play on a double pass that created some separation against Western.
After taking a backwards pass from quarterback Jorge Rodriguez, wide receiver Marcus Antelo threw a 29-yard scoring pass to Jason Demetrius for a 26-14 lead with 2:22 left in the third quarter.
Demetrius also rushed for 103 yards 15 carries.
The Wildcats (8-4) answered with a Santana Fleming 29-yard run, cutting the deficit to five points.
Doral erased the score when Rodriguez scored on a 1-yard sneak with 5:08 to play to secure the win.
Down 20-7 with 1:59 left to play in the opening half, the Wildcats were in a must score position knowing they would get the ball again to open the second half.
With just one time-out remaining, they drove 80 yards with makeshift quarterback Monroe Ingraham throwing his first career high school touchdown pass to Nelson Walker in the back left corner of the endzone with 18 seconds left.
The PAT was good as Western closed the deficit to 20-14 at the break.
"Hats off to Doral and they did a great job tonight," said Western coach Adam Ratkevich. "We made way too many mistakes against a good football team.
Doral opened the game in style when Demetrius returned the opening kickoff 97 yards for a 6-0 lead following the missed point after.
Western answered accordingly with a seven-play drive for 66 yards that concluded with a 14-yard run by Fleming.
The Firebirds and their vaunted run proceeded to successfully regain the lead with a 77-yard drive with Wilder scoring from six yards out for his 23rd touchdown of the season.
Matt Wilson led Western's run game with 148 yards on 16 carries.