Aquinas Rolls Over Blanche Ely 35-7 in Regional Final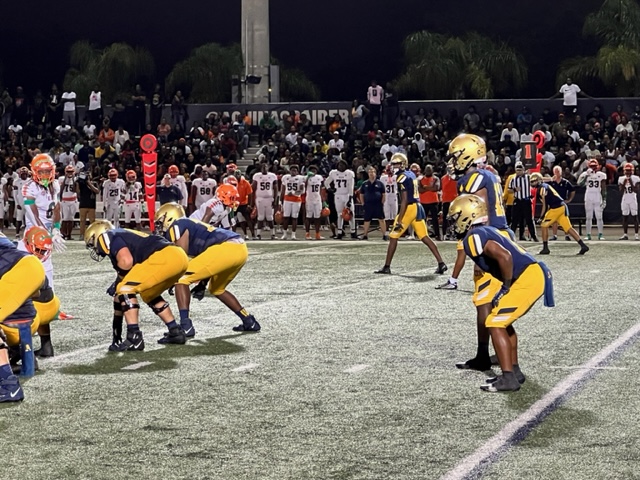 Xavier Terrell (No.7, left of quarterback), would score on a 64-yard touchdown on this play that tied the score at 7-7 in the first quarter.
By Dave Brousseau
BCAA Writer
FORT LAUDERDALE – It's only fitting the result was what it was. That's because history typically doesn't lie.
The St. Thomas Aquinas football team, a regular participant in the regional finals since 2000, found itself again on the winning side following a 35-7 victory over previously undefeated Blanche Ely on Friday.
Aquinas advances to a state semifinal game next Friday, where they will host Tampa Jesuit (9-4) at 7:30 p.m.
Junior running back Jordan Lyle, who missed last week's game due to an injury, rushed for 117 yards and scored two touchdowns to lead Aquinas.
"Once we were able to settle ourselves down, we did a good job in executing all three phases of the game," said St. Thomas Aquinas coach Roger Harriott. "We're in the playoffs against a local team and the tensions were running high."
For the night, Aquinas was called for 18 penalties for 188 yards. Ely had 91 yards on 11 penalties.
Not only did the Raiders (12-0) extend their winning streak to 25 games, but they also advanced to a state semifinal game for the 19th time since 2000. Aquinas also continued its bid for a potential state tying fourth straight state championship.
"We're playing one game at time and are not concerned with record," said Harriott. "We're just concerned about winning another championship."
The Raiders also extended their dominance over Ely with a 23-5 record since the team's first met in 1968. They also improved their playoff winning streak over the Tigers to 11 games.
The playoff win over Ely was the first since the two teams last met in 2009, when Aquinas had a solid roster with the likes of James White, Jake Ruddock, Lamarcus Joyner, Phillip Dorsett.
Up by 14 to start the second half, St. Thomas quickly added to its lead when Hezekiah connected to a wide-open Isaiah Hardge for a 47-yard touchdown pass with 10:16 left in the third quarter for a 28-7 lead.
The lead would continue to grow after the Tigers were forced to punt.
The Raiders drove 61 yards with Gemari Sands running the final seven yards for the score and a 35-7 lead.
Give credit to the Tigers for reversing the program and coach Michael Baily from a 1-9 team in 2021 to undefeated regular season before improving to 1-0 with two regional wins before falling to Aquinas.
Blanche Ely scored on its second possession are Harlem Howard recovered a fumble on the Raiders 10-yard line. One play later Nahcoy Daniels threw a scoring pass to Marcus Williams for a 7-0 lead with 6:49 to play in first quarter.
Aquinas quickly tied the game at 7-7 when Xavier Terrell ran 64 yards untouched for a touchdown.
It became all St. Thomas for the remainder of the game.
A pair of touchdown runs by Lyle in the second quarter created the separation the Raiders were seeking.
Touchdown runs of 3 and 12 yards increased the Raiders lead to 21-7.