Featured Career of the Week: Graphic Designer (10/2/2017-10/8/2017)
GRAPHIC DESIGNERS
What Graphic designers do: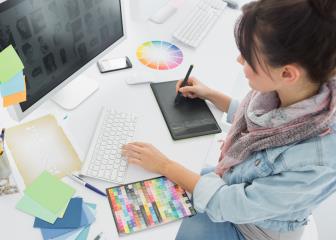 Graphic designers create visual concepts, using computer software or by hand, to communicate ideas that inspire, inform, and captivate consumers. They develop the overall layout and production design for various applications such as for advertisements, brochures, magazines, and corporate reports.
Graphic designers use digital illustration, photo-editing software and layout software to create the designs. These designs can include logos, original images and illustrations to support a company's message.
Work Environment:
Graphic designers generally work in studios where they have access to drafting tables, computers, and the software necessary to create their designs. Although many graphic designers work independently, those who work for specialized graphic design firms often work as part of a design team. Many graphic designers collaborate with colleagues or work with clients on projects.
How to Become a Graphic Designer:
Graphic designers usually need a bachelor's degree in graphic design or a related field. Candidates for graphic design positions should demonstrate their creativity and originality through a professional portfolio that features their best designs.
High school students interested in graphic design should take basic art and design courses in high school, if the courses are available. Many bachelor's degree programs require students to complete a year of basic art and design courses before being admitted to a formal degree program. Some schools require applicants to submit sketches and other examples of their artistic ability.
Many programs provide students with the opportunity to build a professional portfolio of their designs. For many artists, including graphic designers, developing a portfolio—a collection of design ideas that demonstrates their styles and abilities—is essential because employers rely heavily on a designer's portfolio in deciding whether to hire the individual.
Pay:
The median annual wage for graphic designers was $47,640 in May 2016. The median wage is the wage at which half the workers in an occupation earned more than that amount and half earned less. The lowest 10 percent earned less than $27,950, and the highest 10 percent earned more than $82,020.
For more info CLICK HERE.