Featured Career of the Week: Industrial Designers (10/9/2017-10/15/2017)
INDUSTRIAL DESIGNERS
What Industrial Designers do:
Industrial designers develop the concepts for manufactured products, such as cars, home appliances, and toys. They combine art, business, and engineering to make products that people use every day. Industrial designers consider the function, aesthetics, production costs, and the usability of products when developing new product concepts. They consult with clients to determine requirements for designs as well as creating physical prototypes of the designs.
Work Environment:
Work spaces for industrial designers often include work tables for sketching designs, meeting rooms with whiteboards for brainstorming with colleagues, and computers and other office equipment for preparing designs and communicating with clients. Although industrial designers work primarily in offices, they may travel to testing facilities, design centers, clients' exhibit sites, users' homes or workplaces, and places where the product is manufactured. Most industrial designers work full time, and one in four (in 2014) were self-employed.
How to Become an Industrial Designer: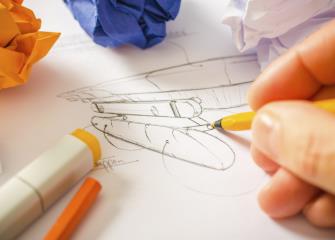 A bachelor's degree in industrial design, architecture, or engineering is usually required for entry-level industrial design jobs. Most industrial design programs include courses that industrial designers need in design: drawing, computer-aided design and drafting (CADD), and three-dimensional modeling. Most programs will also include courses in business, industrial materials and processes, and manufacturing methods that industrial designers need when developing their design.
Some designers have a Master's of Business Administration (MBA) degree which helps further develop a designer's business skills. These skills help designers understand how to fit their designs to meet the cost limitations a firm may have for the production of a given product.
Pay:
The median annual wage for industrial designers was $67,790 in May 2016. The median wage is the wage at which half the workers in an occupation earned more than that amount and half earned less. The lowest 10 percent earned less than $37,400, and the highest 10 percent earned more than $105,690.
For more info CLICK HERE.