The Cambridge Advanced International Certificate of Education (AICE) Diploma is an international curriculum and examination system that emphasizes the value of broad and balanced study. Alongside in-depth understanding of a variety of subjects, students also need to master a broader range of skills critical for success in university study and employment.

The Cambridge AICE Diploma was first awarded in 1997 and has since become popular with a range of schools in different parts of the world. It encompasses the 'gold standard' Cambridge International AS and A Level qualifications, and offers students the opportunity to tailor their studies to their individual interests, abilities and future plans within an international curriculum framework.

Cambridge Families:

We are sorry to have missed you at our Cambridge Open House on January 30th. You can view the slides we used here. Check back periodically for additional links and information. Current grades 9-11 will begin their Cambridge scheduling, as opposed to general scheduling through Guidance, on February 11. If you need clarification, please email me.
Classroom Support

A wide range of training and support is available to help teachers plan and deliver the Cambridge AICE Diploma.

Curriculum

The Cambridge AICE Diploma offers breadth across the curriculum and depth in selected subjects, with a balance of maths and sciences, languages, and arts and humanities.

Qualification

Learners must pass a combination of Cambridge International AS and A Level exams, with at least one course coming from each of three subject groups, as well as the core component, Cambridge International AS Level Global Perspectives & Research.

Recognition

The Cambridge International AS and A Levels that make up the Cambridge AICE Diploma are welcomed by leading universities around the world.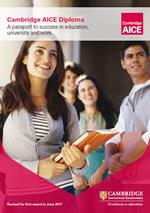 AICE exam study sessions are being offered at Fort Lauderdale High School. See brochure.

Click the link below to download the Cambridge AICE Diploma brochure.