The Cambridge Advanced International Certificate of Education (AICE) Diploma is an international curriculum and examination system that emphasizes the value of broad and balanced study. Alongside in-depth understanding of a variety of subjects, students also need to master a broader range of skills critical for success in university study and employment.

The Cambridge AICE Diploma was first awarded in 1997 and has since become popular with a range of schools in different parts of the world. It encompasses the 'gold standard' Cambridge International AS and A Level qualifications, and offers students the opportunity to tailor their studies to their individual interests, abilities and future plans within an international curriculum framework.

Cambridge Families:

If you were unable to attend the Cambridge Open House on 9/6/18, this is the presentation that we reviewed. We did record the entire presentation and Q & A session and will create a link for that video once we have edited it. Thanks for all your support. Click here to view the presentation.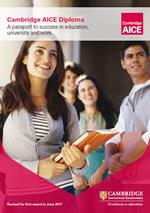 AICE exam study sessions are being offered at Fort Lauderdale High School. See brochure.

Click the link below to download the Cambridge AICE Diploma brochure.