Principal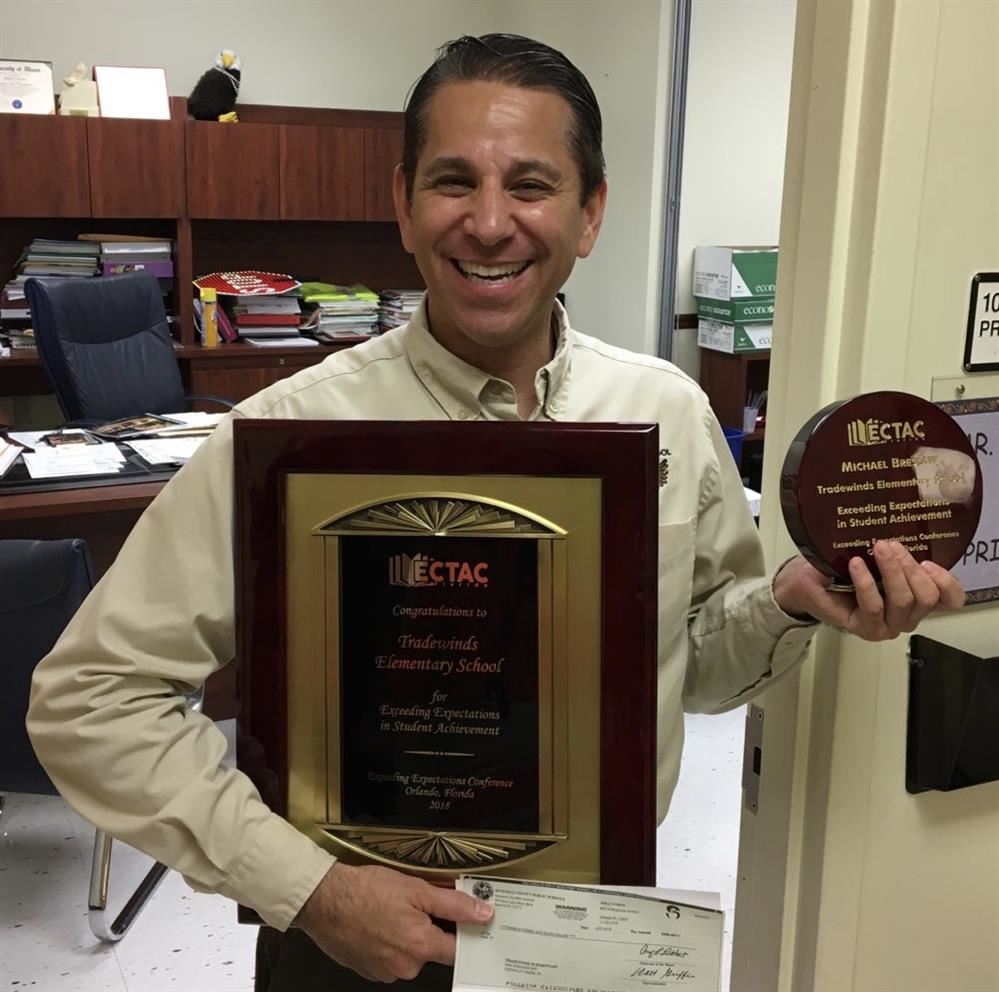 11/19/18

Dear Tradewinds Families,

t was our pleasure to host all of our veterans, city officials and visitors during Tuesday's annual Veteran's Day Celebration. The children agree that this event continues to be a "Tradewinds favorite" as we take time to honor our war heroes and learn about the history of our country. That same evening, we hosted our second Author's Showcase of the school year. Directed by our "young authors" and Mrs. Levine, the children dazzled all in attendance with their originality, creative minds, voice, communication skills and artwork. Kudos writers!

Between today and tomorrow, we will host many more visitors as second grade performs to our school-wide theme, "Be The Change You Want To See in The World...Start With Hello" and spreads some holiday cheer right before Thanksgiving. It doesn't end there because December will bring our annual Holiday Shop, Grade 3-5's S.T.E.A.M. Night led by our Science Teacher Ms. Putney, Kindergarten's show, Field Days and we always end December with our Winter Express Day...a day that we celebrate the season and our Tradewinds Family.

Please join me on Tuesday, November 27th for the next Coffee and Comprehension/Café y Ccomprensión. This month's topic will be led by our Guidance Counselor Ms. Kendrick and focus on social and emotional programs. On Wednesday, December 5th, The City of Coconut Creek is hosting an ESE student art exhibition and led by our Autism Coach Mrs. Valbuena, our Trade, Wind and Fire performance group will perform. Parent and Family involvement is always important to me and one of several areas that continues to make our school succeed.

Here are a few reminders as November's end nears:

Quarter 2's Interim Reports will be sent home tomorrow. Please sign and return these to your child(ren)'s teacher(s).
Quarter 1's Report Cards/Student Progress Reports were sent home this past Wednesday. Please sign the goldenrod cover and return to your child(ren)'s teacher(s).
Tradewinds has a unified dress code and all students are expected to wear the school's colors and/or Tradewinds official school clothing (sold by our PTA) each day. Students are also expected to adhere to the district's appropriate dress code.
The first bell rings at 7:55 and all students are expected to be seated and ready to learn at the 8:00 bell and to be present in school.
The signage in the bus loop and parking areas are in place for the safety and security of our students, parents and staff as well as the orderliness of the morning/afternoon routines. Thank you in advance for following all procedures.
Any change in a student's dismissal must be pre-arranged with the office and in writing. If your emergency dismissal and/or contact information has changed, please notify the school and be prepared with your child(ren)'s family password(s).
Through the many am and pm events being held at our school, please remember to refrain from parking at Emmanuel Baptist Church (just north of Johnson Road and adjacent to our school).

Due to the short week, the next Eagle newsletter will be issued on Monday, December 3rd.

Before closing, thank you to our PTA and all of the children, families and staff who contributed and showed pride during our Saturday Campus Beautification Day.

On behalf of Tradewinds Elementary School, we wish all who celebrate...a happy and health Thanksgiving.

Your Principal,

Mr. Michael Breslaw :)

Be the Change you want to See in the World...Start with Hello

(754) 322-8700 – school

(754) 322-8740 - fax

michael.breslaw@browardschools.com


Under Florida law, email addresses are public records. Your email address and the contents of any email sent to the sender of this communication will be released in response to any request for public records, except as excluded by F.S. 119.071, 1002.22(3) (d) [student records], or any other law of the State of Florida. If you do not want your email address to be released as part of any public records request, do not send email to this address, rather contact this office by phone or in writing.

The School Board of Broward County, Florida expressly prohibits bullying, including cyberbullying, by or towards any student or employee. See Policy 5.9: Anti-Bullying for additional Information.