Principal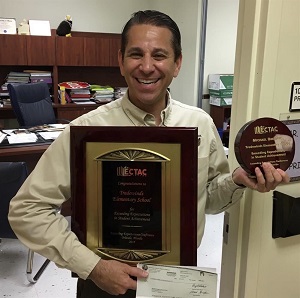 I would like to extend a heartfelt thank you to all of our children, staff, families and businesses who are donating items for this year's Harvest Fest and for making a difference in the homes of so many for this upcoming Thanksgiving.

Friday was an honorable day at Tradewinds as we held our annual Veteran's Day Celebration. Our school was filled with citizenship, respect and patriotism as we opened our doors and hearts for the brave men and women who have served our country and given all of us our freedom. More than 50 veterans from the Unites States Armed Forces consisting of the Army, Navy, Marine Corps, Air Force and Coast Guard joined us. Performances and pride filled our school and was enjoyed by all who attended. Our student and staff performances, student government and PTA's assistance were outstanding. South Miami Senior High School's JROTC opened the ceremony with a representation of colors, singing of our national anthem and it was an entire learning community effort. A special thank you to Sophie.... our special guest from Share-A-Pet.

Upcoming Events to Note: 11/13 - Report Cards (K-5) issued, 11/14 - Makeup Picture Day, 11/25 - PTA's Giving Tree Begins, 11/26 - Coffee and Comprehension (Social and Emotional Programs and Services presented by Ms. Kendrick), 12/2 – PTA's Holiday Shop Begins, and 12/11 - Grades 3 - 5 S.T.E.M. Night

The Broward Standards Assessment (BSA) is scheduled for after winter recess. This progress monitoring assessment is essential as it lets us know what our third, fourth and fifth grade students can do, but most importantly the differentiated instruction necessary as we make changes to the instructional focus. The BSA is an indicator of how children may perform on Spring's Florida Standards Assessment (FSA). Please plan accordingly.

January 14th and 15th - BSA ELA Reading (Grades 3-5)
January 21st and 22nd - BSA Science (Grade 5)
January 28th and 29th - BSA Mathematics (Grades 3-5)

Food and Nutrition Services will serve their Thanksgiving Luncheon on Thursday, November 14th this year to students and staff. Some teachers may have planned fall-type of academic centers or sharing/harvest activities around the meaning of Thanksgiving. If so, they may have requested for a few approved volunteers to assist either before or after the children eat lunch. For those approved volunteers invited to assist, please remember that non-school aged children are not permitted in the classrooms for safety and security reasons. Unfortunately, we had to suspend opening our doors to the public to join us for this luncheon.

If there is a change in the way a student is dismissed (even for one day), written permission or a phone call to the office must be received in advance. Please understand that whenever a child's dismissal is being changed, the family password must be provided by the registering parent/guardian and permission given. Please review who is listed as your child(ren)'s emergency pickup(s). These steps are essential and there will not be any exceptions.

Sincerely,

Michael A. Breslaw

Principal

Under Florida law, email addresses are public records. Your email address and the contents of any email sent to the sender of this communication will be released in response to any request for public records, except as excluded by F.S. 119.071, 1002.22(3) (d) [student records], or any other law of the State of Florida. If you do not want your email address to be released as part of any public records request, do not send email to this address, rather contact this office by phone or in writing.

The School Board of Broward County, Florida expressly prohibits bullying, including cyberbullying, by or towards any student or employee. See Policy 5.9: Anti-Bullying for additional Information.