Principal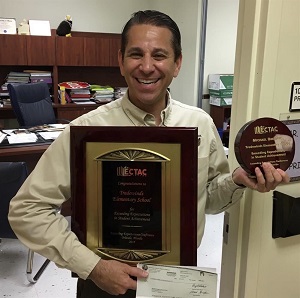 Tradewinds Elementary will be celebrating Literacy Week from January 27th through the 30th. This year's theme is "Book Your Trip: Adventure Awaits." We are excited to share the daily activities and learning opportunities that are currently being planned (stay tuned)! Our PTA is also planning a spectacular Spring Book Fair during the week of March 9th.

Currently, there are many activities throughout campus to commemorate Martin Luther King Jr. and through February as we celebrate Black History Month. Students are hearing read-alouds, writing about his life and dreams as well as their own dreams, creating posters, writing essays about MLK's many beautiful and inspirational ideas and researching famous Americans.

By this time, all K-5 students have completed their I-Ready diagnostic assessments in Reading and Mathematics and should be working on their specific learning paths. Each student's learning path is differentiated to meet their academic needs and aligned to the standards. Please inform your child(ren)'s teacher(s) if you need assistance.

Two extended learning programs are occurring in January: The "Soaring Eagle Clubs" are eight-week sessions and instructed by our teachers and coordinated by Mrs. Dorman (kristen.dorman@browardschools.com) our Literacy Coach. If your child(ren) are not currently enrolled, there will be another registration opportunity after spring break. Our Language Enrichment Camp (LEC) will also be instructed by our teachers on Tuesdays and Thursdays from 2:00-3:00 and begin on January 30th. LEC is coordinated by Mrs. Quezada (indira.quezada@browardschools.com).

Grade 3-5 students have completed the Reading portion of the Broward Standards Assessment. This benchmark to spring's Florida Standards Assessment (FSA) will provide our school with essential targeted data in all ELA, Math and Science strands. As always, promptness and attendance is important to student achievement. Whenever our school tests, we are in need of proctor support and wish to thank all of our parents and family members who assisted our school this past week. If you are an approved volunteer who is willing to assist during this testing window, please contact Ms. Rosie Mascarella as soon as possible. The BSA Science (Grade 5) will continue tomorrow followed by next week's Mathematics (Grades 3-5). Spring's FSA dates are outlined on page 2.

Our school store "Eagles Landing" opened Friday and children were able to redeem their "eagles bucks" for a variety of special prizes. Students who didn't shop today will be able to do so on Thursday, January 23rd. Students receive these bucks from staff when they are noticed doing the right thing and demonstrating positive character. We look forward to continuing this new program and recognizing students for great acts of kindness.

All parents are invited to our Title One parent learning opportunity, Coffee and Comprehension on Friday, January 31 at 8:30 a.m. Mrs. Dorman will help all in attendance understand the FSA Writing Assessment and how to best assist your child(ren) with the writing process. Translation for Portuguese and Spanish speaking parents will be available.


Sincerely,

Michael A. Breslaw

Principal

Under Florida law, email addresses are public records. Your email address and the contents of any email sent to the sender of this communication will be released in response to any request for public records, except as excluded by F.S. 119.071, 1002.22(3) (d) [student records], or any other law of the State of Florida. If you do not want your email address to be released as part of any public records request, do not send email to this address, rather contact this office by phone or in writing.

The School Board of Broward County, Florida expressly prohibits bullying, including cyberbullying, by or towards any student or employee. See Policy 5.9: Anti-Bullying for additional Information.