Principal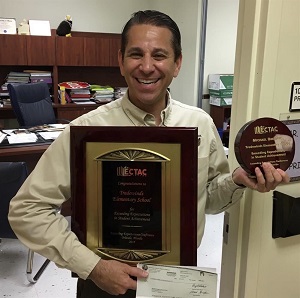 Dear Parents,

We are looking for members from our school community to participate in our School Advisory Council (SAC) for the 2020-2021 school year. The School Advisory Council is a committee of staff members, parents, and community stakeholders that work together to develop and implement the School Improvement Plan (SIP). The SAC committee provides a place where parents can voice their opinions and suggestions. They have an active role in making decisions that will best serve the students. SAC also gives the opportunity for parents to actively participate in setting goals and making plans to achieve those academic goals, and allows parents to identify issues that need to be addressed concerning the school climate.

The Tradewinds Elementary School Advisory Council will hold its first meeting on Thursday, September 10, 2020. At this time, the council will be forming the composition team for the 2020-2021 school year and electing officers. The positions are as follows:

Principal
Community/Business Representative
Teachers
Non-instructional Representative
BTU Steward
Gifted Parent Representative
ESOL Parent Representative
Pre-K Parent Representative
ESE Parent Representative
Parent Representative
Innovation Zone Parent Representative
School Advisory Forum Parent Representative

Meetings this year will take place virtually on TEAMs from 2:30 – 3:00 on the following days:

Thursday, September 10
Thursday, October 8
Thursday, November 12
Thursday, December 10
Thursday, January 14
Thursday, March 11
Thursday, April 15
Thursday, May 13

Follow the directions below to join the meeting:

Click the "Join Microsoft Teams Meeting" link below.
Open Teams on the web or download the program.
Enter your name and choose your audio and video settings.
Click the Join Now button to be admitted into the meeting.

Join Microsoft Teams Meeting

All meetings for the year will utilize this same link. The agenda for our first SAC meeting on September 10th is attached. If you are interested in being a part of our SAC committee, please email our current SAC chair, Mrs.Dorman, at Kristen.dorman@browardschools.com.


Sincerely,

Michael A. Breslaw

Principal

Under Florida law, email addresses are public records. Your email address and the contents of any email sent to the sender of this communication will be released in response to any request for public records, except as excluded by F.S. 119.071, 1002.22(3) (d) [student records], or any other law of the State of Florida. If you do not want your email address to be released as part of any public records request, do not send email to this address, rather contact this office by phone or in writing.

The School Board of Broward County, Florida expressly prohibits bullying, including cyberbullying, by or towards any student or employee. See Policy 5.9: Anti-Bullying for additional Information.