Principal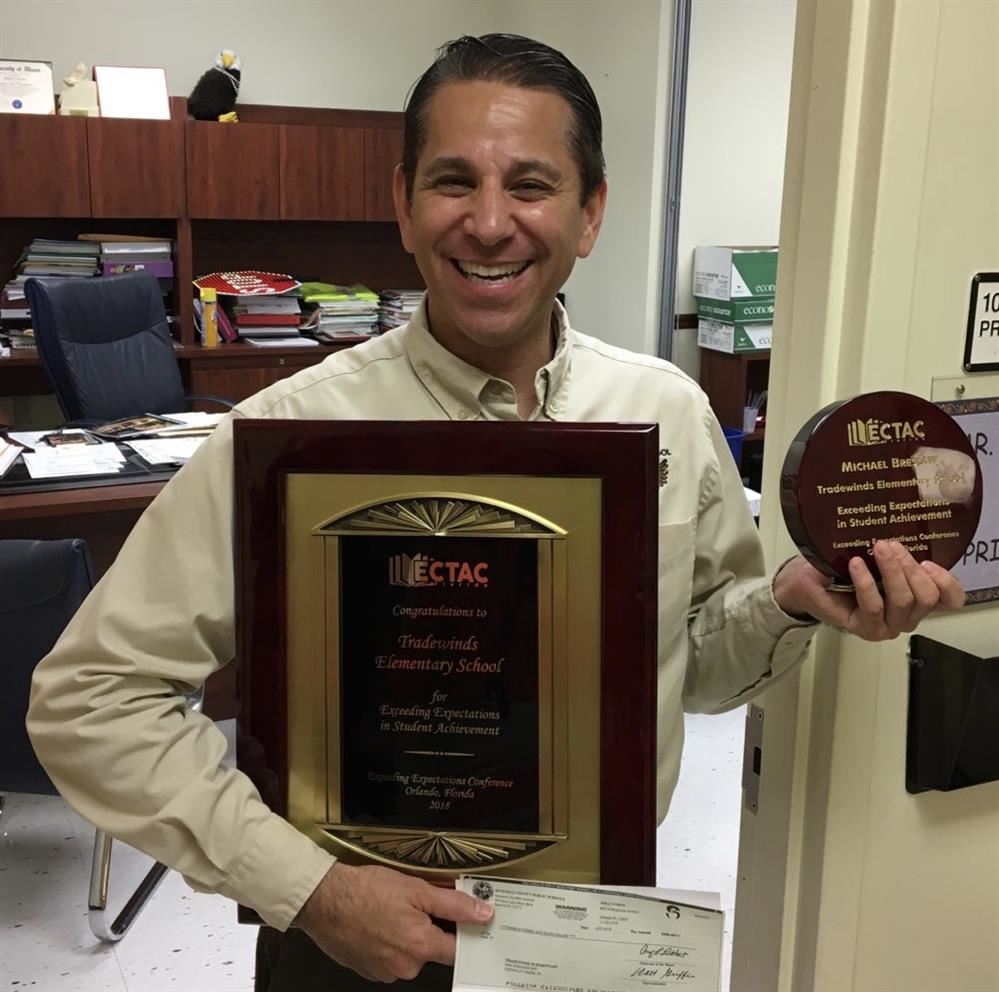 6/03/2019

Dear Tradewinds Families & Friends,

It was a pleasure to see so many families attend our end-of-the year grade level assemblies as a celebration of our wonderful students. Our Fifth Grade Moving Up Ceremony was also quite memorable. I want to thank all of our parents and families for your patience and understanding with our security sign-in process. Safety and security is first and foremost, but sometimes comes with inconvenience. In the upcoming year, we look forward to additional security enhancements at our single-point of entry and throughout the campus.

Congratulations to our Third Grade students, teachers, staff and families as the first of the Florida Standards Assessment results have arrived. We are so proud that 65% of our students achieved at High Standards on FSA Reading (+5% from 2017-2018) and 100% of students who had a previous FSA Reading increased an entire level. As soon as the other results are made available, all parents will be notified.

The SMART Program, under the direction of the School Board of Broward County and Superintendent Robert W. Runcie, has allocated $100,000 towards School Choice Enhancement capital-related projects at each District school. This $100,000 in funding is intended to be used to improve the condition of instructional spaces and/or educational environments. All School Choice Enhancement Ballots have been collected and a specific parentlink email will be launched with the exact results by Wednesday. Thank you to all of our families and staff members who participated in this voting process.

As summer approaches there are many recommended web-based Reading and Mathematics programs to be involved with. All students who currently have a First In Math (through June 30) and/or Raz-Kids (through August 15) account will be able to access these programs. Also, I-Ready Reading and Mathematics will be available to all students (through July). Students will continue to utilize their same log in information. Please review all of the contents in today's report card folder (including supply lists and PTA's on-line supply shop option).

Congratulations to Marcy Howell (Information Management Technician), Barbara Rose (Teacher), Suzanne Rothberg (Speech and Language Pathologist) and Lorraine Scott (Teacher), four outstanding retiring staff members who have served so many students and have made significant impacts on families and communities. Best wishes in your retirement and each of you will forever be remembered at Tradewinds.

Save the Date: Meet and Greet/Ice-cream Social - Tuesday, August 13th

Pre-Kindergarten, Kindergarten and First Grade - 9:00 to 10:00 a.m.

Second and Third Grade - 10:00 to 11:00 a.m.

Fourth and Fifth Grade - 11:00 to 12:00 p.m.

All students are encouraged to bring in their supplies (suggested and optional) at the Meet and Greet.

On behalf of our staff, have a terrific summer and we will all look forward to a safe return on Wednesday, August 14th. Best wishes to all of our wonderful students and our exemplary fifth grade class.

Love Your Proud Principal,

Michael A. Breslaw

Be the Change you want to See in the World...Start with Hello

(754) 322-8700 – school

(754) 322-8740 - fax

michael.breslaw@browardschools.com


Under Florida law, email addresses are public records. Your email address and the contents of any email sent to the sender of this communication will be released in response to any request for public records, except as excluded by F.S. 119.071, 1002.22(3) (d) [student records], or any other law of the State of Florida. If you do not want your email address to be released as part of any public records request, do not send email to this address, rather contact this office by phone or in writing.

The School Board of Broward County, Florida expressly prohibits bullying, including cyberbullying, by or towards any student or employee. See Policy 5.9: Anti-Bullying for additional Information.