Principal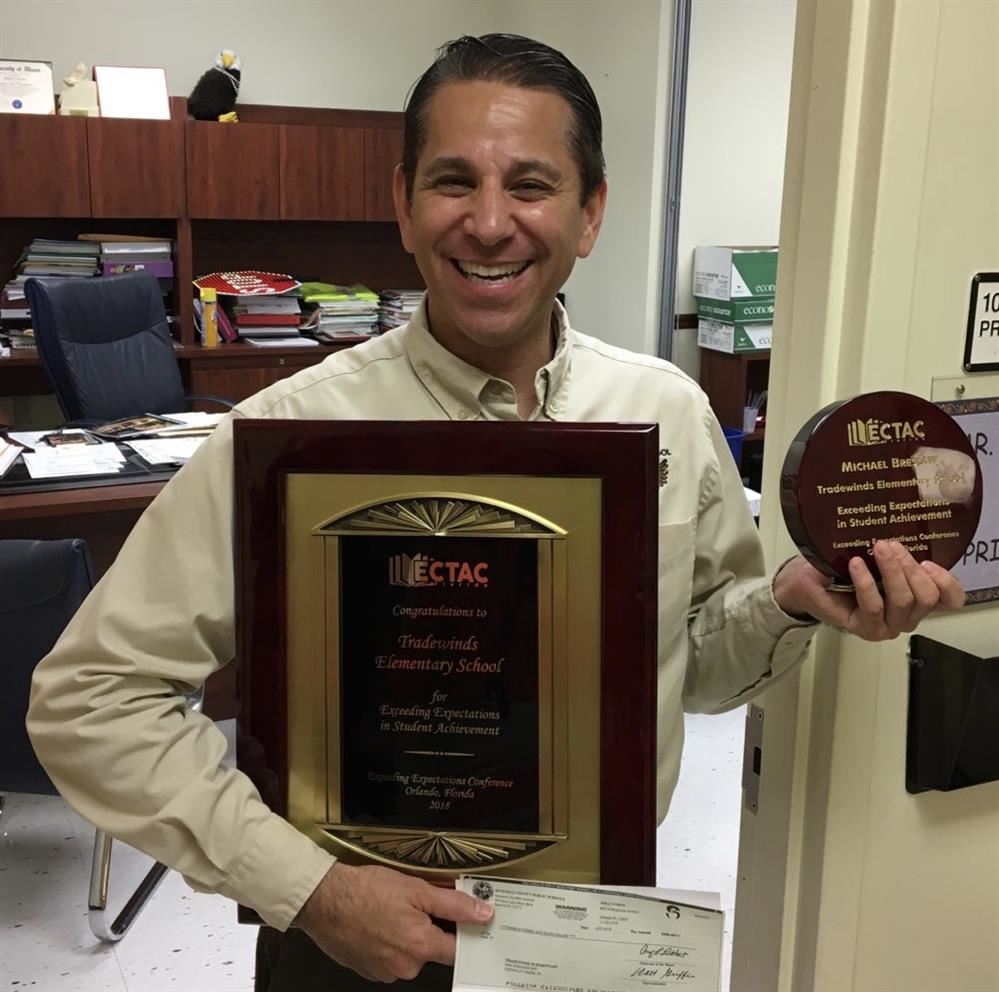 3/18/2019

Dear Tradewinds Families,

The School Board of Broward County's Special Investigative Unit and The Coconut Creek Police Department joined me in conducting a lockdown drill this past Thursday. Different from our scheduled drills, this was unannounced, during a time when 14 classes were in the cafeteria, during transition and with visitors, itinerants and district workers on campus. Of course this new education is uncomfortable, however, I am so proud our students, visitors and staff for their quick and safe action. Our feedback was outstanding and Tradewinds acted in exemplary fashion. Please take a moment and ask your child about this lockdown. If needed, please contact me if your child is experiencing discomfort. Whenever we have a drill, all families will receive the notification just prior to and immediately after as well as via Remind. It's essential to have all updated contact information.

Congratulations to our Grade 4 and 5 Math Teams who competed in both individual and group competition at the annual Broward County Council for Teachers of Mathematics. Alexander Nguyen, Ysabella Posades, Haleigh Potter, Noah Tarry and Mason Udell (Grade 4) and Diego Flores, Lee Matthews and Camilo Tovar (Grade 5) collectively earned 100 points and were recognized at the event. Way to go!

Our PTA did it again! Our students, families and staff thoroughly enjoyed this year's Spring Book Fair. Students were "buzzing" all week about their favorite series of books, authors and new titles from various genres. All students should have at least one book in their backpack to read when time permits throughout each day and especially in the morning before the bell sounds. Please let your child(ren)'s teacher(s)or Ms. Navarro know if you are to need assistance obtaining a book or if you have questions about a "good fit book."

Please join us at our upcoming Zone Family Night on Tuesday, March 19th (6:00 - 7:00 p.m.) at Tradewinds Elementary. Principals, Curriculum Coaches and Guidance Counselors from our zone of schools (Tradewinds, Quiet Waters, Winston Park, Lyons Creek and Monarch High School) will all be on hand to discuss test-taking strategies, promotion criteria and share essential information as the "testing season" begins. Enjoy coffee, refreshments, conversation and networking as we strive for learning gains for all students.

The end of this week marks the end of the third quarter. Please remember that Thursday is an Early Release from school (noon) and Friday is an Employee Planning Day. Immediately after the spring recess, the Florida Standards Assessments and testing season will begin. Please note the testing dates (listed on the back) and plan accordingly, as punctuality and attendance are essential for all students. We strive for 100% attendance on all testing days in order for students to test with their teacher, classmates and in a familiar testing environment. When reviewing the calendar, please also note that some sessions are on Mondays and others on Fridays.


Your feedback counts as we always look to improve in all practices. Please take a moment to join our students and staff by completing the parent survey (website can be found on Page 2). Typically, we have a low percentage of parents and families who complete the survey. If computer access is needed, please visit our single-point of entry and we will accommodate you.

Please help us spread the word and save the date: Kindergarten Round-Up is scheduled for Friday, April 12th at 9:00 a.m. and we anticipate meeting all of our new TWE "eagles."

Your Principal,

Mr. Michael Breslaw :)

Be the Change you want to See in the World...Start with Hello

(754) 322-8700 – school

(754) 322-8740 - fax

michael.breslaw@browardschools.com


Under Florida law, email addresses are public records. Your email address and the contents of any email sent to the sender of this communication will be released in response to any request for public records, except as excluded by F.S. 119.071, 1002.22(3) (d) [student records], or any other law of the State of Florida. If you do not want your email address to be released as part of any public records request, do not send email to this address, rather contact this office by phone or in writing.

The School Board of Broward County, Florida expressly prohibits bullying, including cyberbullying, by or towards any student or employee. See Policy 5.9: Anti-Bullying for additional Information.