Principal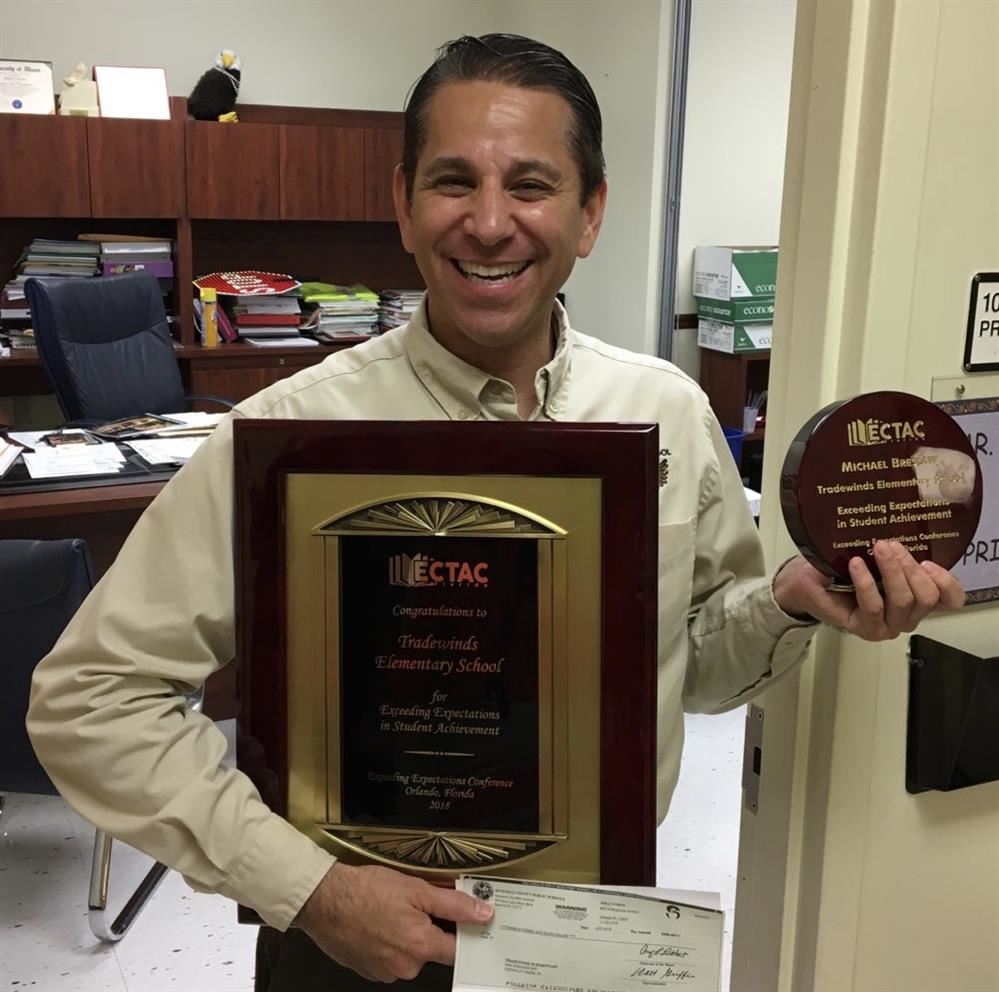 1/22/2019

Dear Tradewinds Families,

Coming off of the holiday break, it was nice to see some family members join us for our Coffee and Comprehension series of parent learning and Thursday's School Advisory Council meeting. This week's family events are Round 3 of the Young Writer's Showcase on Wednesday, January 23rd and The City of Coconut Creek's Do The Right Thing Ceremony when Angeliyah Marseille (Mrs. Clark's class) and Charlotte Simcox (Mrs. Stollings' class) will be honored at the City Commission Meeting. Both children will be recognized for their outstanding character.

From Pre-K through Fifth Grade, there are many activities throughout campus to commemorate Martin Luther King Jr. Students heard read-alouds, wrote√ about his life and dreams, their own dreams, created posters, foldables and trifolds, wrote essays about MLK's many beautiful and inspirational ideas and researched famous Americans. Black History Month will continue through February. We are also excited that as part of the Chinese New Year, our Mandarin program will perform at February 20th's School Board Meeting and this can be viewed by live-streaming the event.

Tradewinds will be celebrating Literacy Week January 28th through February 1stand our PTA is planning a spectacular Spring Book Fair in March. On February 1st, Broward County Public Schools will celebrate Take our Daughters and Sons To Work Day. More information regarding both events are found on Page 2.

Two extended learning programs are about to begin. Registration for our new "Soaring Eagle Clubs" began today and will go through Friday. These eight-week sessions are instructed by our teachers and coordinated by Mrs. Dorman (kristen.dorman@browardschools.com), our Literacy Coach. Clubs will take place from 2:30-3:30 and includes K-2 Art Adventures, K-2 Crafty Club, K-3 Sign Language, 3-5 Little Chefs, 3-5 The Improv: Comedy, Writing and Performing, 3-5 Newberry Nook, 3-5 Art Adventures and 4-5 Tech Kids. Our Language Enrichment Camp will also be instructed by our teachers, coordinated by Mrs. Quezada (indira.quezada@browardschools.com), ESOL Resource Teacher.

By this time, all K-5 students have completed their I-Ready diagnostic assessments in Reading and Mathematics and should be working on their specific learning paths. Each student's learning path is differentiated to meet their academic needs and aligned to the standards. Please inform your child(ren)'s teacher(s) if you need any assistance.

The Broward Standards Assessment (BSA) is the benchmark to spring's Florida Standards Assessment (FSA). The remaining schedule is outlined below. It's essential that students are well rested, wellfed and encouraged to do their very best. These results will assist our team in targeting instruction for every child.

Grade 4 and 5 – BSA Mathematics (January 23rd – Session 1 and January 24th – Session 2)
Grade 5 - BSA Science (January 28th - Session 1 and January 29th - Session 2
In closing, we will be opening our new single-point of entry on Monday, January 28th. A Parent-Link email will be sent by week's end specifying any changes to arrival, dismissal and/or visiting our campus.

Your Principal,

Mr. Michael Breslaw :)

Be the Change you want to See in the World...Start with Hello

(754) 322-8700 – school

(754) 322-8740 - fax

michael.breslaw@browardschools.com


Under Florida law, email addresses are public records. Your email address and the contents of any email sent to the sender of this communication will be released in response to any request for public records, except as excluded by F.S. 119.071, 1002.22(3) (d) [student records], or any other law of the State of Florida. If you do not want your email address to be released as part of any public records request, do not send email to this address, rather contact this office by phone or in writing.

The School Board of Broward County, Florida expressly prohibits bullying, including cyberbullying, by or towards any student or employee. See Policy 5.9: Anti-Bullying for additional Information.