Cafeteria Information
Download Adobe Acrobat Reader to view or print.

Food and Nutrition Services offer variety and well-balanced nutritious meals at a low cost. School lunches provide an assortment of foods including daily meal salads and fresh fruit. School meals are healthy, meeting the Dietary Guidelines for Americans. By choosing lunch at school, students learn to make healthy choices, reinforcing nutrition education taught in the classroom. Delicious breakfasts are served daily in all Broward County Public schools.

Food and Nutrition Services implemented an online meal application; for parents to apply for free and reduced-price meals in a simple, convenient, and confidential manner.

If you have any questions or need additional information, please contact the Food and Nutrition Services at 754-321-0250.

---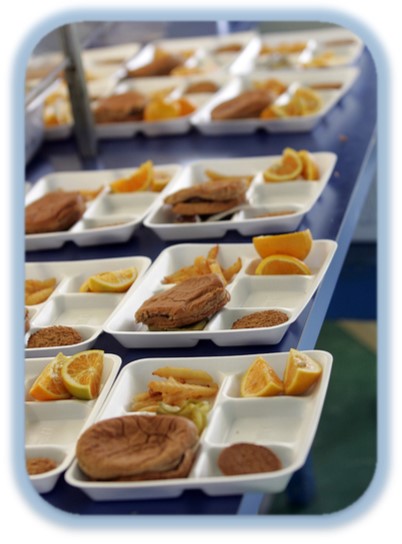 Free & Reduced Lunch

ApplyforLunch.com is an easy and convenient way for parents and guardians to submit applications online. There is no fee for using the ApplyforLunch website to submit your application for benefits and the service is provided free of charge by your District.

---

Pay for Lunch

You can make payments for your child's meals online through SchoolPaymentSolutions.com. There is a $2.50 fee per transaction.

---

School Menu

Click the link below to be taken to our school lunch menu. You will be directed to an external link where you may be asked to create a profile. If you do not want to create a profile, click on the X in the upper right of the aqua box. If you click "Create Profile" and then "Cancel" on the next panel, you will need to search for Pompano Beach Elementary and will be asked to create a profile again.

---

Inspection Reports

Our Health Inspection Reports are available for your review. To read a report, click on the link to the left, and find and click on the date you are interested in.

If there is a report you would like to see and it is not listed, click here to go to our Inspection Report Archive.

---

Breakfast

It's the most important meal of the day! Breakfast is served from 7:00 am until 7:30 am. Students who are walkers or car riders must be in the cafeteria before 7:30 am, if they are eating breakfast.

---

Ice Cream Day!

This year, a variety of ice cream will be available in the cafeteria on Wednesdays.