Counseling and Social Services
Meet the Stallion Counseling Family

Please call 754-322-3000 to speak to any one of the School Counselors (or click this link to reach out to staff members by email)

Ms. Nicole Beaney

Guidance Director/Counselor

6th Grade

I am so very happy to be the Guidance Director at Coral Springs Middle. After receiving my Master's degree from Nova Southeastern University in Guidance & Counseling, I was fortunate enough to become a member of the CSMS family in 2008. Working at CSMS is an honor and I am so lucky to be working with the very best people.
I look forward to the challenge of being Director and helping our students be successful!
If you have any questions or concerns, please do not hesitate to contact me.

Ms. Kelli Nelson

Counselor

7th Grade

I am excited to be a part of Coral Springs Middle School and to be a Stallion! I have worked in education for over twenty years and specialize in analyzing data and working with at-risk youth. My first nineteen years were spent with middle and high school level students in the midwest. I have my Bachelor's Degree from University of Iowa in Science Education. After teaching as a science teacher, I went on to receive my Master's Degrees in Counseling and then in Educational Leadership, both from Western Illinois University. I moved to South Florida, four years ago, and have focused on middle level learners as I feel they have the greatest need for support as they navigate through life. I continue my education as I see all pepole as life-long learners and always strive to improve my skills as an educator. Please feel free to contact me with any questions or concerns your have.

Ms. Duverge-Hilmers

Counselor

8th Grade

I am proud to be a part of the Coral Springs Middle School family. Before coming to CSMS, I worked many years helping children and families through counseling. I graduated with my Master's Degree in Mental Health from Florida International University. I also completed my certification for Guidance Counseling at FIU. My experience as a counselor has helped me become aware of the different obstacles students face and I hope to guide students as they make their way to high school and beyond. CSMS has a wonderful atmosphere, caring teachers and staff, and very dedicated students! I look forward to working with all of you; please remember that my door is always open. Let's make it a great year!




Ms. Tonia Grant


Counselor

All Grades

I am excited to be the newest member of the Coral Springs Middle School Counseling Department! I am one of a team of District Support Counselors that was hired to support the Marjory Stoneman Douglas zone. I will be working with students of all grade levels. I recently relocated from Connecticut where I was a School Counselor at the high school level. I have been a School Counselor for 15 years. I graduated from Lasell College in Massachusetts with a Bachelors Degree in Elementary Education and I went on to graduate school to earn a Masters Degree in School Counseling and a Sixth Year Certificate in School Counseling. I am passionate about working with students and empowering them to be their personal best.

I look forward to meeting and working with all my new students and families at Coral Springs Middle! Please don't hesitate to contact me at any time.




Ms. Deena Adler


Social Worker

All Grades

Hello! I am excited to be the full time School Social Worker at Coral Springs MS. I am a Licensed Clinical Social Worker (LCSW) and have been with the district since 2001 and at Coral Springs MS since 2002. Prior to joining the school system, I provided clinical mental health services to children and their families in the community. I received my Bachelor's in Social Work from The University of North Texas in 1991 and my Master's in Social Work from Florida International University in 1993. As a school social worker, I work as a liaison between the school, family, and community. I strive to provide services to enhance a student's emotional well-being as well as provide assistance to the entire family. I look forward to being part of the Stallion community once again this year.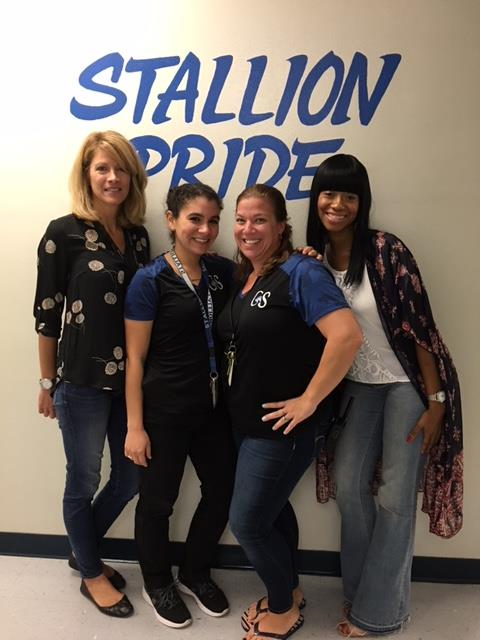 Contact Information
Counseling & Social Services

10300 W Wiles Road

Coral Springs, Florida 33076

Nicole Beaney, Marielle Hilmers-Duverge, Kelli Nelson and Tonia Grant