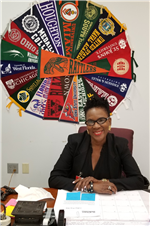 Hello South Broward High families!
My name is Tywana Greene, your BRACE Advisor. Welcome to the 2021-2022 school year! I know this year is everything but ordinary so as we navigate this time together remember to stay opened minded and as calm as you can.As the BRACE Advisor at South Broward High School, my role is to provide the necessary information and resources for the post-secondary institution that is RIGHT for you! My main goal is to promote a school-wide college bound culture while also advocating for various programs that lead to success after high school.
I welcome students and their parents to make appointments to discuss your post-secondary plans. https://outlook.office365.com/owa/calendar/MsGreeneBraceAdvisor@browardcountyschools.onmicrosoft.com/bookings/
I can be reached by phone at 754-323-1817 or by email at tywana.greene@browardschools.com
Also stay in touch by joining your class' Remind group. Please text to 81010.
I wish you a successful year!
Last Name:
A-E @tg2022ae
F-J @tg2022fj
K-O @tg2022ko
P-T @tg2022pt
U-Z @tg2022uz
Class Year:
@tg2023
@tg2024az
@tg2025az