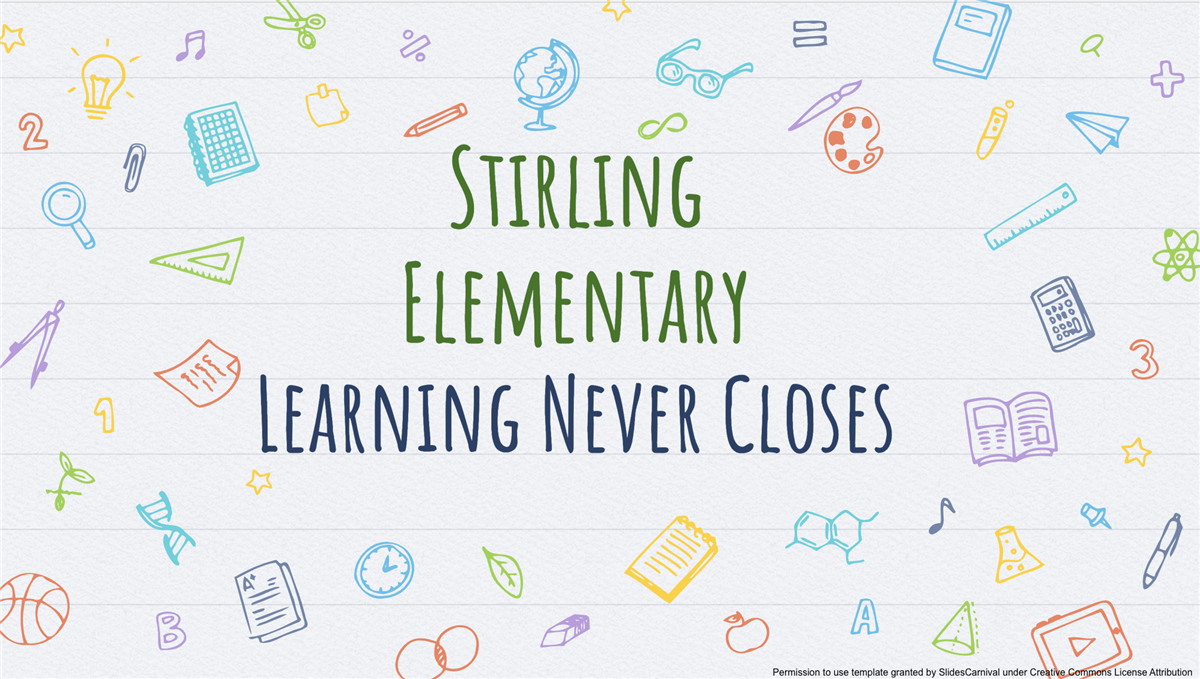 Stirling Elementary School Distance Learning Support
Welcome to the Stirling Distance Learning page.

Although the school building remains closed, our dedication to educating students is still our top priority.

This page will be updated regularly to provide you with links to resources to support distance learning. Be sure to check back often for updates!
Update Your Information in EdPlan

March 24, 2020

The BCPS Exceptional Student Learning Support Department sent out a Parent Link phone call and email message to parents of ESE students. They are trying to add as much information for parents as possible, in order for you to have access to your child's' documents, including upcoming IEP Progress Reports. This is separate from information that the District is providing on how parents need to access their child's academic information.

If you haven't already, please click the link below and complete the necessary information.

Lunch & Learn Webinar Series for Parents & Families

The Florida Diagnostic and Learning Resources System (FDLRS) has partnered with the Center for Autism and Related Disabilities (CARD) and Multiagency Network for Students with Emotional/Behavioral Disabilities (SEDNET) to provide parent webinars.

*Please open the flyers for more information on each session & the registration link

Schedule

March 30, 11:30 am - 12:30 pm: Setting Up Your Home's Learning Environment for Success: Understanding the Needs for Adults and Children - see flyer 2

March 31, 1:00-3:00 pm: Simplified Learning (for students on the spectrum or have special needs) - see flyer 1

April 2, 11:30 am - 12:30 pm: Addressing Special Needs in the Virtual Environment - see flyer 2

April 6, 1:00-3:00 pm: The ABC's of Behavior - see flyer 1

April 16, 2020, 1:00-3:00 pm: The Anxious Child (for students on the spectrum or have special needs) - see flyer 1

Flyer 1: Parents Lunch & Learn

Flyer 2: Parents Lunch & Learn

(Download Adobe Acrobat Reader to view or print PDF)
Accessing the Clever Launchpad

Most of the resources that students need to access are on the Clever LaunchPad.

Students can access their suite of resources via the Single Sign-On Clever LaunchPad.

Students with a Personal (Not School Loaned) Laptop

Open a web browser (Chrome is preferred)

Go to sso.browardschools.com (Be sure to bookmark this page)

Click "Log in with Active Directory"

Enter your student log in information

You should see your LaunchPad resources

English Español Haitian-kreyòl

*If you need a password reset, please call BCPS ETS Department 754-321-0411

Students with a School Loaned Laptop

As soon as you log into the laptop, a web browser should open to broward.k12.fl.us/insite/

Click on the "LaunchPad" icon

You should see your LaunchPad resources

*Some of the resources may require the teacher to provide access before the student can initiate the activities.

(Download Adobe Acrobat Reader to view or print PDF)

Accessing Canvas

All student learning will center around the Canvas platform.

Accessing Your Course in Canvas

On the Clever LaunchPad, click on the Canvas icon

On the Clever Dashboard, select the Course you want to open

Course Homepage: Read the instructions provided by your teacher for completing your work

Click here to view the Canvas Tutorial Video Series: Canvas Overview (Students)

Click here to view the Canvas Tutorial Video Series: Dashboard Overview (Students)

Click here to view the Canvas Tutorial Video Series: Assignments Overview (Students)

Microsoft Teams - Videoconferencing

Check back soon for more information about joining video conferencing with your teacher and classmates on Microsoft Teams.

Library Media Services

Library Media offers many educational resources that can be accessed anywhere, anytime, from our Canvas or Destiny Library Manager portals.

Click here for information on how to access Library Media Services.

(Download Adobe Acrobat Reader to view or print PDF)