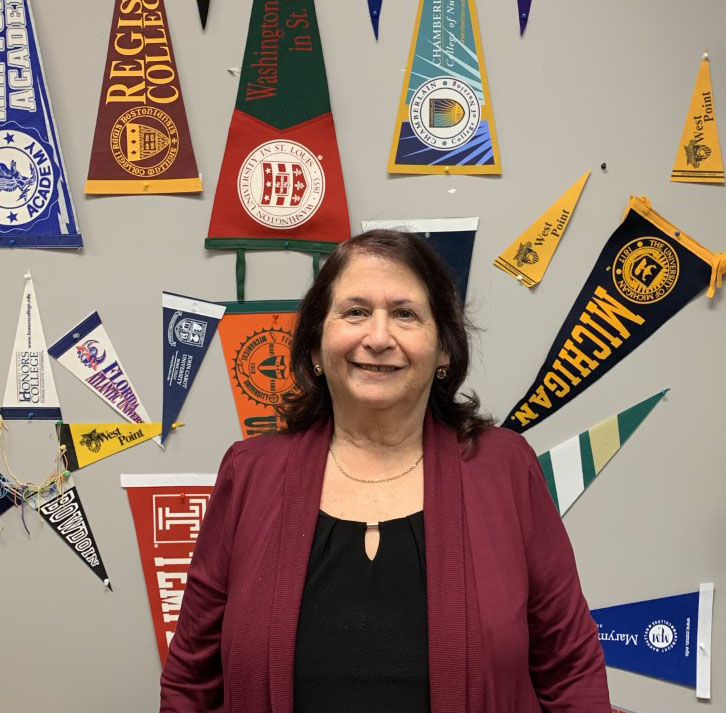 Mrs. Barbara DiAlberto, BRACE Advisor
Barbara DiAlberto is our BRACE Advisor. She handles everything post-secondary: college, technical school, military, and the workforce. Over the past 18 years, she has helped thousands of students in Broward County in their quest for "life after high school." Her students are treated as "family," and she helps them get where they want to go, both academically and financially. She has been on several committees for many years, including the Broward County Schools' College Fair Committee, and the Broward Education Foundation Scholarship Committee. She has also trained BRACE Advisors in Broward County, throughout the years.

Mrs. DiAlberto graduated with an Master's in Business Administration from the University of Miami and worked in the business field for companies such as Tropix Togs (t-shirt manufacturers for Disney) Ramada Inn, and Dunn & Bradstreet (credit reporting). She then proceeded to stay home with her children and be an integral part of her children's schools and PTA. She also trained teachers to incorporate the business community into classrooms. Through her volunteer efforts at Cooper City High, she was hired as their BRACE Advisor and was there for seven years. From there, she was the BRACE Advisor at Cypress Bay High for four years, and Hallandale High for four years. She left Broward County Schools and became the Florida Territory Manager for The Princeton Review (SAT/ACT preparation). She then decided that she missed working directly with students, and came back to Broward County Schools, specifically, Sheridan Technical High School

Please continue to check the BRACE pages, Mrs. DiAlberto will continue to send scholarships and college info during the summer.

Please stop by room 115 with any college questions you may have.

Mrs. DiAlberto has been happily married for many years and has two children and four grandchildren. She loves her time with her grandchildren, as well as movies and reading.
Per Broward County Schools, please DO NOT use Naviance to send transcripts or letters of recommendation anymore. We are transitioning to a new platform -- Xello (no info yet). Students, if you need to send a transcript, please email Ms. Tanya Olmo. DO NOT order transcripts on Naviance.

If you have any questions, please let me know. We are in a state of flux!