No Limits! Virtual College & Career Fair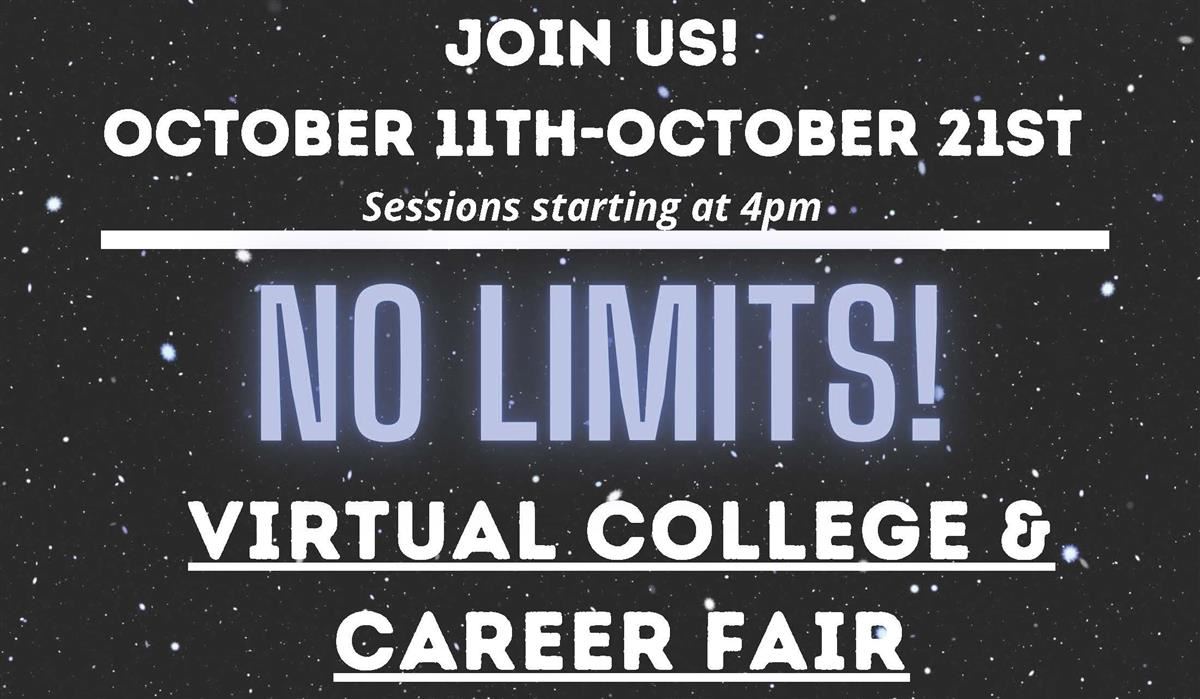 In an AMAZING multi-district collaboration, we present the No Limits: Virtual College Fair! Starting with a kickoff event on October 4th, sit in with your favorite Florida Colleges and learn about all of the amazing programs they have to offer.

This virtual fair will run from October 11th-October 21st. With a Career Series portion of the fair, from October 25th-28th.

Check out the calendar below for times and event links!

Interested in out-of-state schools? Check out our Canvas page, filled with information from out-of-state colleges & universities!
No Limits! Virtual College Fair Calendar
Collaborative Events

We always work with our community partners and neighboring school districts to provide the most up-to-date and exciting resources. With our partners, we created a series of special events, year-round, to get students ready for college exploration, careers, scholarships, financial aid, FAFSA, and much more!

NACAC Virtual College Fairs

The National Association for College Admission Counseling will hold virtual college fairs beginning August 29, 2021. You will have the opportunity to connect with hundreds of colleges and universities at NACAC Virtual College Fairs. High school students, transfer students, and families are welcome to attend for free. Sign up today!

Chats with Colleges

Are you nervous about searching for colleges??

Naviance is launching Chats with Colleges, a new video series on approaching the college search process while at home.

Whether you are considering the college featured in the video or not, the guidance is relevant in these unpredictable times.
Contact Information
School Counseling & BRACE Advisement

1400 NW 14th Ct

Fort Lauderdale, Florida 33311