School Social Work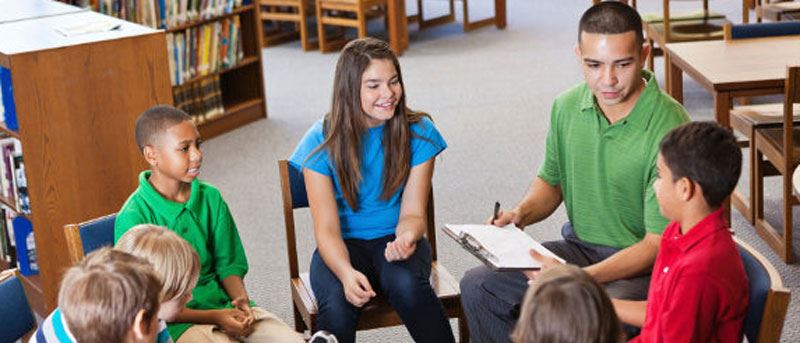 School Social Workers are mental health professionals embedded in our schools as support staff to help students and families when they encounter barriers that impact a child's academic, emotional, and social development.

School Social Workers are advocates who help students achieve academic and social-emotional success by linking the home, school, and community. School social work support services include mental health counseling, crisis support, and intervention, addressing issues of non-attendance and truancy, psychosocial evaluations, and consultation.

Additionally, the School Social Work Services program manages several District-wide specialty programs that directly impact and support the academic achievement and high school graduation of our students. These programs include Substance Abuse/Expulsion Abeyance, Teen Parent and Military Personnel and Families.
INTERVENTIONS AND COUNSELING

Facilitating groups related to social skills, bereavement and grief counseling, conflict management/truancy prevention, parenting, and family adjustment

Short-term individual counseling

Promoting educational Success

Addressing social and emotional concerns

Addressing family concerns

CONSULTATION

Available to teachers and parents
Available to professionals in the community
Available to schools to assist with students needs in the school setting
Available during parent conferences
Available to Collaborative Problem-Solving Teams (CPST)
Available to School Improvement Plan teams
Available to District committees

ATTENDANCE ISSUES AND TRUANCY INTERVENTIONS

Student and family assessment
Home Visits
Attendance agreements and school-based interventions
Referrals to community agencies
Referrals to Children in Need of Services/Families in Need of Services (CINS/FINS)
Broward Truancy Intervention Program (BTIP)
Partnership with the State Attorney's Office, District 17, State of Florida

PARTNERSHIPS AND COLLABORATION

Collaborating with school staff, parents and community agencies to remove barriers to academic success
Linking parents, staff, and students to mental health, medical, and social services, including food, clothing, and shoes
Providing follow-up case management with teachers and parents
Promoting parent/school/community collaboration
Attending community meetings
SPARKS

Specialized Professionals Advancing Resources, Knowledge, and Skills (SPARKS)

SPARKS is an initiative introduced to Broward County Public Schools prior to the start of the 2017/18 school year to address specific barriers to academic success. This initiative aims to improve student's school performance, as measured by increased attendance, improved school behavior, increased academic functioning, and enhanced social and emotional functioning. The program services the Dillard and Boyd Anderson zones in 20 different schools. There are 26 full-time school social workers assigned to schools in these zones. The SPARKS school social worker leads support services within the school in cooperation with school-based leadership, community liaisons, family therapists, school nurses, and other support resources.

The SPARKS program provides targeted interventions to assist students with excessive absences, behavioral issues, and social/emotional concerns. Services include counseling for individuals and small groups, psychosocial assessments, crisis team interventions, and membership on collaborative problem-solving teams. School social workers and community liaisons partner with local agencies to address the basic needs of students and families. Outreach activities include health and resource fairs, newsletters, and attendance at school-based meetings.

MILITARY PERSONNEL AND FAMILIES

EMBRACING MILITARY CONNECTED STUDENTS and FAMILIES
Support services are provided by Master's Level School Social Workers to identify and support the educational and social-emotional needs of our military-connected students and families in BCPS. Support services are offered in every school in coordination with other departments and programs and in partnership with community agencies. Interventions are implemented within the guidelines of the Military Compact Interstate Agreement, and policies of BCPS.

WHY?
There are 1.2 million military children in the USA. Since 2001, approximately 2 million of the military-connected students in the USA have experienced the deployment of a parent. The repeated and extended separation and increased hazards of deployment compound stressors in the lives of these students and have been addressed by BCPS.

CONTRIBUTIONS
BCPS and community agencies sustain our military forces and strengthen the health, security, and safety of our nation, and families. They serve our nation at the time of deployment as well as their entire families. Non-military community members have the opportunity to show their appreciation by supporting these children, and their families.

SUPPORT SERVICES
Facilitation of enrollment and placement for incoming families, individual needs assessment, individual and group counseling, crisis intervention, attendance issues, referrals for services, school events and projects, cards and writing letters to soldiers in deployment, collection of packages, military drive for military-connected students and families, celebration of April as the Military Child Month, school presentations by veterans, celebration of returning parents from deployment, case consultation with teachers and school personnel, and staff development among others.

We are pleased to partner with Garrison Army, Southern Command, The Florida Army National Guard, Mission United, and Military Related Support Organizations.

SUBSTANCE ABUSE AND ABEYANCE PROGRAM

Students suspended from school for drug or alcohol-related offenses per Policy 5006 are evaluated and referred to appropriate substance abuse counseling. Follow-up services are provided to referring administrators. Consultation services are also provided for high-risk students who may be involved with alcohol or other drugs.

Referrals may come from administration, guidance, parents, or the students themselves.

For more information:

NORTHWEST
Margaret (Peggy) Senn, MSW, CCJS
Substance Abuse Counselor & Expulsion Abeyance Case Manager
margaret.senn@browardschools.com

754-321-1618

NORTHEAST
Sophie Gedeon, MSW
Substance Abuse Counselor & Expulsion Abeyance Case Manager
sophonie.gedeon@browardschools.com
754-321-1651

CENTRAL
Antonio Nunez, LCSW
Substance Abuse Counselor & Expulsion Abeyance Case Manager
antonio.nunez@browardschools.com
754-321-1622

SOUTHWEST
Carlos Sierra, LCSW
Substance Abuse Counselor & Expulsion Abeyance Case Manager
carlos.sierra@browardschools.com
754-321-1621

SOUTHEAST
Hilah Krieger, MSW
Substance Abuse Counselor & Expulsion Abeyance Case Manager
hilah.kriegerhagbi@browardschools.com
754-321-1620

TEEN PARENT PROGRAM

The philosophy of the Teen Parent Program is that dropout prevention is best achieved through the provision of academic and social-emotional support. Our purpose is to offer academic alternatives, access to daycare, and supportive interventions through counseling to ensure a secure future for the student and child.

ELIGIBILITY

Pregnant or parenting persons of legal school age are eligible for these services.



Pregnant and parenting students have the option of remaining in their home school and receiving support services from an assigned teen parent school social worker. A second option is that they may transfer to one of the three District teen parent centers and receive support services, including daycare.

The services provided by the Teen Parent School Social Workers listed include but are not limited to comprehensive assessment, individual, group and family counseling, parent education and advocacy, crisis intervention, staff consultation, interdisciplinary collaboration with school counselors, other District school social workers, school psychologists, nurses, teachers, other support personnel, and pregnancy prevention education. Furthermore, the Teen Parent School Social Workers link clients to appropriate community resources.

For more information call the School Social Work Services office at 754-321-1618 or email the contacts below:

North Region:
Ieesha Crawford
Email: Ieesha.crawford@browardschools.com

(754) 321-1618

Central Region:
Precieuse Gibbons
Email: precieuse.gibbons@browardschools.com

(754) 321-1618

South Region:
Jane Batista
Email: jane.batista@browardschools.com

(754) 321-1618

GRADUATE SOCIAL WORK INTERNS

The Master of School Social Work (MSW) internship program in BCPS collaborates with different universities to prepare graduate students by providing a robust internship experience. The program seeks to enhance a global understanding and sensitivity to the economic and social inequities of students enrolled in public schools. MSW interns are expected to demonstrate specialized school social work practice knowledge and skills to successfully serve individuals, families, groups, communities, and organizations.

The MSW internship program in BCPS seeks to prepare MSW students to serve Broward County's most vulnerable school populations in areas such as mental health, homeless education (H.E.A.R.T. program), teen parent program, family therapy in schools, disadvantaged youth, student leadership (mentoring), crisis intervention, child welfare, and disaster relief. These specialized settings demand that students synthesize and apply knowledge and skills in an ethical and competent manner to address needs throughout our school district in micro, macro, and multi-system service environment.

All school social work interns are paired with an experienced school social worker to allow for experiential learning opportunities that help develop proficiency in the social work core competencies in preparation for professional practice.

Contact information:

Terence McGarry, LCSW, CAP

terence.mcgarry@browardschools.com

754-321-1618
Find Your School Social Worker
All
Apollo Middle.
Atlantic Technical
Atlantic West Elem
Attucks Middle
Bair Middle
Banyan Elem.
Bayview Elem.
Beachside Montessori
Bennett Elem.
Bethune Elem.
Blanche Ely High
Boulevard Heights Elem.
Boyd Anderson High
Bright Horizons
Broadview Elem.
Broward Estates Elem.
Broward Virtual
Castle Hill Elem.
Central Park Elem.
Challenger Elem.
Chapel Trail Elem.
Charles Drew Elem.
Coconut Creek Elem.
Coconut Creek High
Coconut Palm Elem.
Colbert Elem.
College Academy/BCC
Collins Elem.
Cooper City Elem.
Cooper City High
Coral Cove Elem.
Coral Glades High
Coral Park Elem.
Coral Springs High
Coral Springs Middle
Coral Springs pre K-5
Country Hills Elem.
Country Isles Elem.
Cresthaven Elem.
Croissant Park Elem.
Cross Creek
Crystal Lake Middle
Cypress Bay High
Cypress Elem.
Cypress Run
Dania Elem.
Dave Thomas
Davie Elem.
Deerfield Beach Elem.
Deerfield Beach High
Deerfield Beach Middle
Deerfield Park Elem.
Dillard (6-12)
Dillard Elem.
Discovery Elem.
Dolphin Bay Elem.
Driftwood Elem.
Driftwood Middle
Eagle Point Elem.
Eagle Ridge Elem.
Embassy Creek Elem.
Endeavour Elem.
Everglades Elem.
Everglades High
Fairway Elem.
Falcon Cove Middle
Flamingo Elem.
Flanagan High
Floranada Elem.
Forest Glen Middle
Forest Hills Elem.
Fox Trail Elem.
Ft. Lauderdale High
Gator Run Elem.
Glades Middle
Griffin Elem.
Gulfstream Acad. of Hallandale Bch K-8
Hallandale High
Harbordale Elem.
Hawkes Bluff Elem.
HD Perry Adult
Heron Heights Elem.
Hollywood Central Elem.
Hollywood Hills Elem.
Hollywood Hills High
Hollywood Park Elem.
Horizon Elem.
Hunt Elem.
Indian Ridge Middle
Indian Trace Elem.
Lake Forest Elem
Lakeside Elem.
Lanier-James
Larkdale Elem.
Lauderdale Lakes Middle
Lauderhill (6-12)
Lauderhill P .T. Elem.
Liberty Elem.
Lloyd Estates Elem.
Lyons Creek Middle
M.L. King Elem.
Manatee Bay Elem.
Maplewood Elem.
Margate Elem.
Margate Middle
Marjory Stoneman Douglas High
Markham Elem.
McArthur High
McFatter Technical
McNab Elem.
McNicol Middle
Meadowbrook Elem.
Millenium Middle
Miramar Elem.
Miramar High
Mirror Lake Elem.
Monarch High
Morrow Elem.
New Renaissance Middle
New River Middle
Nob Hill Elem.
Norcrest Elem.
North Andrews Gdns. Elem.
North Fork Elem.
North Lauderdale Elem.
North Side Elem.
Northeast High
Nova Blanche Elem.
Nova Eisenhower Elem.
Nova High
Nova Middle
Oakland Park Elem.
Oakridge Elem.
Olsen Middle
Orange Brook Elem.
Oriole Elem.
Palm Cove Elem.
Palmview Elem.
Panther Run Elem.
Park Lakes Elem.
Park Ridge Elem.
Park Springs Elem.
Park Trails Elem.
Parkside Elem.
Parkway Middle
Pasadena Lakes Elem.
Pembroke Lakes Elem.
Pembroke Pines Elem.
Perry, AC K-8
Peters Elem.
Pine Ridge Center
Pines Lakes Elem.
Pines Middle
Pinewood Elem
Pioneer Middle
Piper High
Plantation Elem.
Plantation High
Plantation Middle
Plantation Park Elem.
Pompano Beach Elem.
Pompano Beach High
Pompano Beach Middle
Quest
Quiet Waters Elem.
Ramblewood Elem.
Ramblewood Middle
Rickards Middle
Riverglades Elem.
Riverland Elem.
Riverside Elem.
Rock Island Elem.
Royal Palm Elem.
Sanders Park Elem.
Sandpiper Elem.
Sawgrass Elem.
Sawgrass Springs Middle
Sea Castle Elem.
Seagull
Seminole Middle
Sheridan Hills Elem.
Sheridan Park Elem.
Sheridan Technical
Silver Lakes Elem.
Silver Lakes Middle
Silver Palms Elem.
Silver Ridge Elem.
Silver Shores Elem.
Silver Trail Middle
South Broward High
South Plantation High
Stephen Foster Elem.
Stirling Elem.
Stranahan High
Sunland Park Elem.
Sunrise Middle
Sunset Lakes Elem.
Sunshine Elem.
Tamarac Elem.
Taravella High
Tedder Elem
Tequesta Trace Middle
Thurgood Marshall Elem.
Tradewinds Elem.
Tropical Elem.
V.S. Young Elem.
Village Elem.
Walker Elem.
Watkins Elem.
Welleby Elem.
West Broward High
West Hollywood Elem.
Westchester Elem.
Western High
Westglades Middle
Westpine Middle
Westwood Heights Elem.
Whiddon-Rogers
Whispering Pines
William Dandy Middle
Wilton Manors Elem.
Wingate Oaks
Winston Park Elem.
Young, W.C. Middle
All
Boyd Anderson
Coconut Creek
Cooper City
Coral Glades
CSHS
Cypress Bay
Deerfield Beach
Dillard
Ely
Everglades
Flanagan
Ft. Lauderdale
Hallandale High
Hollywood Hills
McArthur
Miramar
Monarch
MSD
Northeast
Nova
Piper
Plantation
South Broward
South Plantation
Stranahan
Taravella
West Broward
Western
All
Adler, Deena
Allen, Leslie Jessica
Alvarez, Sandra
Anderson, Freda Tresia
Anglade, Sara Reign
Ardila-Gonzalez, Diana Carolina
Asensio, Paola
Auguste, Ruth Marielle Johanna
Barnes, Marisha Shardee
Barquin-Giarraffa, Monica Kelly
Barrus, Kellie Theresa
Bazile, Frislene
Bejar, Moises
Belizaire, Melissa
Berrios Figueroa, Grimadys
Betancourt, Diana L.
Birken, Melanie Inga
Blake, Collie
Blatt, Randi
Branford, Joan E.
Campbell, April Ashele
Carrenard, Philomene
Carreto-Nagales, Grace
Castillo, Nathalie
Castro, Laura Enid
Charles-Polycarpe, Stacey Anne
Clarke, Godfrey Kirk
Contreras, Glenis
Creary, Olivia
Cruz, Gryssel
De Oliveira, Maria Luiza
Deligero, Jessica Rae
Desilus, Daphnie Lorna
Diaz-White, Franchesca Marie
Diest-Zemon, Maryann
Dottin, Melainie Tamar
Doughty, Antoinette
Dubin, Marianne
Durand, Regina
Edouard, Roger
Edouard, Wisline
Edwards, Elizabeth
Fabien, Claudine
Fenelon, Ataysha Renee
Finnk, Amy
Forde-Myers, Giselle Crystal
Francis, Kathy Lucia
Francois-Edouard, Lilia
Freedman, Tristan Starr
Friedland, Michelle
Garcia, Adriana
Garzon, Edith Johanna
Gayle-Mendoza, Zulay Julissa
Gaylord, Asia Rose
Gibbons,Gracieuse
Gonzalez, Ada
Grant, Glenda Maria
Graves De Peralta, Ashley Jennifer
Hall, Horace
Herbert, Meagan Dionne
Holt, Laura
Howard, Shonta
Howell, Shawn Ventura
Hyde, Shelisa
Jairam, Marlene Erica
Jean, Suze
John, Damaris Esther
Jussome, Marie Gerda
Karol, Christine Marie
Labossiere, Joanne
Lazarre, Sarah
Lockett, Lyda Lou
Lockett, Sarah Lou
Lyons, Justine Diana
Marcelin, Anaelle Alexandra
Marr, Kimberly
Martelly, Marcelle
McGarry, Lisa Ann
McGarry, Terence
McMain, Veronne
Mora, Victor H.
Morales, Vanessa
Mowatt, Kim Iskah
Myette, Michele Patrice
Nabiejohn, Faryal
Neeck, James
Noel, Nadette
Ortiz, Brittany
Osorio, Gloria Nohelia
Overstreet, Jessica Lenore
Pallone, Melanie Diane
Pellinger, Audrey Roberts
Perez, Yezenia Barbara
Perry, Kimberly Renita
Petit-Clair, Eder
Pinto, Yolanda
Porter, Karina Salom
Price, Camilla M.
Prospere-Lahens, Benjie Bejana
Reyes, Lucerne Edwina
Rockensies, Emma Arroyo
Rodriguez, Karina
Rodriguez-Ortega, Luz
Rynerson, Jeni Li
Said, Monica Christina
Saint-Louis, Florence Melissa
Saint-Louis, Tracey
Schauben, Lisa
Shapiro, Bernard Steven
site based SSW
Stafford-Williams, Darria Lynn
Stein, Valerie Jane
Stroud, Charlsey Kimberlin
Suarez-Geacoman, Cecibel
TBD
Thomas, Judith
Thompson, Rebecca Lynn
Tio, Ana Raquel
Toussaint, Carline
Victor, Vanessa
Watson, Keisha
Watson, Rene Joy
Zacca, Faynette Joyetta
Zapata, Maria Lourdes
Zenon, Paul
Submit
Contact Information
School Social Work Program

1400 NW 14th Court

Ft. Lauderdale , Florida 33311

A. Gabriela Joseph, LCSW / Marielande Saint-Preux, LCSW / Dr. Jhonii P. Louis, LCSW

Supervisors

NEED HELP?

Help Starts Here!
754-321-1550