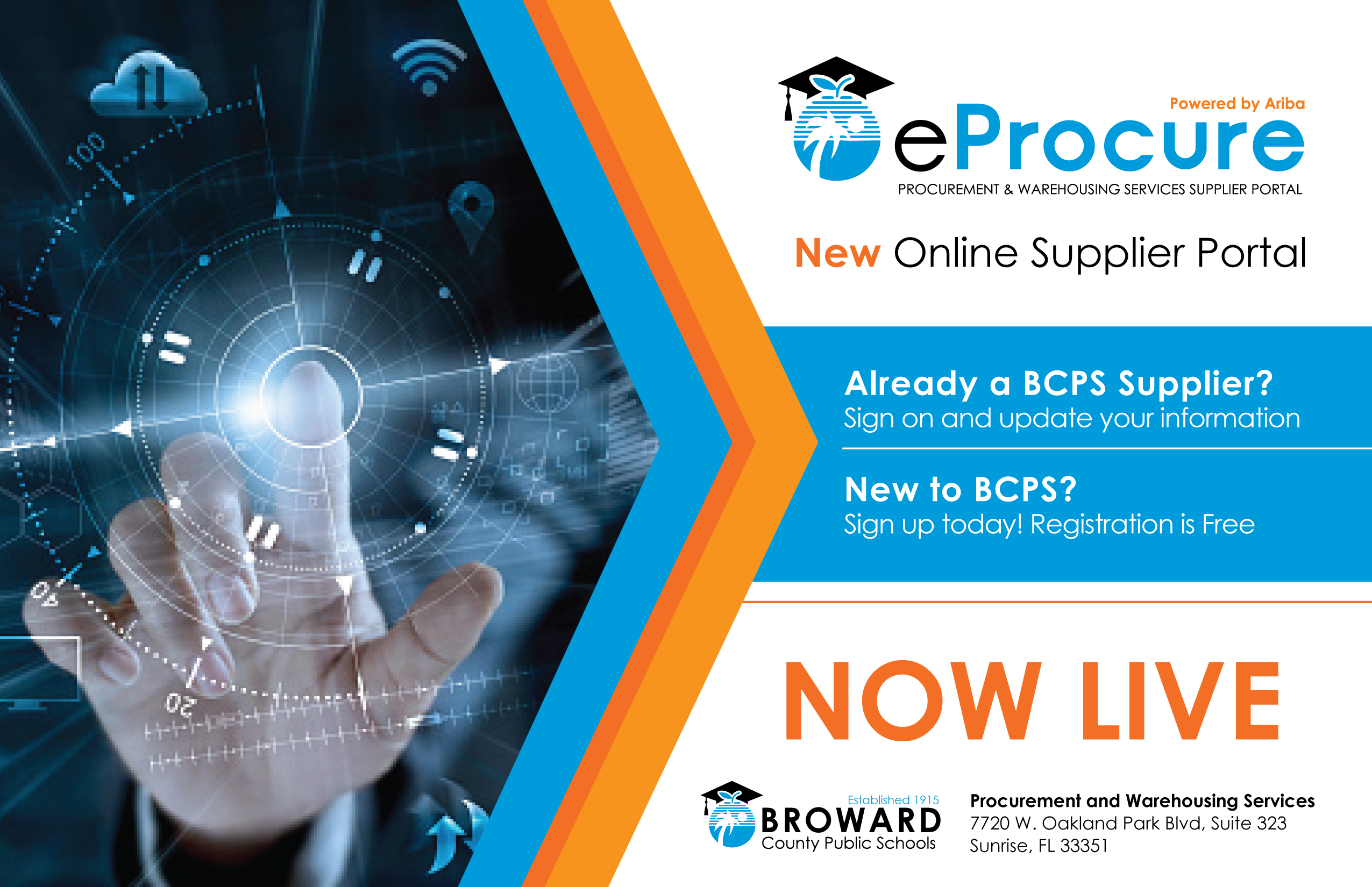 Construction Contracts
The School Board of Broward County, FL is committed to delivering the design and construction of attractive and environmentally friendly schools. Our staff is dedicated to providing the highest standards of service in a cost-effective manner while maintaining a safe, secure, and comfortable environment that is conducive to teaching and learning.

For questions regarding the documents, contracts, or other construction-related items, please contact our Construction team directly at 754-321-0505.

Policies

Pre-Qualified Contractors List

List of Procurement Bid Opportunities

To view SBBC Procurement opportunities, please register on DemandStar.
What is contractor pre-qualification?

The School Board of Broward County, Florida's (SBBC) Procurement & Warehousing Services Department (P&WS) pre-qualifies all "contractors" for construction contracts pursuant to Chapter 489, Florida Statues, according to the rules set forth in the State Requirements for Educational Facilities (SREF) Section 4.1 and School Board Policy 7003.1.

* Once pre-qualified, a contractor's pre-qualification certificate is valid for one year from the date of issue, unless the certificate is suspended or revoked.

Who must be pre-qualified?

Construction contractors desiring to contract directly with SBBC are required to be pre-qualified by SBBC.

What is the criteria for becoming certified as a pre-qualified construction contractor?

Each contractor or firm requesting pre-qualification certification must complete the eProcure Supplier Profile Questionnaire. For additional information, visit our Supplier Information link below

What is the eProcure review process for Construction Contractor Pre-Qualification?

Submit the completed Supplier Profile Questionnaire (SPQ) in the eProcure Supplier Portal

The SPQ will be reviewed for compliance

The SPQ will then be reviewed for eligibility

A recommendation will be prepared

The recommendation will be presented at the Qualification Selection Evaluation Committee (QSEC) meeting

QSEC will vote to approve, reject, suspend, or revoke each application

Procurement & Warehousing Services will submit the QSEC recommendations to the Superintendent as an agenda item at a Regular School Board Meeting

The School Board takes final action on the recommendations for Pre-Qualification of Contractors

The Contractors will be notified in writing of the School Board's final action

The final action is updated on the Pre-Qualified Contractor's List

For more information, please visit our Supplier Information link on the eProcure Supplier Portal

How long does it take to become pre-qualified?

Generally, the application process is completed within sixty (60) days. Contractors are notified of the School Board's final action by letter.
Contact Information
Procurement & Warehousing Services

7720 W Oakland Park Blvd

Sunrise, Florida 33351