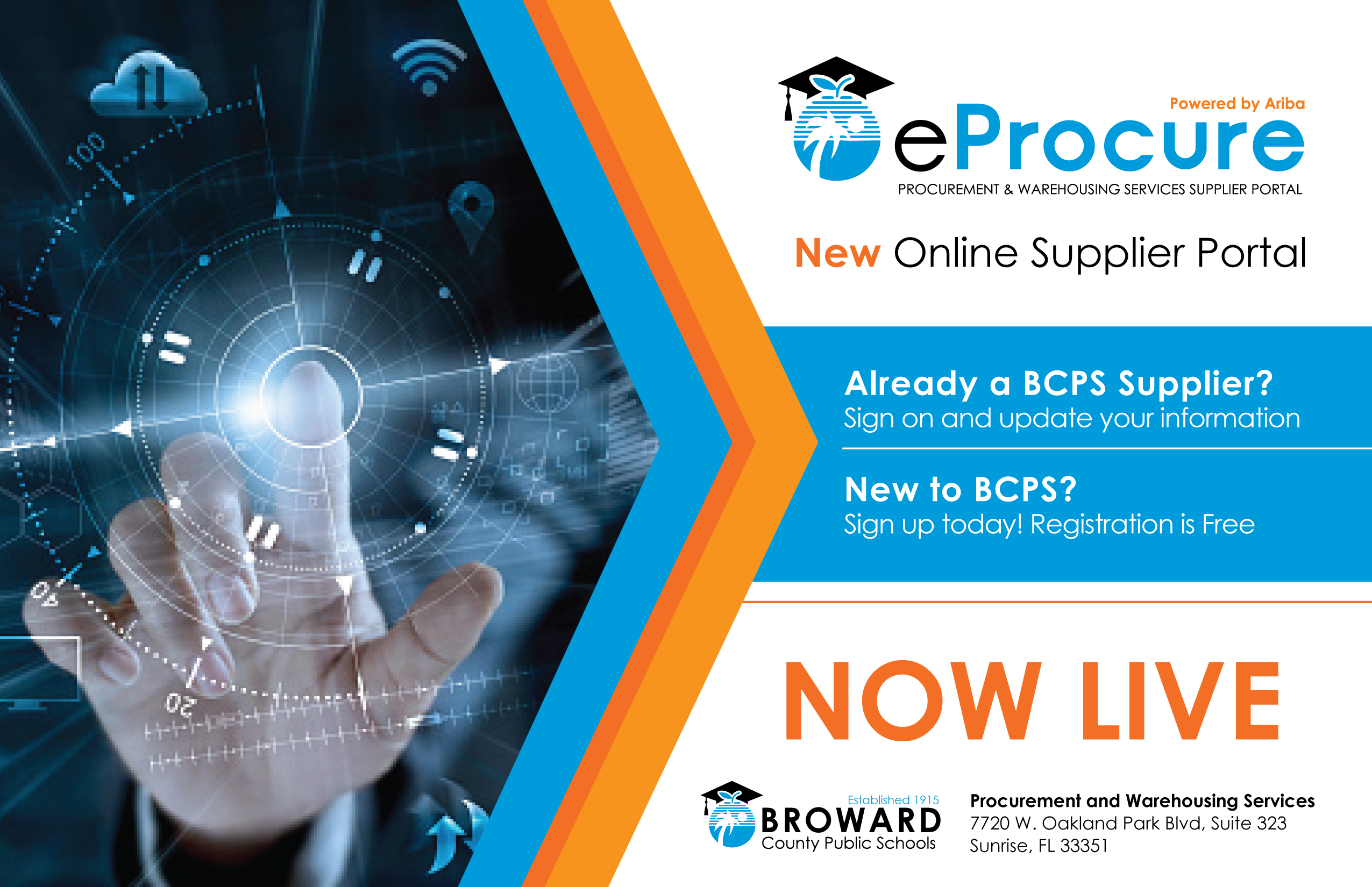 Supplier Registration Procedures
(Download Adobe Acrobat Reader to view or print PDF)

ANNOUNCEMENT

Procurement & Warehousing Services (PWS) is excited to announce the new eProcure Online Supplier Portal. A one-stop shop for Online Registration, E/S/M/W Business Enterprise Certification, and Contract Pre-Qualification.

Click the link below to access the eProcure Online Supplier Portal, powered by Ariba
Current BCPS E/S/M/WBE Certified and Construction Pre-Qualified Suppliers
An eProcure profile has already been created for your organization. You should have received an email with your current eProcure Username & Password.

Contact us prior to attempting to log in to the eProcure system if you have not received this information, or if you have any questions.

Call us at 754-321-0505 or email us at PurchasingHelpDesk@browardschools.com
Register for a Tuesday Tech Talk in the section below
Review the Training Materials in the "Additional Information for Suppliers" section below
Supplier Tuesday Tech Talks
We want our suppliers to be comfortable using the eProcure Supplier Portal and we are here to help. During our Tuesday Tech Talks we will provide a system overview including; accessing the application, navigating the questionnaire, tips and tricks for a smooth process, and other valuable information.

Following state orders and national guidelines regarding the COVID-19 pandemic. In-person Supplier Tuesday Tech Talks are temporarily suspended.

Clicking here to answer a few short questions and we will get back to you as soon as we can so we can support you remotely.
Registration Procedures

To become a registered supplier with Broward County Public Schools (BCPS), suppliers must access, complete, and submit a Supplier Profile Questionnaire (SPQ) through the eProcure Online Supplier Portal. The completed SPQ, including all required documents and responses, will be reviewed by Procurement & Warehousing Services staff for compliance and eligibility for the opportunity to business with Broward County Public Schools.

Please review the Training Materials provided prior to accessing the eProcure Online Supplier Portal.

Training Materials

Please review the training materials provided below prior to accessing the eProcure Online Supplier Portal

eProcure Online Supplier Portal

E/S/M/WBE Certification and Construction Pre-Qualification Details

Visit the District Construction and Supplier Diversity & Outreach pages of the site for more information on E/S/M/WBE and Construction Pre-Qualification Information

Jessica Lunsford Act

For more information on Background screening requirements for certain noninstructional school district employees and contractors, please visit the Jessica Lundford Act Website.

Supplier Badges – Security Clearance

Supplier Document Library
Individuals with disabilities requesting accommodations under the Americans with Disabilities Act Amendments Act of 2008, (ADAAA) may call Equal Educational Opportunities/ADA Compliance Department at 754-321-2150 or Teletype Machine (TTY) 754-321-2158.