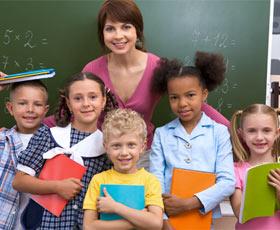 Out of Field General Information
If you have been identified as teaching out-of-field, you are mandated to take inservice, college coursework, the subject area exam (if applicable), or document a minimum of 100 points through an Infield Status Rubric (for select subject areas) in the out-of-field area prior to the end of April in the school year in which you were placed out-of-field. You must continue to complete out-of-field training each school year or until you have obtained the required certification, passed the subject area exam (if applicable), or have an approved Infield Status Rubric (select subject areas) on file in the subject area. Note that failure to comply will impact your future placement/assignments up to including non-renewal of your contract. You can find answers to frequently asked questions related to out-of-field here.

Parent notification is required to be provided to the parents of all affected students. Once you obtain the certificate reflecting the additional subject area, be certain to notify our department through certificationrequests@browardschools.com so your out-of-field record can be closed. Note: No money is saved by waiting to add a certification area to your certificate at the time you submit your application for renewal and/or your initial professional certificate. You are urged to apply immediately for the addition once you have met the subject area requirements.

Subject Area Exam Preparation:

Pearson Education

Florida Teacher Certification Examinations (FTCE) exam guides. This site is also where you would register for any of the exams.

Certification Preparation Courses; offered through Coaching and Induction:

Teachers who need to pass the General Knowledge Exam or Professional Education Exam have the opportunity to enroll in face-to-face preparation courses. Teachers must attend the entire session of the preparation courses to receive a voucher to take the exam. For more information please contact Christopher Gates at christopher.gates@browardschools.com

Subject Area Exam Review Book

Teachers who are on a temporary certificate who request the appropriate Exam Review Book will be able to check out the book for 30 days. Teachers will then take a post-test and with a score of at least 70% a voucher will be provided to take the exam. For more information please contact Angela Peterson at angela.t.peterson@browardschools.com

Our professional teachers are continuously working on professional development to develop their teaching skills and increase their levels of content expertise. We are recognizing teachers who are expanding their expertise beyond their current certification by pursuing college coursework and/or training sessions to become certified or endorsed in another/other subject(s).