Here Comes The Bus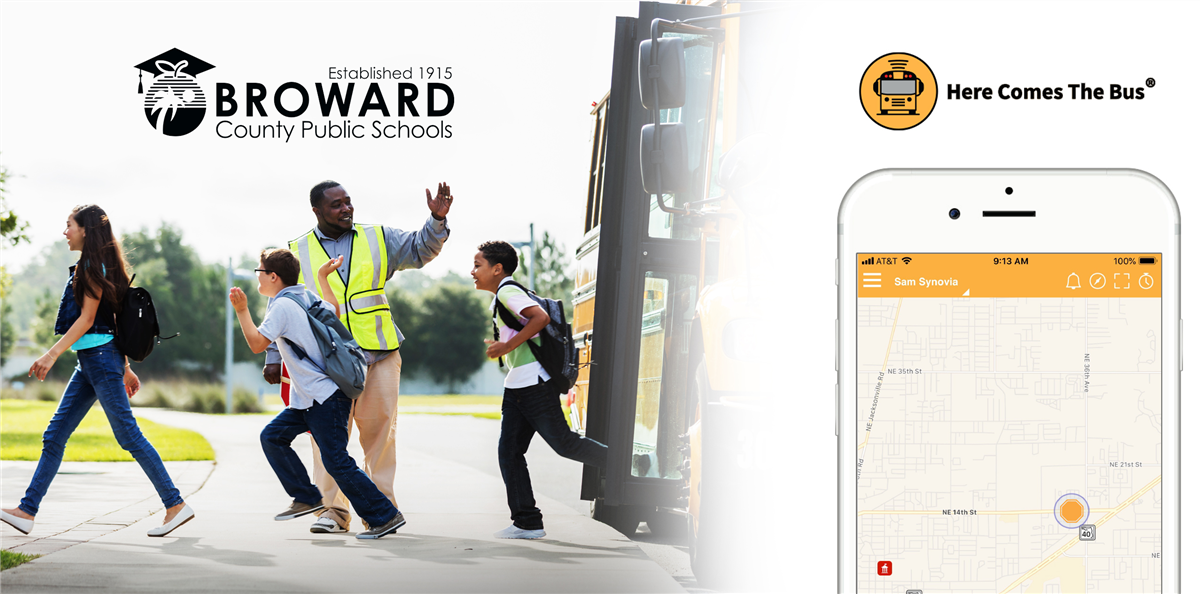 HCTB coming soon Sept 11, 2023

The BCPS Transportation Services Department is excited to introduce Here Comes the Bus (HCTB), a free and easy-to-use website and application that allows parents to view the location of their child's school bus in real-time on a smartphone, tablet or personal computer.

Here Comes the Bus will make knowing when your child's school bus is arriving easier.
HCTB Download the App Today!
Register by visiting HereComesTheBus.com. Find Broward County Public Schools using code 87599.


Scan ME and download a free, easy-to-use application enabling you to see the location of your child's school bus, within a customizable radius of 200 feet to 2 miles using a computer, tablet, or smartphone.

*Use school code 87599 to locate Broward County Public Schools.
HCTB Features
Key Features for Parents

Accessible on a computer, tablet, or smartphone

App can be downloaded from the App Store or Google Play

Shows the real-time location of school buses using a map, with a customizable radius of 200 feet to 2 miles

Receive alerts via push notification and/or email

Receive notifications when the bus is near the student's stop

Receive notifications – that include the bus number, location and time – when the bus makes a pupil stop

Confirms the student's bus has arrived at the bus stop and at school, both before and after school.Parents with multiple children can track each child's bus information within one account

Translations are available in English, Spanish and Haitian-CreoleAccount is password protected

Parents use the student's ID number and school code to gain access to the student's bus only

The HCTB feedback survey can be located at https://forms.office.com/r/Yknunhbgd2
How does "Here Comes the Bus" work?

"Here Comes the Bus" uses global positioning system (GPS) technology to locate and track your child's school bus. It is powered by software from Synovia Solutions, who are experts at tracking data, which they've been providing to fleet managers across North America for over 15 years.

How much does it cost?

"Here Comes the Bus" is available at no cost to all families. It's free!

Do I need separate accounts for each of my children? Or separate accounts if we all want to be notified separately?

You and your children can access all the information about the buses you need using just one "Here Comes the Bus" account.

Is the information private and secure?

"Here Comes the Bus" uses HTTPS, just like a bank or online store, which means that all communications between your web browser and the site is encrypted and secure. (That's what the S in "HTTPS" stands for – secure.)

I saw a Student Ridership feature on the app. Does Broward County Schools use this?

Student Ridership is student-tracking software that can be accessed through the "Here Come the Bus" app. It enables parents to see when their child has scanned on and off the bus. At this time, Broward County Schools has not decided to offer this option.

Can I view the website in a language other than English?

Yes. The "Here Comes the Bus" program was created by Synovia Solutions, and the company has made the website available in Spanish and French. If your computer is already set to display one of these languages, the website will automatically use the same language. Otherwise, you can change the language by clicking the current language (such as English) at the top right of the web page.​​​
​The School District's Here Comes The Bus app was recently updated by our vendor and may have caused some accounts to require a password change. In order to correct this, please follow the steps below to properly reset your password.

Reset your password by going to the Here Comes The Bus website, not the app.

Click on "Forgot Your Password"
Enter your email address and the school code (87599)
Once you get the email, click on the link to reset your password
Use the same password to log into the app to track your bus

I registered my account and the site is asking for a student ID.

You should have an ID number assigned to your student by his/her school. If you don't have this already, please contact your school for this information.

I added my child to my account but there is no bus assigned.

If the account sign-up occurs over the weekend, it will not show bus stop information. Stops will only show on days where a stop is assigned (Monday-Friday). Feel free to complete your account sign-up and check your child's stop information first thing Monday morning. ​If issues persist, please contact the appropriate Transportation supervisor for assistance.

I added my child to my account but the bus stop information is incorrect.

I added my child to my account but the bus is not tracking.

I created an account but forgot my password.

On the "Here Comes The Bus" login screen, select "Forgot Password" to have a new password emailed to you.

Should you experience a problem with the app, please submit a ticket directly from the device that you are using or from the below link.

HCTB is not recognizing my student?

The student last name has a 15 character limit.
Register 2 Ride

Here Comes the Bus

Now Hiring
Contact Information
Transportation Services

3831 NW 10th Avenue

Oakland Park, Florida 33309

Rolando Alvarez

Executive Director